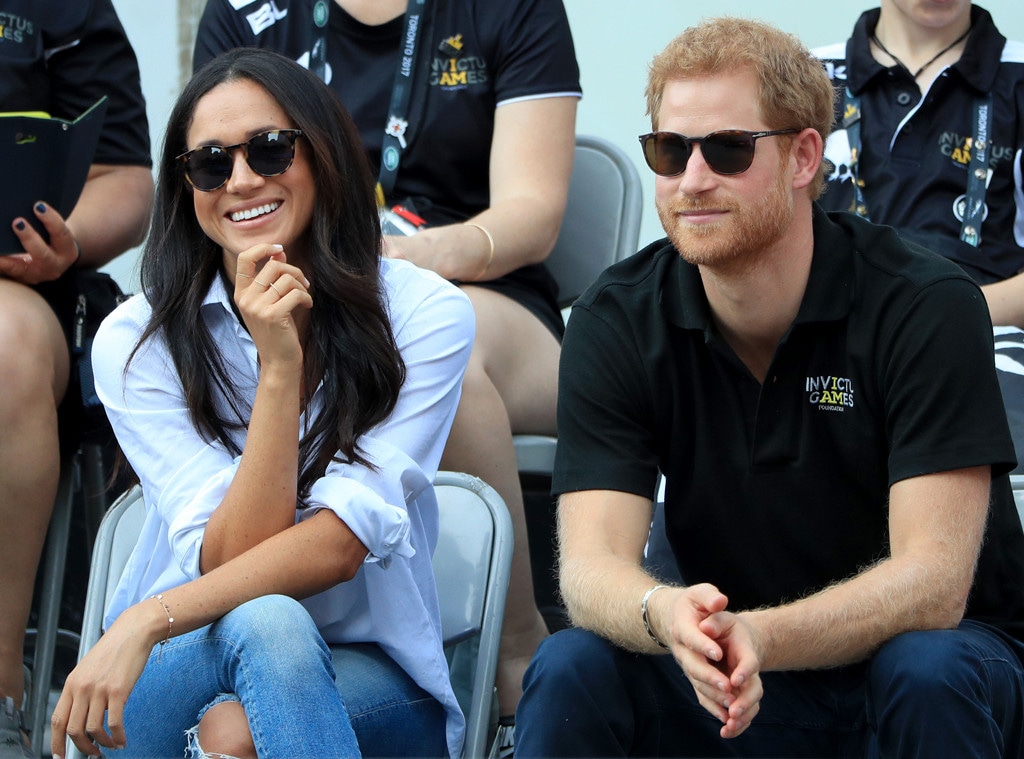 Danny Lawson/PA Wire
Eager to finally settle down, Prince Harry agreed to fly blind. Following a 2014 split from dancer-actress Cressida Bonas, a failed attempt at rekindling his on-off romance with law firm employee turned jewelry designer Chelsy Davy and a string of short-lived flings the royal doubled down on his efforts to find his perfect princess. Unperturbed by his efforts falling shot, Katie Nicholl writes in her new biography, Harry: Life, Loss and Love, the onetime helicopter pilot went "on blind dates" organized by sister-in-law Kate Middleton and cousin Princess Eugenie.

But one matchmaker bested them both. When Harry, 33, confided in Violet von Westenholz – her father Baron Piers von Westenholz is friends with his dad Prince Charles – that he was having trouble finding someone, a source revealed to E! News, "She said she might just have the perfect girl for him." By July 2016 she had arranged the date: Harry would meet up with Meghan Markle, an actress ­von Westenholz had crossed paths with as the PR Director for Ralph Lauren. Ahead of their date, Harry knew little about the then-actress, who enjoyed bit parts on The League and Without a Trace before landing a role on USA's legal drama Suits in 2011. "I'd never, never even heard about her," he admitted in their engagement interview last November. Still, the fix-up was an instant success. "When I walked into that room and saw her and there she was sitting there," Harry recalled. "I was like 'Okay, well I'm going to have to really up my game here.'"  
Up until that point, the prince's charms had been failing him. Crushed by the end of his on-off relationship with Zimbabwe-born Davy, 32, in 2011 – Nicholl notes it took him "a long time" to move on – he felt he'd finally found his girl when he met Leeds University dance grad Bonas in 2012. As they enjoyed romantic holidays in Switzerland and Botswana, magazine covers crowned the blonde beauty as the next princess. The pair even survived his wild – and well-documented – August 2012 weekend in Vegas that saw him challenge Olympic swimmer Ryan Lochte to a race and go fully nude during a late night round of strip billiards.
The scandal gave the 29-year-old pause. But her mother, reveals Nicholl, convinced her to work through it:  "Cressida has always been close to her mother, who was instrumental in persuading Cressida to give things with Harry a chance when her daughter was wavering."
Two years later, though, Mum couldn't save Harry from his party habits. When Bonas neglected to join Harry at the Memphis wedding of his pal, nightclub entrepreneur Guy Pelly, and hotel heiress Elizabeth Wilson in May 2014 – "There was a bit of row about how much it was costing her," notes Nicholl – he left in what she calls "a bit of a huff." And to deal with his frustrations, he made a detour to Miami, where he and long-time pal Amanda Sheppard spent a night dancing in the VIP room of the celeb-beloved the Fountainebleau Miami Beach hotel. Because Harry always had what Nicholl describes as "a flirty relationship" with Sheppard, when Bonas learned about their closeness on the dance floor she was less than pleased. "They agreed to meet up when Harry came back from Memphis to talk things through," writes Nicholl, "but Cressida had already made up her mind that the relationship had run its course."
Despite Harry's best efforts, he couldn't convince her to restart it. "Harry didn't want things to end. He was in love with her and he tried to convince her they could make it work, but Cressida's mind was made up," says Nicholl. "I think she really broke his heart."
In an effort to mend it, Harry turned back to his other serious love. By the summer of 2015, Davy was fresh out of a romance with jeweler Charles Goode. So when Harry – in Africa for his philanthropic work – asked her to meet up in Cape Town, she agreed. But while their rendezvous was romantic, it wasn't the start of lasting union. While Nicholl writes the pair still had "deep feelings" for one another, Davy still knew she wasn't ready for life in The Firm, the cheeky name Harry and brother Prince William use for their family. "Harry was still a prince," says Nicholl, "and it wasn't the life Chels wanted."  
Still Harry, who's been open about wanting to settle down and have kids, was determined to find the life he desired. In addition to agreeing to set-ups arranged by Kate and Eugenie, he enjoyed flings with L.A. publicist Juliette Labelle and British actress Jenna Coleman and reached out to former paramours, including nutritionist Jennifer Medhurst and Lady Natasha Howard.  
Nothing stuck. "Harry was having a really hard time finding anyone," the source explains. "It's hard enough finding someone new to date. He can hardly go on Tinder or a dating app like normal people, but to meet someone that you actually connect with, that was proving to be almost impossible."
Ben Birchall/Pool Photo via AP
Enter Markle. Though their July 2016 meet up was a true blind date – "I didn't know much about him," Markle admitted in their engagement interview, "and so the only thing I had asked her when she said she wanted to set us up was, I had one question, I said 'Was he nice?'" – there wasn't a moment of awkwardness. "They just clicked," writes Nicholl, noting they quickly arranged for a second date at London's Soho House, where mutual friend Markus Anderson serves as a consultant. As they worked their way through a bottle of chilled rose, says Nicholl, "they chatted for hours confirming to Harry that he had indeed met someone special."
So for their third date, he decided to impress. With a trip to his beloved Botswana – the spot he visited after shortly after his mother Princess Diana's tragic death in 1997 – on the books, the royal patron for Rhino Conservation Botswana "rather brazenly threw caution to the wind by inviting Meghan to join him," says Nicholl. An eager Markle, she says, responded by packing her bags. For three months, the pair were able to form their bond in private. Though Harry swept her off for a weekend at Soho Farmhouse in Oxfordshire (the same spot pal Anderson chose for her March bridal shower) and invited her to his September birthday celebrations (where she met his pals and cousin Eugenie) they managed to keep the romance under wraps. Among Harry's tricks: relying on casual outfits, baseball caps and incredibly trustworthy pals. "It's a great testament to both their groups of friends that they did keep the relationship under the radar," Nicholl told Town & Country. "Because quite a few of their friends did know, but the friends that knew were the closest inner circle and the ones that could be trusted."
Joe Giddens/PA Images via Getty Images
The couple relied on two such pals when news of their union finally broke that October. At the time, says Nicholl, Harry happened to be staying at the three-bedroom Toronto flat the L.A. star lived in while filming Suits. So to avoid photographers, she suggested decamping to the home her stylist pal Jessica Mulroney shared with husband Ben, a TV host and son of former Canadian Prime Minister Brian Mulroney. "When Meghan suggested they go to stay with her friends," says Nicholl, "Harry agreed."
Though their privacy was gone, by that point Harry knew he had a relationship worthy of the public eye. "Even with Chelsy, Harry didn't feel this kind of spark," explains the source. "And they were together for years! Harry just knew immediately, from the moment he spent time with Meghan, that he wanted to be with her. It's a simple case of meeting the right girl at the right time."
Nicholl agrees. Harry, she says, was taken by the World Vision global ambassador and UN Women advocate's devotion to philanthropy and willingness to wrap her acting career. "She resonated with him in so many ways -- they wanted to use the platform she had as an actress to put the spotlight on her charity work," Nicholl told Town & Country. "That really impressed him." As did her readiness to embrace the glaring spotlight. While both Davy and Bonas had reservations, 36-year-old Markle was poised, notes Nicholl. "I think it was quite significant that she is older than him," she explained to the mag. "This is a woman with experience, and I think that was a real call for Harry. Up until then, the two big loves of his life who he did truly love were younger, more inexperienced, less willing to accommodate everything his lifestyle brought with it."
Markle embraced the role. Gracing the cover of last October's Vanity Fair, the soon-to-be former actress – briefly wed to talent manager Trevor Engelson – explained how she handled the scrutiny: "It has its challenges, and it comes in waves — some days it can feel more challenging than others. And right out of the gate it was surprising the way things changed. But I still have this support system all around me, and, of course, my boyfriend's support."
Now she has his ring. Roughly six months after Harry slid a custom Cleave and Company three-stone diamond onto Markle's finger as she prepared roast chicken in their cozy two-bedroom Nottingham Cottage on the Kensington Palace grounds, they will wed in a lavish May 19 affair. (Nicholl notes Harry opted for a brief engagement so that his grandfather, 96-year-old Prince Philip, who was hospitalized with an infection last summer "could see him married while he was in good health.") When the pair trade vows inside St. George's Chapel at Windsor Castle, Markle will become the first American to marry into the royal family since two-time divorcee Wallis Simpson, whose 1937 wedding to King Edward VIII forced him to abdicate his throne.
By all accounts, Markle is ready. Along with tapping London-based pastry chef Claire Ptak to craft a lemon elderflower cake covered in buttercream and fresh flowers, the fashion-forward star, who's professed her love for bridal designers Delphine Manivet, Christos Costarello, Elie Saab and J. Mendel, has also chosen someone to craft her dream gown. (One source of inspiration for Markle: Carolyn Bessette-Kennedy's Narciso Rodriguez sheath, a dress she described to Glamour as "everything goals.") During a mid-January fitting with the unnamed pro (outlets have speculated it could be London-based Rouland Mouret who recently called Markle "a friend" or Ralph & Russo, the British label she turned to when she needed a dress for her engagement photos), Markle and stylist pal Mulroney narrowed down the elements that would go into her gown. Topping the wish list: Embroidery and sleeves. Says a source, "Meghan wants to keep the design clean, elegant and fuss-free." Though, admittedly, she's having a hard time maintaining that same level of restraint. With just weeks to go until her vows, both she and Harry are "very excited," says a source. "It's all starting to feel very real." And well worth Harry's long and complicated journey.