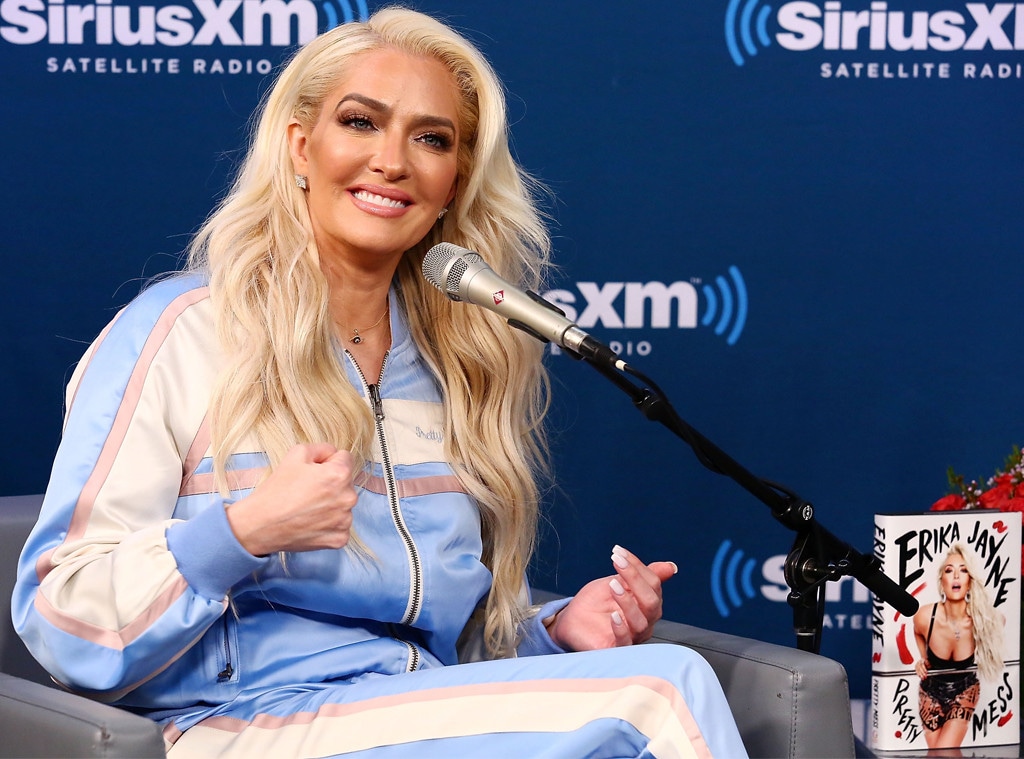 Astrid Stawiarz
Erika Jayne isn't done dishing the dirt just yet!
While celebrating the release of her juicy memoir Pretty Mess, the Real Housewives of Beverly Hills star is sharing plenty of memorable stories in and out of the 90210 zip code.
And during her visit to New York City, Erika stopped by the SiriusXM Studios for a special "Inner Circle" with Jenny McCarthy.
Lucky for fans, the duo didn't hold back when discussing Dancing With the Stars, co-stars and other reality TV stories.
Before the special airs Thursday at 11 a.m. EST on Jenny's SiriusXM show, we compiled just some of the fun facts uncovered during the candid conversation.
Dancing With Skepticism: When appearing on ABC's popular reality show with partner Gleb Savchenko, Erika thought her brand wasn't "quite appreciated" there. "I think they have their favorites," she shared. "I felt [the critiques] were more personal than it was technical. It was a little more slighted towards you're raunchy. Wait a second: She just crawled over him. She isn't raunchy but I'm raunchy? It was not fair."
While Erika says she'd go back to the show, the "How Many F--ks" singer thinks the show fulfilled "their slots and they slot it and you can't really move outside that box."
Listen Coach: For part of the season, Erika hasn't seen eye-to-eye with co-star and accountability coach Teddi Mellencamp. "I don't really need [an accountability coach] and I don't really want one. You do that for you but please don't do that over here when I'm more than willing to say I made a mistake," she shared with Jenny. "It's a tough place to enter for anyone you can imagine. As friendly as you think you may be with someone, honey that will switch too. But I have to be true to myself and I don't regret anything I've done."
Power of the Pivot: Before joining the Bravo family, Erika had a conversation with one of the biggest music managers in the world. He advised the singer to "pivot" before ending the meeting. "I was driving home in my black jumper and then I went to David Foster and Yolanda Hadid's and sat on her couch. She was so sick in the bathrobe and I was basically bitching about this whole situation and she said, 'Have you ever thought about being a housewife?' She picks up her phone and starts texting my now boss," Erika revealed. "I can't explain but you have those moments—they're rare—where s--t turns. This is the pivot."
More to the Story: Some viewers were left questioning Erika's severe outburst at Teddi earlier in the season. According to Erika, however, there was more to the story. "At the table with Teddi, she said you have pretend amnesia and you're a flip-flopper. You didn't hear the word flip-flopper did you? Perhaps that's why you see why I was a little bit more angry than what you saw," she explained. "I'm not aggressive. If that's aggressive, that's a one sentence in New York City. That is nothing on Atlanta. But here, I'm aggressive? No babe, no."
Lover Not a Hater: Despite what you may see in a scene here or there, Erika assures fans she normally has a very cool and collective temper. "I'm not a fighter either but I can turn into one…. There's the show you make and there's the show you watch, which is very different. I've learned that I'm okay," Erika explained. "I really get it. I can survive. I'm good. I like who I am. I don't always like how I react to things but I'm okay."
(E! and Bravo are part of the NBCUniversal family)