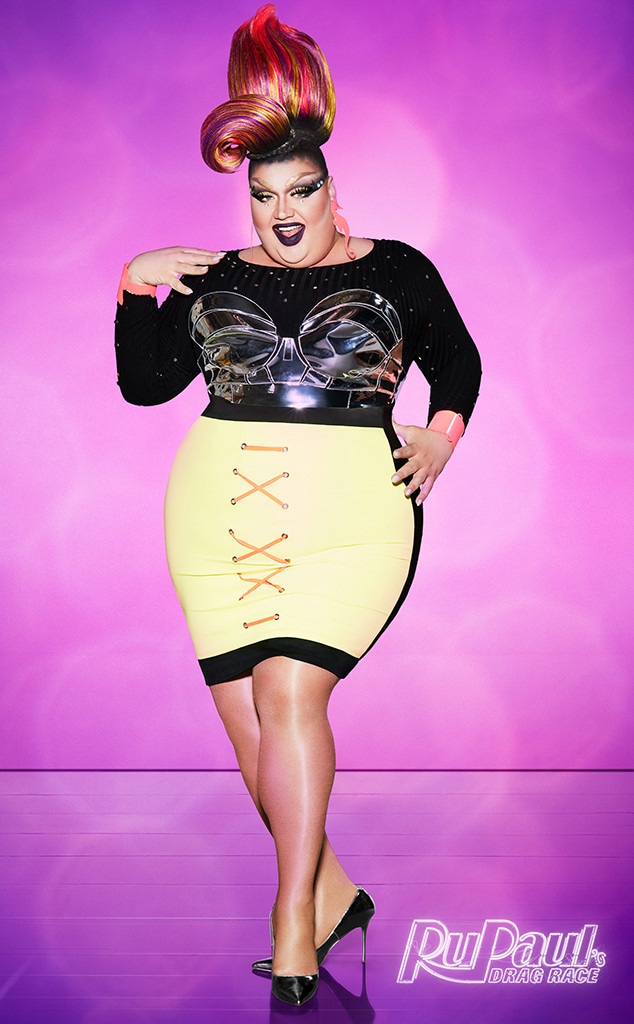 VH1
Eureka O'Hara's journey back to RuPaul's Drag Race has not been an easy one.
The plus-size queen was an early standout in season nine of the reality hit, until an injury to her knee sustained during the second week forced RuPaul to remove her from the competition in week five. Though she departed with an open invitation from Mama Ru to return and fight for the title of America's Next Drag Superstar once she was healthy and able, there was no guarantee that she'd be able to return right away for season 10.
"Honestly, I didn't know 100 percent for sure until a couple weeks before filming. My doctor hadn't released me yet," Eureka (real name David Huggard) told E! News over the phone ahead of the March 22 premiere. "An ACL replacement surgery is actually pretty severe, it's pretty legit, and it takes years, actually, to completely heal."
And yet, here Eureka is, ready for America to fall in love with her all over again as one of season 10's sickening contestants. The work wasn't easy, though she sees the time spent in recovery as a blessing in disguise. "I had to be at a point where I was physically able, so I just had to go through a lot of physical therapy and get approval from my doctor. So, it was kind of crazy," she told us. "I was a little crazy, you know? Exercise has never been my favorite sport, so being in physical therapy all the time was a pain, but it was just a different lifestyle. I actually owe a huge thank you in the end because it taught me how to take better care of myself, my bones, my joints, you know what I mean?"
While Eureka was forced to watch the remainder of her first season as a fan like the rest of us—Snatch Game was the hardest challenge to sit through, she told us—she now joins a small club of queens who've had the distinct privilege of returning to the game with the experience of having played it once before in her back pocket. Like Cynthia Lee Fontaine and Shangela before her, Eureka had time hone in on her craft and become even more of a student of the show.
"Honestly, I think to prep myself, really, I was just saving what money I could, investing what I could in maybe hair or costumes," she said. "I literally watched every single season of RuPaul's Drag Race two or three times while I was healing. You know what I mean? I studied. I studied the girls. I studied everything I could."
After all, she knew that the pressure would be on a whole other level competing as a returning queen. "I knew if I went back and wasn't elevated that I wouldn't be able to succeed," Eureka explained. "I knew going in a second time the fans, the judges, maybe even producers, etc. wouldn't be impressed if I didn't come times 10. I mean, I did a relatively good job during my short-lived time on season nine, so it was a lot to live up to. But I had to do even better because people expect more having time to prepare."
"On top of it, people are rooting for me," she added. "You know, people felt emotionally sorry for me and invested themselves emotionally into my journey so far, so I feel like I need to show them that I am the fighter and that I am that fierce girl that they thought I was in season nine. So, if I don't so that in 10, it's like I'm letting all of these people down, you know? And RuPaul. It's definitely a lot of pressure."
Of course, there's also the added wrinkle of walking into the workroom as a somewhat seasoned vet as a group of newcomers look on. "I definitely think that there was some pre-determined ideas that I had an advantage in the season in general," Eureka teased. "At first, people really looked at me very motherly. 'Oh, she can give us great advice.' Things like that. Once you become competition and people remember that it's a competition, that's when the claws come out and the memory of like 'Oh, well you've done this before' mentality."
Though Eureka stresses that, despite her experience, she was battling all the same obstacles as her fellow competitors. "This is a whole new season. It's a whole new year. And if there's one thing I can tell you about season 10, they are not playing," she said. "And it is a hard season. They are throwing everything at us. And every time they would try to be like, 'Well, you've been here before!' I would say, 'Baby, I never did this! [Laughs] I did not do this!'"
Despite all the pressure Eureka faced as she mounted her comeback—and still faces as she prepares for America to see how it all unfolds—there's an overwhelming sense of gratitude about having a second chance that comes across when she speaks about the season. Especially when asked how different winning this year, with all the struggle to get there, would be compared to just simply winning her first time around.
"I mean, honestly, if I win this season, it just means that all the hard work that I've done has paid off. And that people were right. And that I get to live this survivor story that so many people in their lives need right now," she said. "So, I don't only feel like it would be good for me, but I feel like it would be good for anyone rooting for Eureka because it just goes to show that no matter your shape or size, who you are or what you do, if you fight for what you want, it's possible for it to come true. But the moment you decide to slack is the moment that you'll falter, you'll slip and you'll miss an opportunity, you know? I think it's going to be an interesting story.
"But I want to win, I'm just going to be honest. My dream is to win this competition. I've known ever since I saw Latrice Royale on that runway. If she could do it, I could do it. I want to be the first big girl to win, and I'm going to fight tooth and nail to the bitter end. And hopefully it all comes into fruition, honey. It's up to Mama Ru!"
RuPaul's Drag Race returns for season 10 on Thursday, March 22 at 8 p.m. on VH1.