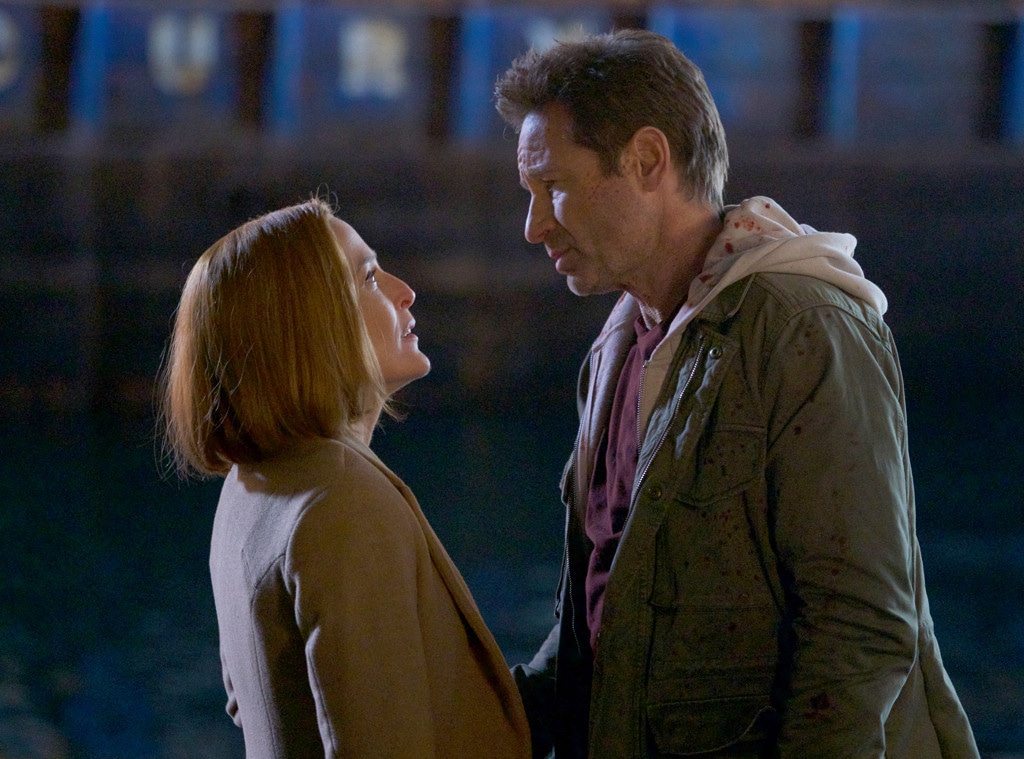 Fox
This is the end of Mulder and Scully as fans know it. Whether The X-Files returns for another chapter of episodes or in another form remains to be seen, but the season 11 finale, the second event series, ended with "My Struggle IV," and changed the dynamic duo…forever? Warning, spoilers ahead!
In "My Struggle IV," written and directed by series creator Chris Carter, Mulder (David Duchovny) went on the hunt for his son, William (Miles Robbins), at the urging of Scully (Gillian Anderson). Only William isn't his son. As revealed in the season premiere, "My Struggle III," William—also known as Jackson on the show—was a creation of the Cigarette Smoking Man (William B. Davis), implanted in Scully. Mulder's hunt for William had him encounter shady figures (A.C. Peterson and Barbara Hershey) from earlier in the season and everything culminated in an abandoned factory where...
- Skinner (Mitch Pileggi) shot and killed Reyes (Annabeth Gish), but he couldn't stop CSM from coming at him full speed in an SUV. Skinner dove under a car, but was it enough? Viewers saw his legs, seemingly lifeless pinned between two cars.
- Scully had her encounter with William in the guise of Mulder.
- CSM shot "Mulder" in the head, but it wasn't Mulder, it was William. The real Mulder shot CSM many, many times and threw his body into the water where William's also landed.
- Scully revealed the truth about William's parentage. A distraught Mulder was then presented this news: He would be a father after all, Scully was pregnant with his baby.
 "For so long, I believed," Mulder said. "What am I now if I'm not a father?" "You are a father," Scully told him, placing his hand on her stomach. "That's impossible," he said. "I know. I know. It's more than impossible," Scully said.
And then William emerged from the water, a bullet whole in his forehead, but very much alive.
The end of The X-Files? Not if Carter has his way.
"I don't see it as an ending, I see it as a new beginning. So it's not a conclusion for me, it is a cliffhanger," Carter told E! News in a phone interview. Carter said Anderson's desire to end her time as Scully did not influence the ending he crafted for the characters.
Read on for more!
Skinner's fate: When I talked to Mitch on set he said he wanted Skinner to go out in a blaze of glory, but obviously we're not sure if that is what happened. Do you want to clear anything up?
[Laughs.] The truth is out there. Certainly we saw him pinned under the car. But that action sequence that led up to it really leaves a lot to the imagination. Did he dive? Was he run over? Even though we saw him motionless, there's a lot that could be construed.
The Cigarette Smoking Man has beaten death before. Why did Mulder push him over the edge after shooting him? Didn't he want the body as proof? Here he is, he's dead.
[Laughs.] He was so angry at that moment. He had really shot Mulder and Mulder had witnessed the end of that. If this man could kill his own son, I think Mulder was overcome with his own emotions.
You said this isn't the end of Mulder and Scully, but it is kind of a happy ending for them. It seems tidy. Like if this were the end, would you be satisfied?
You know, I'm never satisfied, so I'll leave you with that. I'm standing with them at the end of the pier, that's where I leave this season. I'm in shock like they are, my mind is reeling and thoughts of the future are rushing through my head. I'm as off balance as they are.
Scully says her pregnancy is impossible because we learned in the original series she's infertile, is that what she's talking about?
Yeah, her first pregnancy was miraculous and certainly her second pregnancy is miraculous and even more so given the fact that she plays 53 years old on the show. That's not unheard of. Women have given birth at the age of 70. As she said to Mulder at the end of episode three, she was at the end of that journey.
You said there are so many uncertainties with Gillian wanting to leave and [Disney buying Fox assets], but would you consider another movie? An animated series? Or would it be more live-action episodes.
Animated series is interesting. I'm open to really everything right now. I'm just pleased with this season, as I said to you. I'm happy to be finished and take a little break. I live in an area that has been beset by fires and floods, so I'm still digging out from that situation.
Do you have a message for fans after they've watched the finale?
I think fans have come to understand for over 25 years, that when this first series ended, there was another movie. When the second movie finished, there was another series. I think The X-Files still has a lot of life in it, not matter what that life might be.