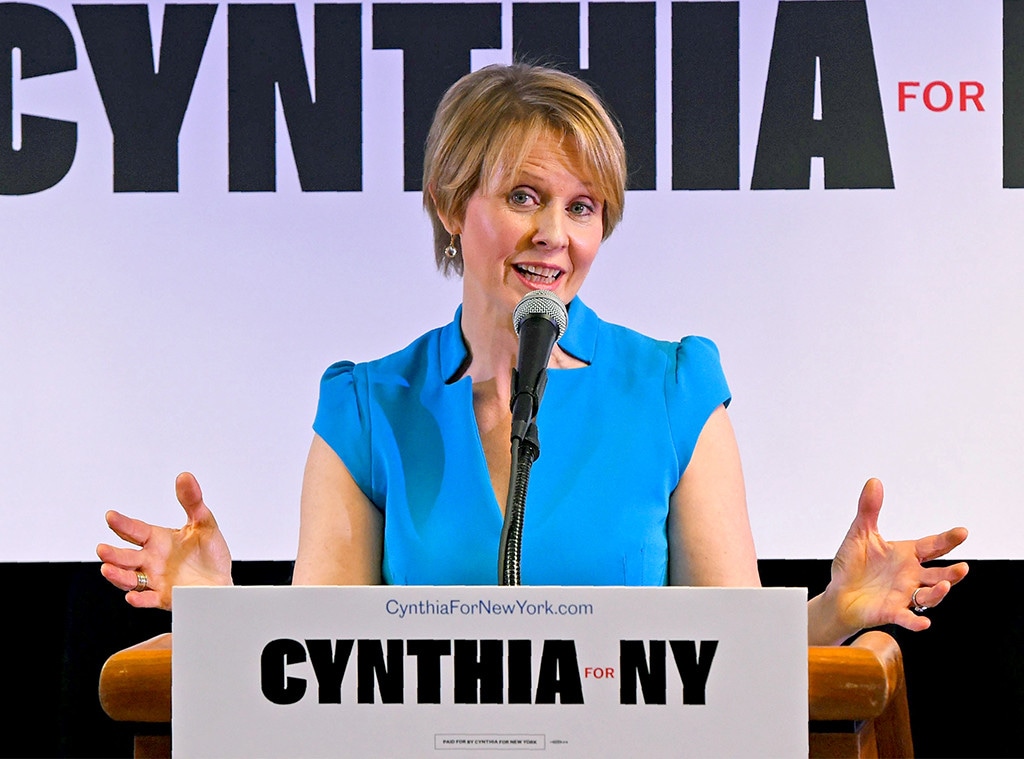 TIMOTHY A. CLARY/AFP/Getty Images
A funny thing happened on the way to the rally...
Former Sex and the City star and current New York gubernatorial candidate Cynthia Nixon happened upon a picture perfect political moment after her No. 3 train stopped working while en route to her first official campaign event to discuss many issues plaguing the Empire state—namely Manhattan's transit system.
That's right, Nixon got stuck on the subway—while attempting to talk to voters about how to fix the subway.
Political consultant Rebecca Katz, who worked on New York City mayor Bill de Blasio's first mayoral campaign, tweeted a photo of Nixon departing the subway after the delay and wrote, "That thing when you're headed to talk about fixing the subways and your train goes out of service. #CuomosMTA."
But lucky for the 51-year-old actress, she got to use the delay as a means to drive home her point that things needed to change during her talk in Brooklyn's Brownsville area.
The Democrat made it clear in her grassroots talk that the fault of the MTA issues lay at the feet of Governor Andrew Cuomo.
"I got here just in the nick of time. I allowed an hour and a half for what should have been a 30 minute ride," Nixon told the crowd, reports the Daily News. "Cuomo's MTA."
Just like her tough-as-nails character Miranda, she wasted no times mincing words.
"If Washington is a swamp, Albany is a cesspool," Nixon said at the event. "Andrew Cuomo promised to clean up Albany but instead he and his cronies have cleaned up for themselves. There is a reason that people close to Andrew Cuomo keep winding up under indictment for corruption."
After months of rumors, Nixon announced on Monday via Twitter that she was running for office.
"I love New York, and today I'm announcing my candidacy for governor. Join us," Cynthia tweeted, along with a campaign video.
"New York is my home, I've never lived anywhere else," Cynthia said in a voice-over recording. "When I grew up here, it was just my mom and me in a one-bedroom, fifth floor walk-up. New York is where I was raised and where I'm raising my kids. I'm a proud public school graduate and a prouder public school parent."
"I was given chances I just don't see for most of New York's kids today," she continued. "Our leaders are letting us down. We are now the most unequal state in the entire country, with both incredible wealth and extreme poverty. Half the kids in our upstate cities live below the poverty line. How did we let this happen? I love New York. I've never wanted to live anywhere else, but something has to change."
Cynthia then stated in the video, "We want our government to work again, on health care, ending mass incarceration, fixing our broken subway. We are sick of politicians who care more about headlines and power than they do about us."
If elected, Nixon would be the first female governor of New York.