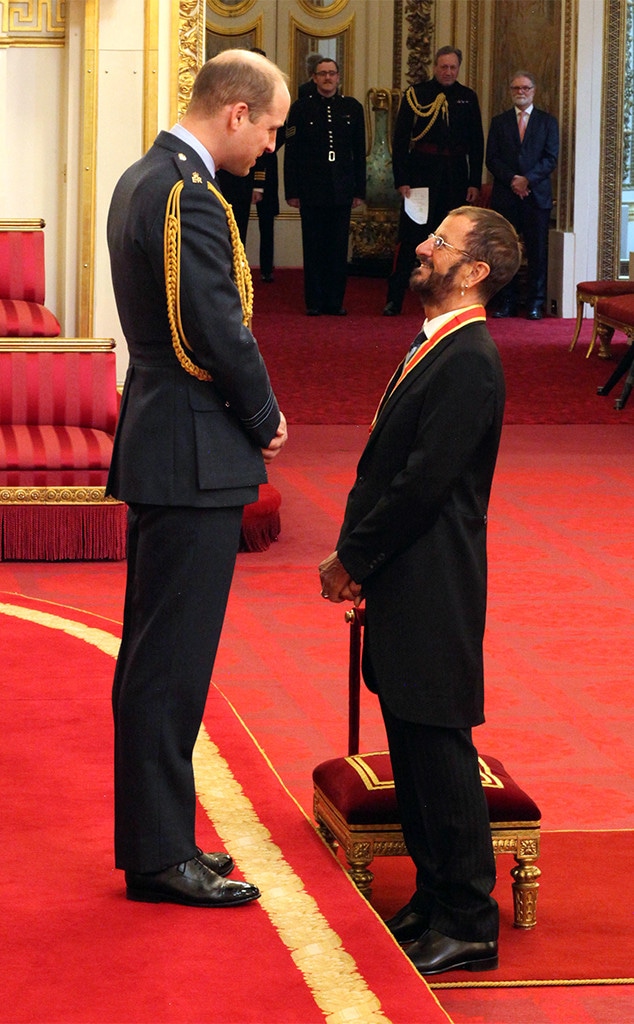 Yui Mok/PA Images via Getty Images
Ringo Starr is now a knight.
Prince William knighted the Beatles drummer on Mar. 20 at Buckingham Palace for his services to music.
"It means a lot actually," the 77-year-old musician, otherwise known as Richard Starkey, told the BBC. "It means recognition for the things we've done musically and in life. So, I was really pleased to accept this award." 
With his title as Knight of Bachelor of the British Empire, Starr can now use the title Sir.
Starr attended the Investiture ceremony with his wife Barbara Bach. However, this wasn't his first visit to Buckingham Palace to receive an honor. In 1965, Queen Elizabeth appointed Starr and his fellow Beatles members—Paul McCartney, John Lennon and George Harrison—Members of the Order of the British Empire. However, Starr told the BBC he was a "bit shaky today on my own."
Yui Mok/PA Images via Getty Images
He also isn't the first Beatles member to be knighted. McCartney received the honor in 1997. When asked if the guitarist shared any words of wisdom before the ceremony, Starr replied, "He said 'Keep smiling.'"
Still, some consider Starr's honor a longtime coming. Lyricist Sir Tim Rice, for instance, described Ringo's knighthood as the "most overdue knighthood of all time."
So, what will Starr do with his new honor?
"With this, I'll be wearing it to breakfast," he teased to the BBC.
Congratulations, Sir Ringo Starr!