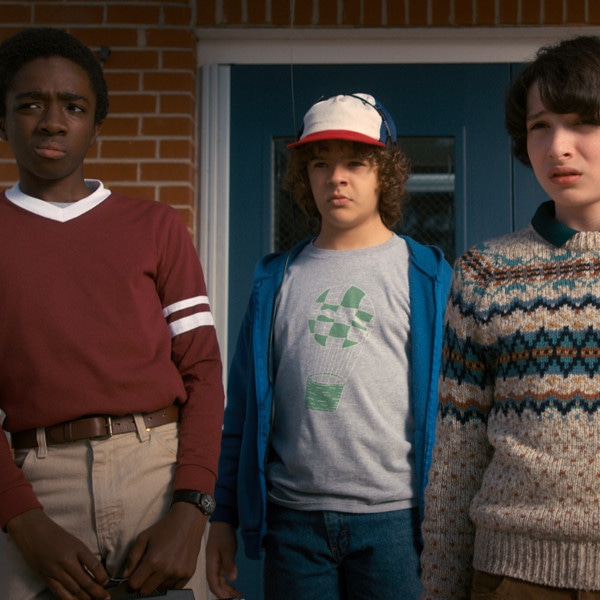 Netflix
The Stranger Things kids are heading into season three with a major pay raise.
According to Deadline, Finn Wolfhard, Millie Bobby Brown, Gaten Matarazzo, Noah Schnapp and Caleb McLaughlin "have reached or are finalizing agreements that will see their pay increase significantly." Winona Ryder and David Harbour have reportedly received raises, too.
Deadline claimed the young stars made about $30,000 per episode during the show's first two seasons. However, that seems to have changed. It's reporting that the kids' per-episode fee has increased to more than $200,000 per episode—possibly even $250,000. Brown, who plays the character Eleven, reportedly received the largest salary increase among her young co-stars.
Still, the adult leads Ryder and Harbour are expected to make the most. According to Deadline, the Joyce Byers and Jim Hopper stars are raking in about $300,000 to $350,000 per episode.
However, these aren't the only cast members expected to get a raise. Deadline reported that Natalie Dryer and Charlie Heaton—who play Nancy Wheeler and Jonathan Byers, respectively—are making $100,000 to $150,000 per episode.
Netflix declined Deadline's request for comment.
Netflix; Melissa Hebeler/E! Illustration
While the cast has remained fairly tight lipped about the upcoming season, fans can expect to see a new face. E! News has learned that Maya Hawke, daughter of Uma Thurman and Ethan Hawke, is joining the cast to play an "alternative girl" named Robin. Priah Ferguson, who played the little sister of McLaughlin's character Lucas, is also expected to have a bigger role.