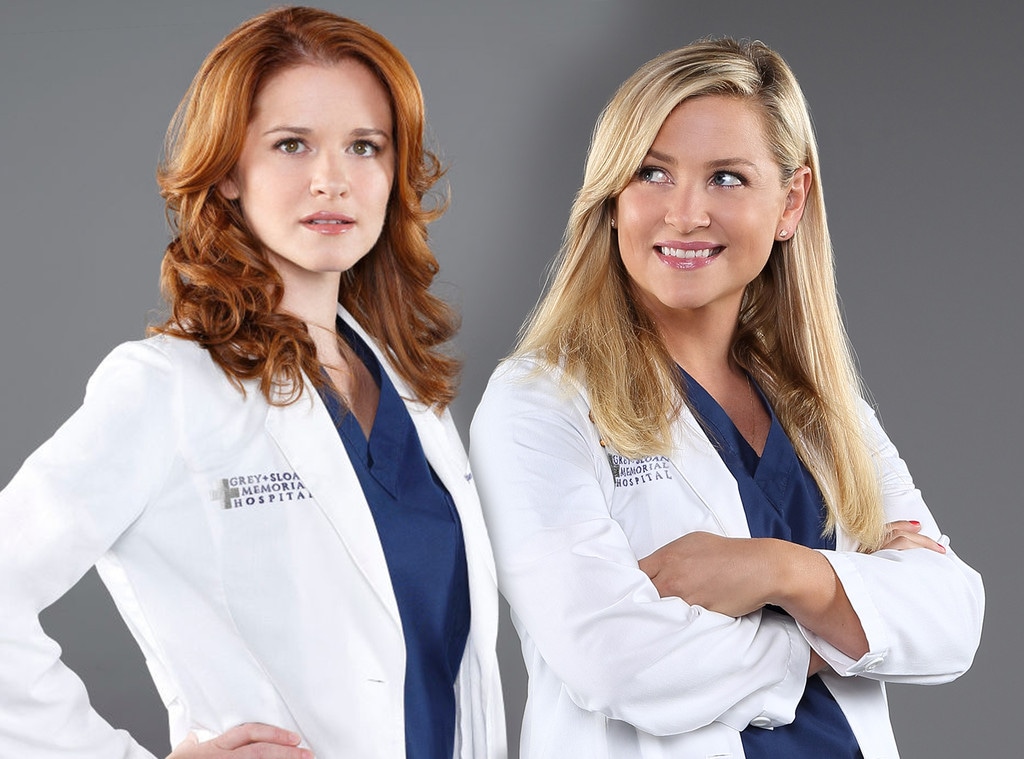 ABC
To say that Grey's Anatomy fans really don't want to see Sarah Drew and Jessica Capshaw leave the series at the end of season 14 is quite an understatement.
On Monday, March 19, a week and a half after it was revealed that their characters April Kepner and Arizona Robbins would be checking out of Grey Sloan Memorial for good this spring, fans took to the skies—literally—to prove their devotion of the pair, as both actresses revealed on social media.
"OMG. There is a plane carrying a banner that says.. WE
Both Capshaw and Drew shared more on Instagram, with Drew sharing photo and video evidence of the banner flying through the skies over the show's Los Angeles studios. "This is extraordinary. We are overwhelmed," she captioned the photo. "We love you right back!!!"
In one of her videos, Drew films Capshaw as she films the banner flying overhead, both actress clearly overjoyed at the sign of support. "You guys, you're so amazing," she can be heard saying off camera.
"Jessica," she says in another. "Can you believe our fans right now?"
"I can not believe our fans right now," Capshaw responds. "I can not. I can not. Thank you!"
Capshaw shared of Boomerang video of herself and Drew in costume on set, making a heart with their hands. It's been a while since @thesarahdrew and I have worked together," she wrote. "And we are feeling the love!!"
While the outpouring of love has no doubt made the news easier for both actresses to swallow, it remains to be seen what—if any—effect this might have on changing their employment situation. While Capshaw remains a free agent come May, Drew has already been cast in the pilot reboot of Cagney and Lacey, which is in contention for the 2018-19 line-up over at CBS.
When the news of Capshaw and Drew's impending dismissals broke, fan outrage caused both star Ellen Pompeo and showrunner Krista Vernoff to defend the decision, which they claim was made purely for creative reasons, in light of one report that some viewed was pinning the blame on Pompeo's highly-publicized raise, which has made her the highest-paid actress currently working in TV drama.
"The suggestion in the Deadline article that our cast changes are in any way related to Ellen Pompeo's salary renegotiation is wrong and hurtful and misguided," Vernoff wrote on Twitter. "It smacks of an old, broken, patriarchal notion that women must be pitted against each other and that one woman's success will be costly to others. Ellen Pompeo has not only advocated passionately for her fellow cast members, she has taken the time to educate women world wide as to how to advocate for themselves and that must not now be twisted. The decision to make changes to our cast was a creative one. The only thing as constant on Grey's Anatomy as Ellen Pompeo is our penchant for reinvention. It is a part of our success and what keeps the show exciting. We love these actresses and we love these characters and it felt true and right creatively to wrap up their stories. And that is the whole story."
Grey's Anatomy airs Thursdays at 8 p.m. on ABC.