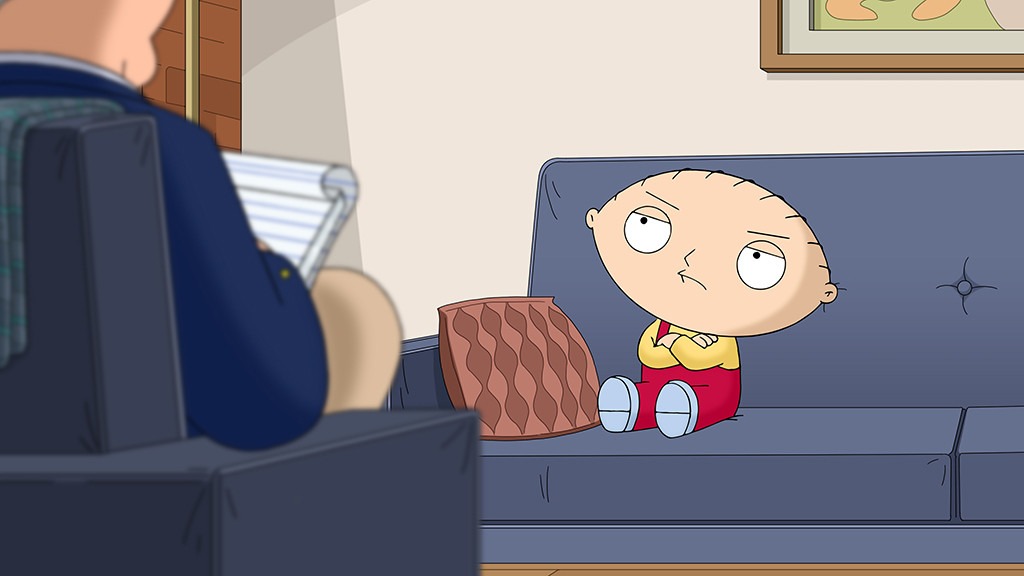 Fox
Everything you knew about Family Guy's Stewie Griffin has changed. In an episode with no commercial-interruption, the Fox animated comedy broke down the secrets of the perpetually 1-year-old cartoon character. Stewie sat down with therapist Dr. Cornelius Pritchfield (voiced by Ian McKellen) after pushing another kid. The 30-minute therapy session broke down Stewie's mysterious British accent and tackled the character's sexuality.
"Stewie's awareness of his sexuality is this uncertain thing, and that needs to stay as it is. His uncertainty gives him a vulnerability, which is something we need to maintain for the series. Whether he is [gay] or not, that isn't going to be answered when he's a one-year-old," episode writer and series executive producer Gary Janetti told TVLine. "But if you read between the lines, it's not that difficult to decipher. He's not even sure 'heterosexual' is a real word!"
"We also talked to [creator Seth MacFarlane] whose opinion was to not lean into [Stewie's sexuality] too much. He's still a baby. He doesn't know yet, and sexuality is a very fluid matter. It's better to keep that as something that's not determined yet," executive producer Rich Appel said.
Janetti told The Daily Beast the show decided to address Stewie's accent randomly, it was never the show's intention from the beginning to explain why he speaks the way he does. The subject won't likely be revisited, he said. Series creator Seth MacFarlane, who supplies the voice of Stewie, also did the character's "real" voice and revealed it at the table read.
"I liked the idea of that being the reveal," Janetti told TVLine. "It felt truthful that somebody who didn't feel like he fit in would create an artificial personality. To an extent, that's what he's done. And then to have Ian's character—the one person he's sharing this big secret with—not even hear the difference was another fun opportunity. It felt like a good way to show Stewie's insecurities in a way that felt truthful to the history of the series."
The revealing episode also featured references to The Flash star Grant Gustin, Brad Goreski (Janetti's husband) and The Real Housewives of New York City star Bethenny Frankel. Frankel took to Twitter to address Stewie's complicated feelings about her.
Family Guy airs Sundays on Fox.