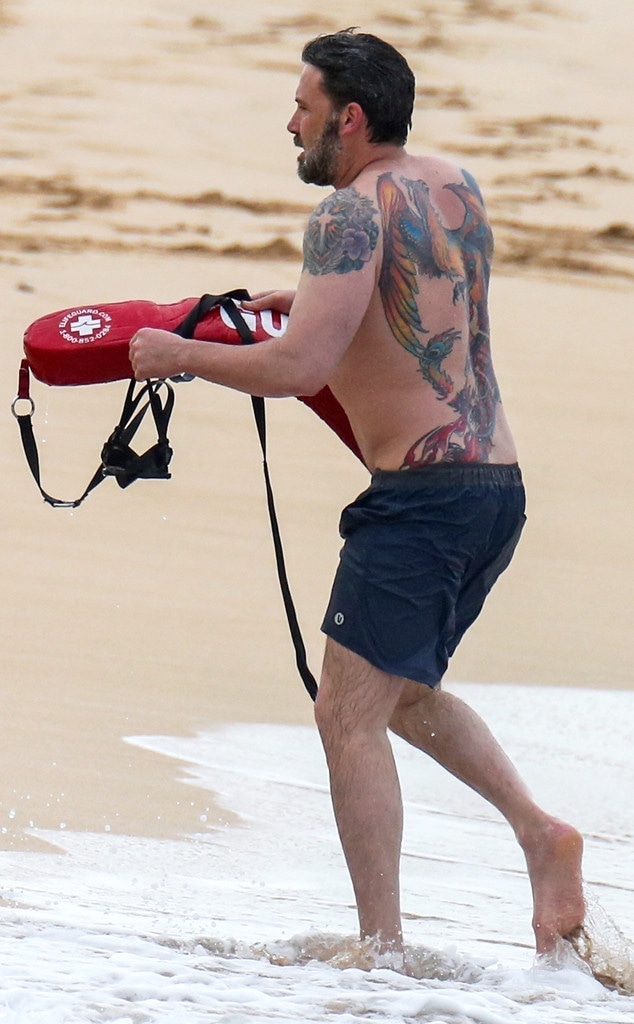 BACKGRID
Ben Affleck recently showcased his massive back tattoo in public two years after he called it "fake," spurring a lot of feelings on Twitter.
Affleck was first photographed sporting the ink, which depicts a colorful phoenix, in December 2015. A source told E! News at the time that the tattoo was real. The actor told Extra months later that it was "fake for a movie."
Affleck, 45, showcased his back tattoo again a few days ago on a beach in Hawaii, proving that his ink is in fact permanent. He was photographed shirtless while taking part in what eyewitnesses said was a training session for the Netflix film Triple Frontier with Charlie Hunnam, Oscar Isaac and Garrett Hedlund. The men have not commented.
Affleck's exes Jennifer Garner and Jennifer Lopez weighed in on his back tattoo in 2016.
"You know what we would say in my hometown about that? 'Bless his heart,'" Garner told Vanity Fair. "A phoenix rising from the ashes. Am I the ashes in this scenario? I take umbrage. I refuse to be the ashes."
"It's awful!" Lopez told Andy Cohen on Watch What Happens Live. "I would tell him, 'What are you doing?' It has too many colors. His tattoos always have too many colors. They shouldn't be so colorful. You know what I mean? They should be cooler."
This isn't Affleck's only tattoo. The Oscar winner also has shoulder tattoos, barbed wire across his right bicep, a large design featuring a fish and a skull and crossbones on his right arm and a dolphin on his right hip, which covered up the name of his high-school sweetheart.