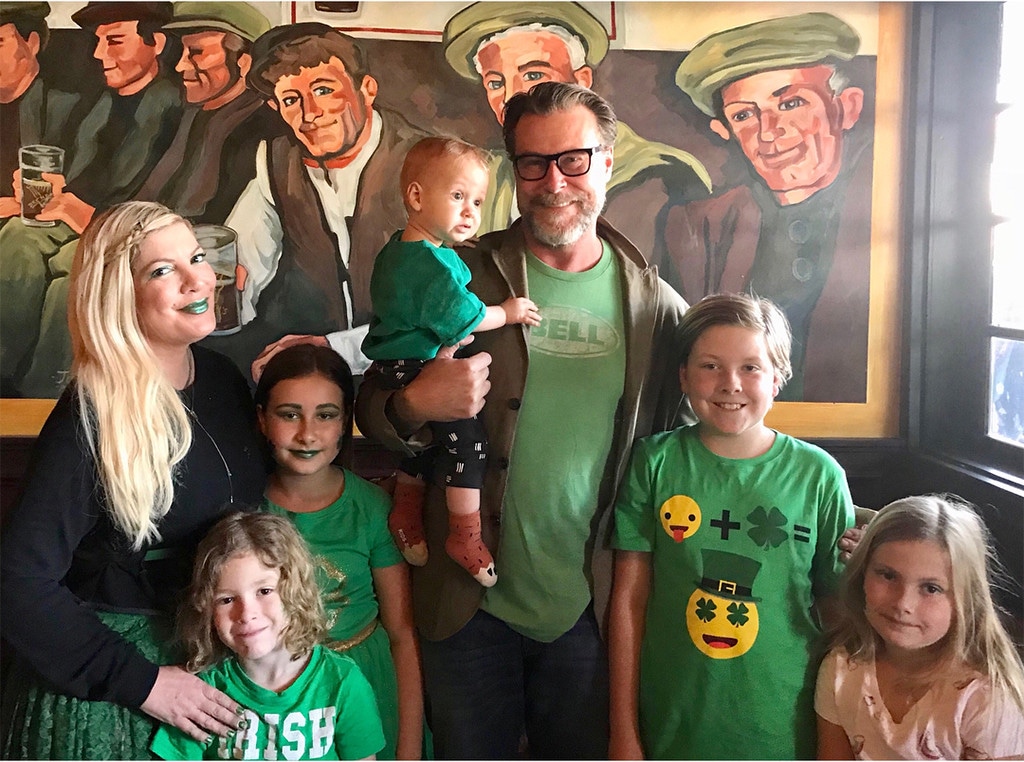 Instagram
Tori Spelling and Dean McDermott were all smiles as they celebrated St. Patrick's Day together with their five kids, weeks after three personal incidents that spurred police assistance.
The Beverly Hills, 90210 alum and reality star and her husband posted on their Instagram pages on Saturday a photo of them and their children at an Irish pub and restaurant in Agoura Hills, Calif. The couple is seen smiling and everyone except one of their daughters is shown wearing green. It marked the first photo Spelling has posted of McDermott on her Instagram feed in two months and the first one showing her that he has posted on his own page since October.
"Yesterday we had the #luckoftheirish," she wrote. "We celebrated #stpatricksday as a family! #gogreen couture & makeup courtesy of #mamabear & @missstellamcdermott . #BabyBeau 's 1st #LeprechaunDay #cornedbeefandcabbage #irish #irishtwins #lucky #we ❤️ holidays." 
Early this month, police were called to the family's home twice in 24 hours and TMZ said that McDermott told them the actress was going through a "breakdown." They did not respond. The following week, he called police to have them check on her well-being after she left home and they later determined she was fine, reports said.
On March 9, the couple and their kids were photographed leaving a diner through a back door while being escorted by police officers. An eyewitness told E! News that as the family dined together, they attracted a large group of paparazzi, who photographed them through the restaurant's windows. Spelling and McDermott were upset about the children witnessing this and called the police, who arrived and coordinated with the family a peaceful escort out of the eatery.
The eyewitness also said that before the dinner, McDermott had asked the paparazzi not to ask questions about Spelling's health or well-being in front of the kids. The photographers did ask Spelling how she was doing, to which she responded, "Everything is great." She also thanked the police for helping her family.
Last week, Spelling and McDermott was photographed making out on a filming set in Los Angeles.
She also appeared to be in great spirits last weekend, after she met with her Beverly Hills, 90210 bestie Jennie Garth at CBS Television Studios to discuss collaborating on a possible project.