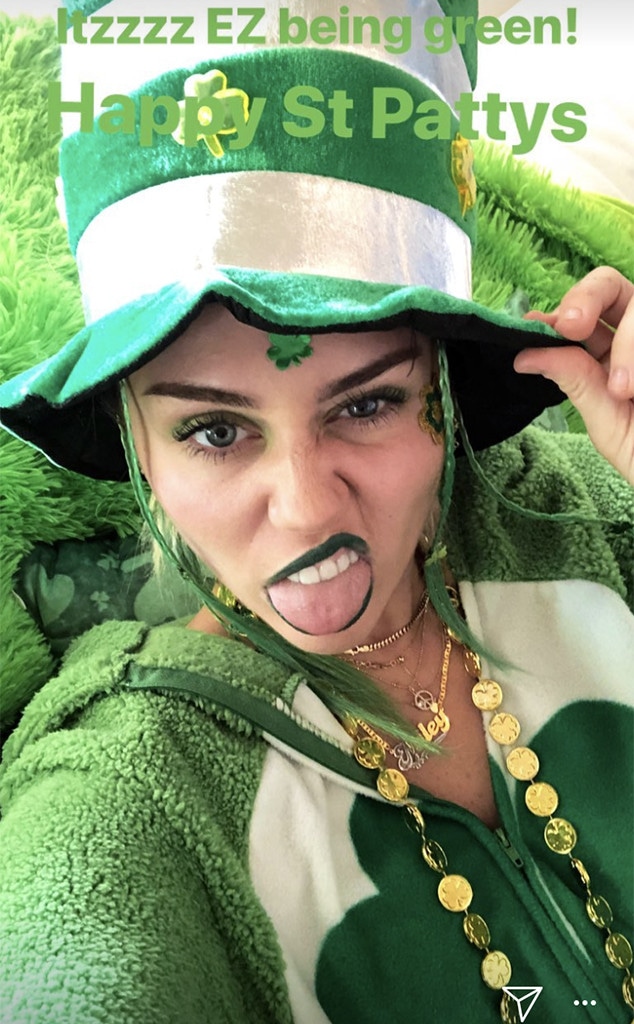 Instagram
There are few celebs who love St. Patrick's Day as passionately as Miley Cyrus and longtime partner Liam Hemsworth.
The 25-year-old pop star and 28-year-old actor posted on Instagram on Saturday photos and videos of themselves decked out in green outfits, amid a slew of holiday-themed decorations.
Cyrus shared a photo of herself sporting green lipstick, green eyeshadow, a green, hooded Care Bears' Good Luck Bear onesie, a tall green and silver hat adorned with shamrocks, a gold coin chain and metallic green flat sandals, writing, "Itzzz EZ being green! Happy St Pattys."
In clips, she dances in a room decorated with hanging shamrocks, green balloons and a floral rainbow display.
"Put my mind on it...then I put my grind on it," she wrote.
She also shared a photo of her licking a pile of gold foil-covered chocolate St. Patrick's Day-themed coins.
"Taste the rainbow bitches!" she wrote.
Hemsworth posted on Instagram a photo of himself sitting on a couch adorned with green pillows, a Leprechaun doll and hat and balloons, while wearing a soccer-themed holiday outfit.
"Happy St. Patrick's day Ireland! Thanks for letting all of us celebrate it with u!!" he wrote. "My grandma was Irish and I couldn't be prouder. Light it up!"