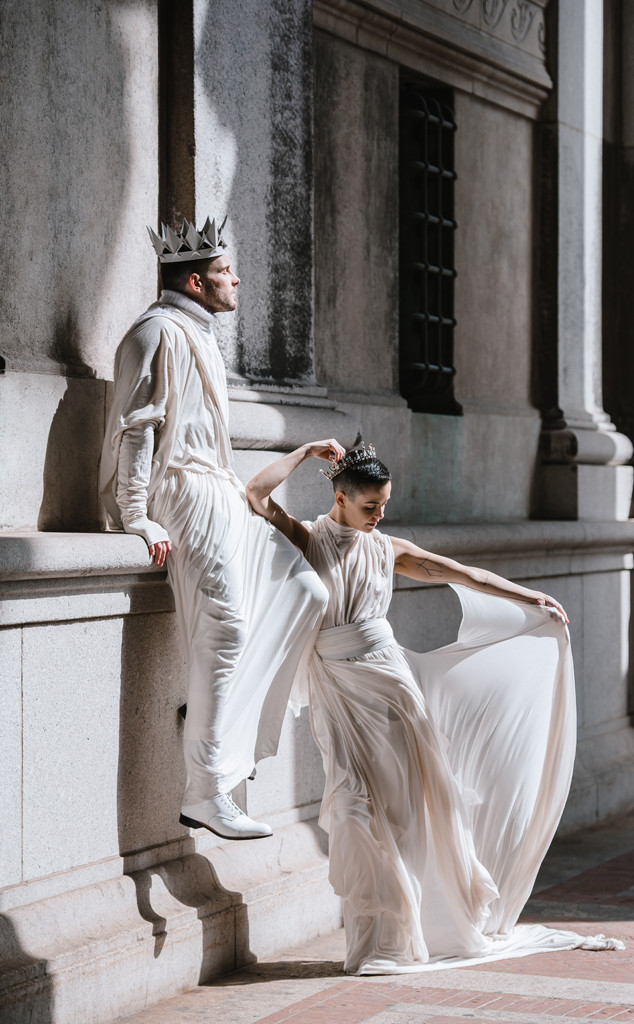 Victoria Matthews
Younger's Nico Tortorella is married!
The 29-year-old star, who describes himself as pansexual, and partner Bethany Meyers, a fitness and lifestyle entrepreneur who identifies as gay, announced on Saturday that they had tied the knot on March 9 at a New York City courthouse. They shared photos of themselves in their draped, white wedding outfits, taken by photographer Victoria Matthews.
"The looks are everything we've ever dreamed of," Tortorella wrote in the LGBTQ publication them. "Genderbending ensembles designed by our dear friend Andrew Morrison. Timeless androgynous paraphernalia mimicking Romanesque sculpture that fluidly blends masculine and feminine."
"In this relationship, we both wear the pants and the dress," he added. "We put on our faces and machinery, finally topping each other off in crowns. Duh, we wore crowns. Not for the gag of it all, but because it feels like something we've done in the past, so we had to keep the tradition alive. In this life's iteration, this is, in fact, our royal wedding."
"My 'dress,' consisting of trousers," Meyers wrote. "His 'tux,' gown inclusive. I suppose you would dub our wedding color white. It was certainly the most traditional thing we did."