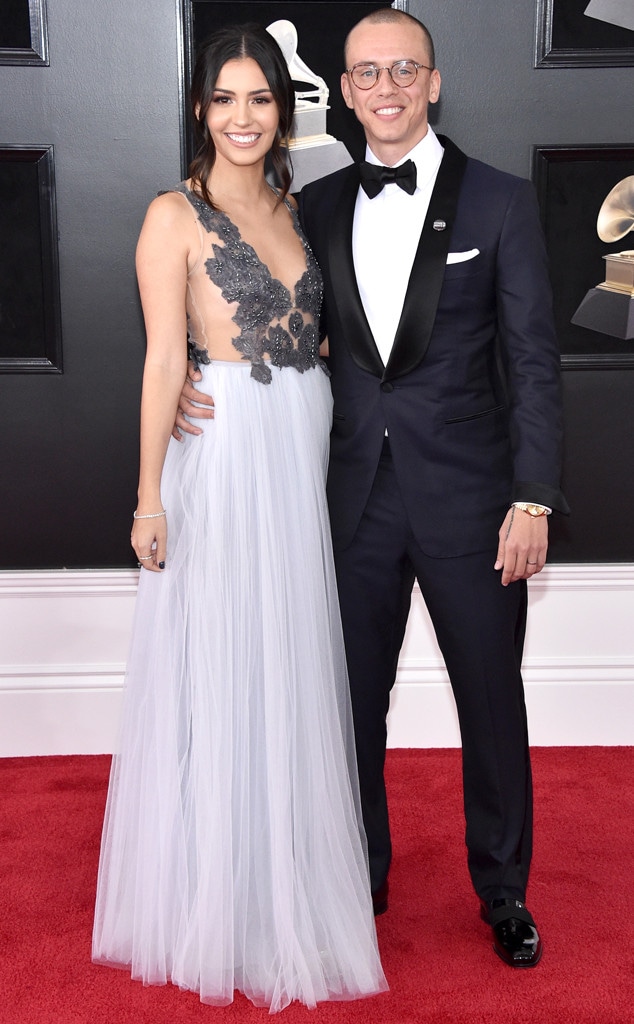 John Shearer/Getty Images
UPDATE: Logic and Jessica Andrea have finalized their divorce, five months after the 28-year-old rapper filed the legal documents. TMZ reports that the judge has signed off on Logic (née Sir Robert Bryson Hall II) and Jessica's divorce case, making them both officially single.
________
UPDATE: Logic has filed for divorce after two years of marriage, The Blast reports. The rapper had previously confirmed that things are over with Jessica Andrea, a 25-year-old singer and social media star, on social media.
"After two years of marriage, we have come to the loving conclusion that we are much better as friends. As entertainers, we have made every aspect of our lives public, yet we would appreciate your respect and privacy on this issue.
The 28-year-old also made it clear the breakup is not a result of cheating. 
"At the same time, we would like to shut down speculation and potential internet clickbait as to the 'why' in how this happened, or the 'who might have done what to whom,'" wrote the performer.
"It's very simple: It just didn't work out. There is no anger involved. No fighting, no cheating, no nothing. We love each other and will continue to support each other for the rest of our lives," added the music man.
But that wasn't all, the "1-800-273-8255" rapper wrote a note to his fans: "And to all the fans: don't be sad. Be happy that we could peacefully end this chapter of our relationship, beginning a new one full of love and happiness. There will be no displays of anger or hatred that tear people apart; the public will not be made to choose sides. There are no sides, there is just us. Two people who loved each other in marriage and will continue to love each other for the rest of our lives.=)"
Jessica posted the same statement on her Instagram.
______
It's reportedly over between Logic and Jessica Andrea.
The 28-year-old rapper and producer and his wife have split after more than two years of marriage, according to TMZ. They have no children together but do share two dogs.
Logic, who last year got a hand tattoo that reads, "Happy wife, happy life," and Jessica were last photographed together at the 2018 Grammys in January.
The two wed in October 2015. Logic told AskMen.com that he proposed to Jessica in a photo booth on Coronado Island in San Diego.
"When it counted down, I took out the ring and asked her, so I got it on film," he said. 
"We'd been dating for a little over a year," he added. "For some, it might seem quick, but I've been with women for five years and it never worked out. When you know, you know. She comes from a great family. She's a really great person. She makes me happy and she's my escape from everything, which is great."
Logic also said he is a "relationship guy."
"I'm not about that 'rapper life,'" he said. "She can come on the road with me. It's fun. But, she also has her own thing. She's an incredible singer. She's on my album on a song called 'I'm Gone.' She has her own life and the things that she does."
They had often expressed their love on Instagram.
On Jessica's 25th birthday last year, Logic surprised her by getting a small orchestra to wake her up by performing the theme song from Larry David's HBO show Curb Your Enthusiasm, one of his favorite shows.
"Woke up on my birthday to a orchestra," she wrote on Instagram, alongside a video. "Am I dreaming?! thank you to my romantic husband @logic301 for doing this sweet surprise for me...you know how to make me feel like a Disney Princess everyday."
E! News has reached out to Logic's rep for comment.
This story was originally published on March 16, 2018 at 5:12 p.m.