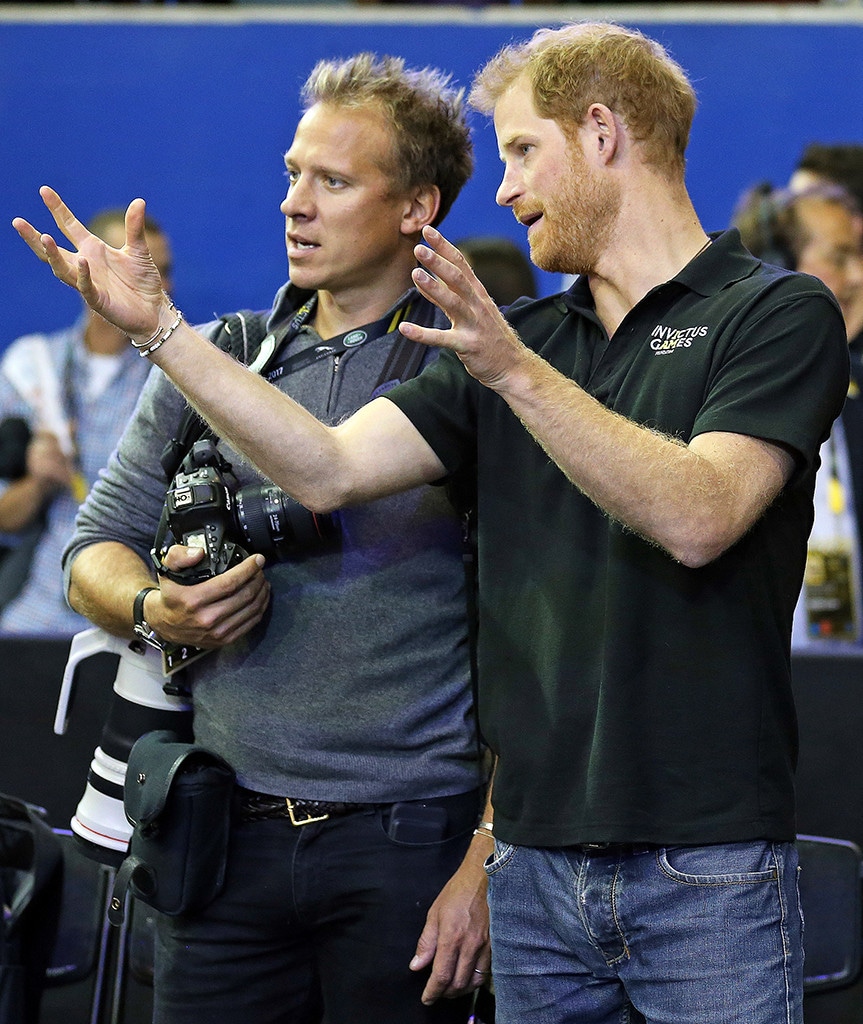 Claus Andersen/Getty Images for the Invictus Games Foundation
To get to know the British royals, most rely on photographs. A lucky few get to be behind the lens. 
Such is the case for Chris Jackson, a professional photographer who has been capturing members of the royal family for more than a decade. As a royal family photographer for Getty, Jackson has been tasked for roughly 13 years with documenting Queen Elizabeth II and her descendants at every turn, whether it be their wedding, portrait, a royal tour or an annual public engagement. 
"I think that's one of the most appealing things about being a royal photographer and the genre I work in is the diversity of types of photography," Jackson told E! News exclusively. "A lot of what I do is kind of repertoire style of photography where I'm there in the hospital or with the prince or with the queen. It's really a skill in that you're kind of like a fly on the wall and you're trying to document it without being too intrusive...what I like about it is that the job is very fresh. I'm always excited because of the diversity and the different types of engagements that you cover every day."
With all of that variety, the day is bound to become logistically hectic—especially as the younger royals mature and take on responsibilities of their own. As such, it becomes a bit of a juggling act for Jackson and his camera. "The royals these days are very busy. They've got lots of charities that they're patrons of, lots of formal events and of course we have the royal diary which is the [backbone] of what the royals do," he explained.
"It can be quite difficult to manage the diary and I obviously try and cover as much as I can across all the different members of the royal family. Everything has an equal sort of weight and I'm just happy covering the queen, covering Meghan [Markle] and Harry one day or the Duke and Duchess of Cambridge the next day, so you try your best to fit everything in, but it can be difficult and quite often I commit myself to one thing and then something else comes up."
Despite the controlled chaos he may face, Jackson has the rare privilege of seeing the royals at a closer vantage point than the average person. With all of that observation, there's certain things one can learn about one of the most high-profile families in modern history and how to best capture them. 
"The weird thing about this job is that you're photographing kind of a family and obviously you know the royal family and they have different characters, different levels of formality and different roles within the organization. For example, the queen is very different [than] photographing Prince George...and basically requires a different approach and requires a different way of behaving, I suppose, and that's what I love. One day you can be with the prince, then with Prince George and see his lovely moments that any 4 year old or 5 year old will be doing and then the queen the next day has this incredible aura around her and it's a totally different kind of engagement," he told E! News.
"I love that and it really keeps your job exciting," he elaborated. "I love photographing all the different members of the royal family for different reasons...I suppose I like the more relaxed situations. [They give] me more opportunity to try and capture those kinds of more candid images, which I love doing, but the royal family wouldn't be the royal family without the formal images and the other kinds of events that we document."
Chris Jackson/Getty Images
Royal obligations and engagements take members of the family—and Jackson—all around the world, including Nepal with Prince Harry and Pakistan with Prince Charles to name a few. For those occasions, Jackson has to be prepared for anything and everything. "All trips involve early starts, late nights, numerous flights, sometimes helicopters, lost luggage, kit breaking, crumpled suits, too hot, too cold, missing meals, security issues, weird and wonderful food, big crowds, small crowds, the list is endless!" he said. "The number one rule of royal tour is always make sure you get on the bus whatever time it leaves!"
As he continued, "Being on the ball is an incredibly important part of the tour. Often these 'moments' can be fleeting and of course I've missed the 'picture' as many times as I've [gotten] it! Often the biggest challenge is getting to places to take the picture. This can involve some complex travel logistics and often I think I could get a second job as a travel agent the amount of planning that goes into a royal tour! The best you can do is 'be prepared,' making sure you have the correct working kit, spares just in case and good connectivity so you can make sure that the images get back to the Getty Images team in London and wing their way around the world!"
Through all of that preparation and stress, the silver lining is the breathtaking sights on the other side of the camera. For example, getting to see Nepal with Prince Harry is an experience Jackson will never forget. "He got an incredible welcome wherever we went, weighed down by numerous garlands as he arrived into the villages," Jackson said of the 2016 trip. "One night was spent in a village in the foothills of the Himalayas looked after by the Gurkhas—an incredibly warm welcome in one of the most beautiful places on Earth. I generally find the more 'foreign' the trip, the more exciting the photos! Papua New Guinea, The Galapagos Islands, Japan, Australia, New Zealand, India, the Solomon Islands have all been highlights for me over the years."
Those trips also present royals with some of their most emotional moments as they're connected to charities they care deeply about. "As a member of the British royal family, you have an incredible ability to shine a spotlight on important causes and affect positive change in a totally unique way," Jackson said. "I often find documenting the royals in this area I can take some of my most intimate and heartwarming photos as they get really stuck into causes they are passionate about and meet individuals struggling with many challenges. The emotion is reflected in the images."
While Markle will not become an official member of the family until her wedding to Prince Harry in May, she's already been welcomed into the royal—and public—fold by joining in the engagements. "It's been great to see the response of the public, the British public, who really sort of embraced her and huge crowds have come out," Jackson observed. "She's been very professional and it's been great to see...It's been really lovely to get those interaction shots [between her and Harry] and it's very natural between them both."
As Jackson gears up for the big wedding day, he already has a general idea of what to expect having photographed brother Prince William's nuptials: an early start, plenty of crowds and tons of cameras. "I will take what I learned from that to Prince Harry's wedding in terms of the preparation and making sure from the technical point of view all my equipment's ready, I have all the right lenses, all that kind of stuff. So, essentially what I do every day…I'm always sort of prepared and expecting moments...but that doesn't take away from the history of the moment and how excited I am."
Like he pointed out, "There's only a handful of moments like this."
Before Jackson adds more iconic photos to his repertoire, take a look below for some of his favorite shots—and his memories of those moments.