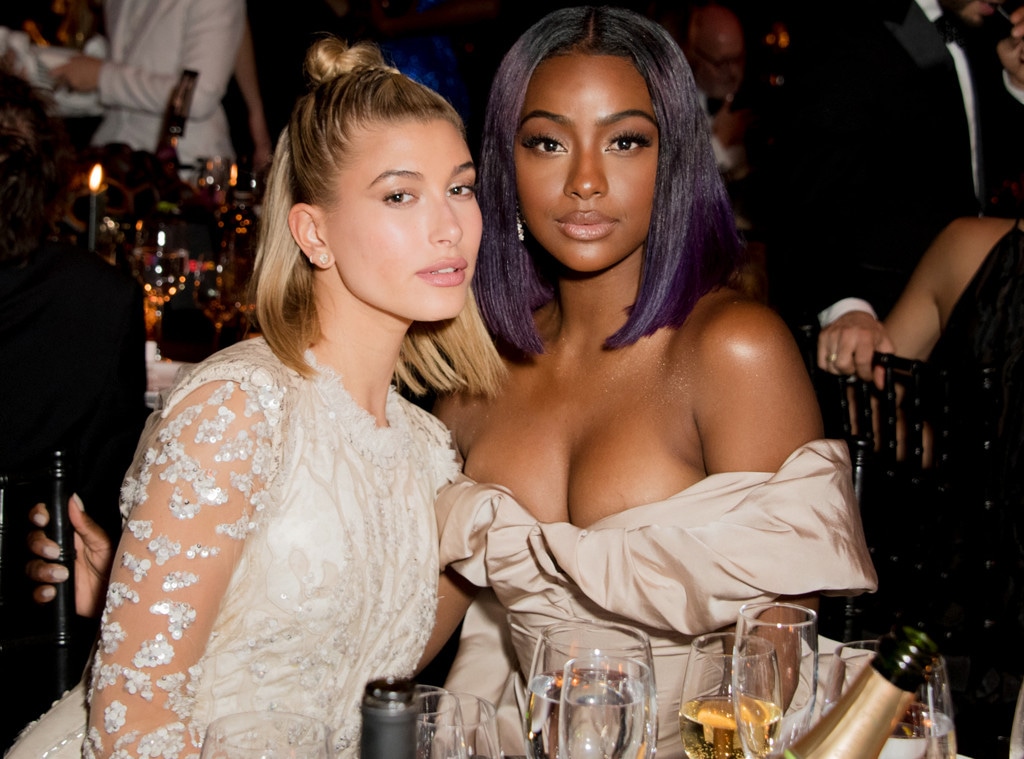 Kevin Tachman/amfAR2017/Getty Images
What exactly is an It Girl?
It's term we throw around quite often these days to describe women with social followings in the millions, a contact list that includes the most elite designers, photographers, glam squads and stylists and a closet that would bring you to tears. These are the women everyone wants to be, watch and engage with.
In the '90s and '00s, they were supermodels whose lives were limited to the interviews of print magazines. Today, It Girls are expected to reveal their daily lives on social, while also finding fulfillment and success in personal creative pursuits. It's hard work.
If anyone knows this, it's Justine Skye.
In celebration of International Women's Day, Puma invited the Ultraviolet singer, who dances to the beat of her own drum, to share her badass moves with other women. She told E! News what it really takes to be an It Girl.
You have to keep your body in tiptop shape.
When your vacation plans includes yachting with BFFs Hailey Baldwin, Kendall Jenner and Bella Hadid, epic swimsuits photos are happening. According to Justine, you don't have to get ready, if you stay ready.
"I work out with my trainer like 4 to 5 times a week," she revealed. "I do 45 minutes of cardio, then we do dynamics and end with some weight training and abs work outs." 
NBD.
Self-motivation is key.
While many struggle to make it to the gym on a weekly basis, the singer shared that her motivation lies within her own work.
"Sometimes I'll listen to my own music to get me motivated," the self-described purple unicorn shared. 
If you don't have own album to blast, trap music will also do.
She continued, "Other times I'll listen to trap music to get me hyped and into a steady rhythm."
You have to stand out.
Even if the star wore a basic white T-shirt, jeans and plain white sneakers (which most likely won't happen), you'd see her a mile away. Her bright purple hair has helped to create her spotlight with its attention-grabbing nature.
The 22-year-old, who has been dying her hair ultraviolent for six years now, says "It's become apart of who I am."
The vibrant hue is bold and bright, yet she shared with us, "It's also one of those things that makes me comfortable but makes me stick out." 
You have to push your fashion boundaries.
Being an It Girl requires being at the forefront of fashion, and that means you have to push yourself to step out of our favorite style uniform. For Justine, that means adding more color to her Brooklyn-born style:
"I feel like my wardrobe is a bit dark, which can happen when you're from New York or you have ultraviolet hair," she said. "But I want to add some more color into it so that's the goal for this spring."
You have to make your own way.
"I don't think I've necessarily been one to follow trends." 
She wouldn't be alone in this. Trendsetters don't follow trends—they set them. But, that also comes with a necessary fearlessness to wear you want, no matter what's hot.
Despite popular belief, you decide whether you're an It Girl—not the world.
Justine is wearing the Puma Archive T7 Women's Jumpsuit and Muse Echo Women's Sneakers.