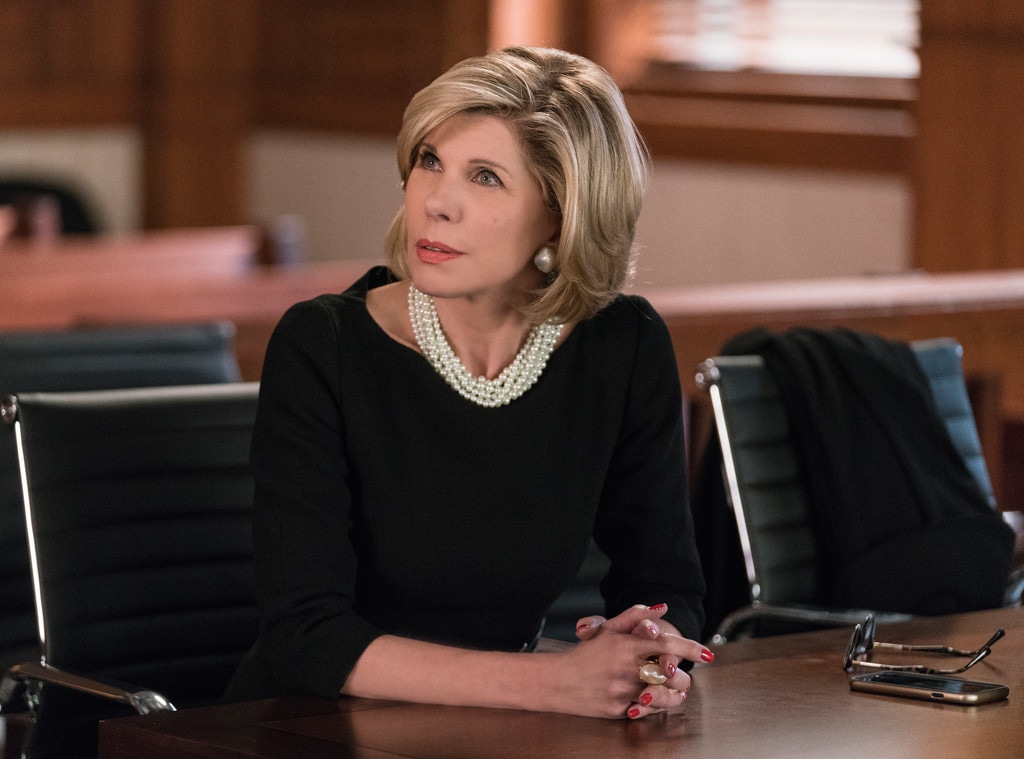 CBS
The Good Fight's Diane Lockhart (Christine Baranski) has always appeared to be calm, cool and collected. That all changed with season two.
That's not to say Diane Lockhart has lost her dignity, but the character is having trouble pretty much just living her life. The Good Fight is set in the real world with Donald Trump as president. It's a world Diane, nor Baranski, ever thought she'd be in. The very first episode of The Good Fight began with Diane in shock over Trump's win. Fast forward a year to the season two premiere and Diane is self-medicating with psychedelic mushrooms. Yes, that Diane Lockhart, the brooch-wearing, famously sage attorney from The Good Wife, is doing micro-dosing shrooms.
"I don't think she ever saw herself doing it. I think on that particular day, surrounded by death, people dying and the world going crazy, Howard Lyman being a judge—the world is turning on its head and I think it's not an escape as much as a release," Baranski told E! News during a recent set visit. "I think it's, 'Just get me out of this reality and into some other place where I can expand or take some deep breaths.' I think that's what that experience is for her. It's not like drinking an entire bottle of scotch, like 'Just get me out of here, I want to be unconscious.' I think she'd love to be conscious but relaxed about being conscious."
The Good Fight's law firm Reddick, Boseman & Lockhart is looking into Trump's impeachment on the TV series, including pursuing the alleged "pee tape." Pursuing action against the president has helped Baranski deal with her real-life stress.
"It is very cathartic. In fact, I shot a big scene where [Diane] just totally loses it in the conference room and says, 'I'm tired of being the grown-up in the room. I'm tired of being the one who steps aside while other people pick my pockets, while they gerrymander and steal the presidency,'" Baranski said. "She just lets it rip and even says she's got a gun in her drawer…she just, boom!
"You can see I have a television in my room; I'm not an inveterate television watcher, but I have become quite—I find cable news so compelling now, so does Diane, because what's coming out is constantly so compelling," Baranski continued, noting the day she shot Diane's big breakdown was when then-FBI Deputy Director Andrew McCabe resigned.
"Suffice to say, it was a big news day where it was another jaw-dropping, 'How can this be happening?' in real-time, and then I went down and shot the scene. I'm hoping that it's not only me who feels a catharsis in playing the role, but an audience will identify with her and say, 'Yes! That's how so many of us have been feeling. And if even someone as reasonable as Diane is cutting lose and saying, well, screw this maybe it's time to use lies and manipulate thing to get our way'…she's at wit's end and I think a lot of people are," she said.
Baranski's costar Cush Jumbo said one of the good things to come from the Trump presidency are the "interesting storylines" The Good Fight can explore.
"Which is weird because we're supposed to be—our world is supposed to be the unreal world. It's not supposed to be the real world," Jumbo said with a laugh. "This [The Good Fight world] feels more real."
Jumbo, who is British and plays attorney Lucca Quinn, a character she brought over from The Good Wife with Baranski, was quick to joke she's on a Visa and would like to continue working on the show, but said it's been interesting to live and work in America under Trump.
"Although, I would say that it's interesting as well because the show hasn't just become Trump's show. I think the Trump, some of the Trump storylines have given us access to other storylines…We don't see him every night when we go to sleep kind of thing," Jumbo said during a visit to The Good Fight set.
For Rose Leslie, another actor from across the pond, The Good Fight's political stories keep her informed. The former Game of Thrones star, who currently plays attorney Maia Rindell on the CBS All Access series, praised co-creators Robert and Michelle King for the way they bring in politics because "as a result it asks audiences to question their particularly values or beliefs, it doesn't ram them down their throats."
"But it makes one query that particular stance in life and I think that can only ever be a good thing and it can only ever bode well for conversations to happen and for one to have an open mind and to accept these opinions and question your own beliefs," Leslie said during a recent phone interview. "I think that is incredibly important for the world we live in currently."
The Good Fight drops new episodes Sundays on CBS All Access.