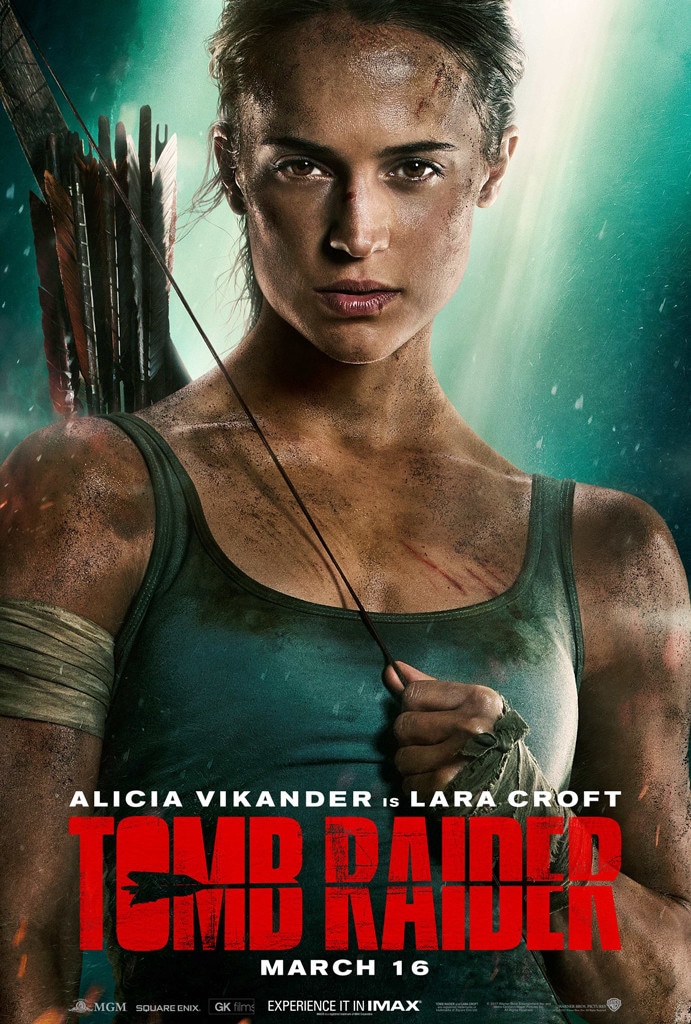 Warner Bros.
It's been almost 15 years since Hollywood was last graced with a Tomb Raider movie and now, history will repeat itself with a reboot. But can it pull a crowd?
In June 2001, Angelina Jolie starred in the hit film Lara Croft: Tomb Raider. The sequel, Lara Croft: Tomb Raider – The Cradle of Life, was a domestic box office failure and was more successful abroad.
On Friday, the rebooted Tomb Raider, starring Alicia Vikander in the iconic role of Lara Croft, hit theaters nationwide. Last year, the actress told E! News that her movie would have a whole new take on the original movie. 
As is usual, critics were treated to a preview of the remake. The reviews were mixed.
Read some of the top reviews below.
1. Variety's Owen Gleiberman says, "The exciting surprise of the new Tomb Raider is that it doesn't tamp down Vikander's inner flame, or the three-dimensionality of her talent; it doesn't fold and insert her into an overly gymnastic and CGI-happy thrill ride. The movie is full of vine-swinging, bow-and-arrow-shooting, ancient-spirit-meeting action, but most of it is staged on a convincing human scale, one that's been expertly tailored to its star's understated directness."
He goes on to say that the movie "is hokum: brisk but derivative, a compendium of jungle-chase pulp spun into something stylishly watchable. Yet when a movie like this one is made with a semblance of the human touch, and when it gives an actress as alive as Vikander a chance to carve out a true character instead of just inhabiting a series of stronger-than-life poses, you walk out feeling honestly entertained rather than jittery with overkill. It's something that shouldn't be so rare: escapism that breathes."
2. The Hollywood Reporter's Todd McCarthy writes, "Brandishing impressively packed abs and enough upper body strength to pull herself out of countless jams, Alicia Vikander gamely steps into the kick-ass role twice played by Angelina Jolie, but the derivative story and cardboard supporting characters are straight out of 1930s movie serials...the film strains credulity even for a vid-game fantasy by letting the leading lady recover awfully quickly from bad injuries, but other than that Vikander commands attention and is the element here that makes Tomb Raider sort of watchable."
3. Vulture's David Edelstein comments. "One might liken it to a big-screen video game. Which it proudly is. The actual video game was very good and so is the action in this movie."
On Vikander, Edelstein writes, "Emotionally, she's all there—achingly vulnerable in the scene that follows the sequence I've described and fierce for the climax to come," but, "she doesn't have Angelina Jolie's droll, to-the-manor-born insouciance."
"I'm probably overpraising Tomb Raider—it's not that big a deal. But it's not a small deal," he says. "I don't want so many sequels/prequels/video-game/comic-book/CGI-laden movies either, but there's a lot of space for good work between the high of Black Panther and the abyss of The Mummy."
4. The Los Angeles Times' Justin Chang states that "it isn't easy for an actor to take a soulless digital avatar and make her a persuasive amalgam of flesh, blood and feeling," but believes Vikander was successful in doing so.
"Vikander steps into the character's mythology and emotional backstory—with unsurprising ease," he said.
The review does well to point out the power of female leads in today's climate.
"Most significantly, perhaps, this "Tomb Raider" arrives at a moment when female protagonists are far better represented in mainstream American action cinema than they were when the Jolie movies were released," he says.
5. Entertainment Weekly's Leah Greenblatt characterizes the remake as "actually pretty good fun; an old-fashioned treasure-island adventure tale gilded in circa-2018 wokeness (Lara Croft's breasts no longer command a lead supporting role) and anchored by an Oscar-winning actress far more gifted than the story requires."
6. Deadline's Pete Hammond states, "It all rests on Vikander's shoulders, and the Swedish-born star proves she has what it takes and then some. In addition to ably filling the physical requirements of the role, she also builds up a great deal of empathy for the character that has us rooting for her all the way... Gamers ought to love it, and you can thank Vikander for keeping it all together and making it work as well as it does." 
7. Vanity Fair's Jordan Hoffman described the movie as "a franchise resurrected not because there was consumer demand, but because it is a brand name everyone recognizes."
"By contrast, the only thing about the new Tomb Raider with any pizzazz is the name of its director: Roar Uthaug,' the writer says. "Uthaug's take on this material is almost aggressively boring...The other main issue, alas, is Vikander. While she's likable and offers no shortage of concerned, white-of-the-eye reaction shots, she simply doesn't click as an action hero under Uthaug's direction."
8. Rolling Stone's David Fear says, "It's a pleasure to watch [Croft] solve puzzles and sprint through dangerous obstacle courses, even if the sequences themselves often feel like stock footage from other blockbusters or random gameplay she's been digitally inserted into."
But the issue, in critic David Fear's eyes, lies in the direction.
"No matter how much Uthaug tries to add elements to make this a sleeker model, the movie keeps bumping its head against a ceiling of limitations and expectations," he writes. "Tomb Raider may be a less camp, more cunning take on the arts and Crofts that have made the brand a hit, but to call this a better-than average videogame movie is to damn it with faint praise."
9. The Guardian's Peter Bradshaw says, "This Lara is notably more serious and sensitive, and unlike Jolie, or the figure in the 90s video game—she doesn't have to wear cute shorts or revealing clothes, which is fair enough. But she does an awful lot of very pathetic and borderline creepy daddy-daughter pining for that all-important man in her life...This new Tomb Raider has been exasperatingly set up as an origin myth, teeing up a possible new franchise."
"Throughout Vikander maintains a kind of serene evenness of manner," he adds. "Blandness is Lara's theme."