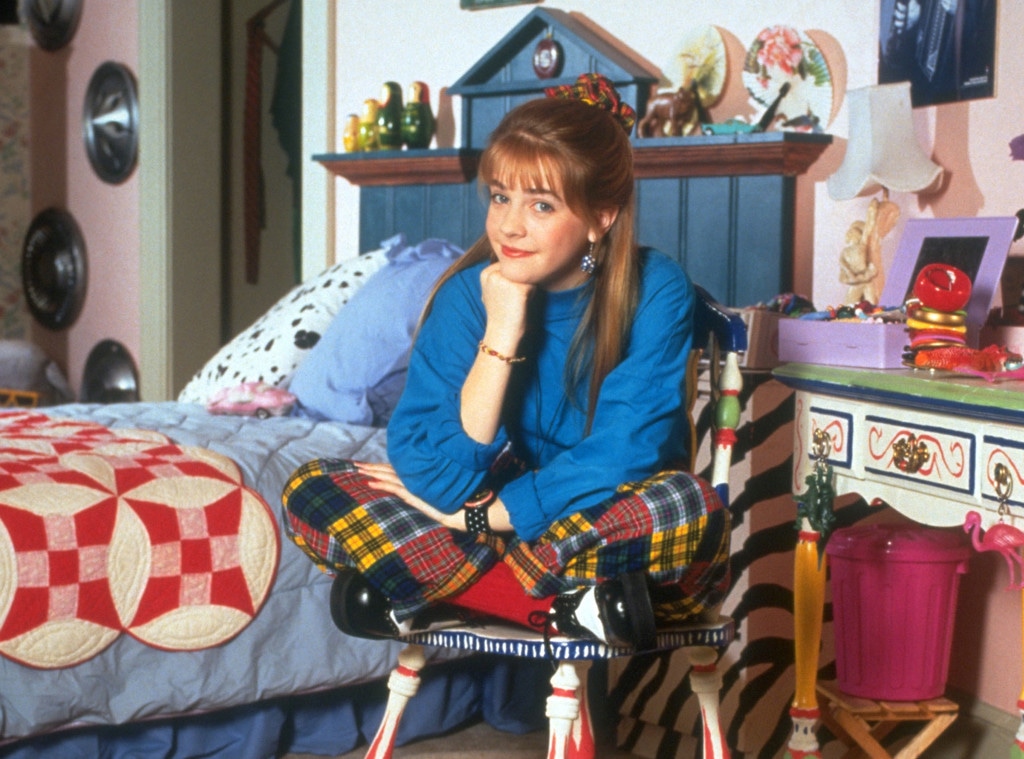 Nickelodeon
Start practicing those na-na-na-nas, it looks like Clarissa Darling is coming back to TV with a reboot/revival/spinoff of Clarissa Explains It All.
According to The Hollywood Reporter, Nickelodeon is in early talks to bring back Clarissa Explains It All with Melissa Joan Hart reprising her fan-favorite role, but this time as the moment of the family. It sounds similar to what Disney Channel did with Boy Meets World and Girl Meets World and Netflix's Fuller House, the spinoff from Full House.
THR reports original series creator Michael Kriegman is in talks to return and executive produce alongside Hart and her mother Paula Hart.
Clarissa Explains It All ran from 1991-1994 on Nickelodeon, producing 65 episodes over five seasons. The series starred Hart as the title character, a teen with a pet alligator. She'd talk to the audience and often breakdown the stories with fake news segments. The show also starred Jason Zimbler, Elizabeth Hess, Joe O'Connor and Sean O'Neal.
A spinoff pilot, Clarissa, was shot for CBS in 1995, but was not picked up to series. The show would've followed Clarissa interning at a newspaper in New York City. The pilot eventually aired on Nickelodeon. Kriegman previously revisited the character of Clarissa in the 2015 novel Things I Can't Explain. It followed Clarissa navigating life in her 20s.
After Clarissa, Hart went on to star in Sabrina, the Teenage Witch. Netflix is currently working on a new Sabrina, a spinoff of Riverdale with a darker tone, set to star Kiernan Shipka. In 2015, Hart told E! News she wouldn't rule out returning to one of her past projects as the wave of TV reboots and revivals took hold.
"I think it's great, I mean I totally get it," Hart told E! News when asked about revivals. "Never say never, but I'm not going to try to push it, really. People have already approached me about doing a few reboots, whether it's Clarissa or Sabrina."
Hart said Clarissa was more primed for a revival than Sabrina.
"I think it would have to be done really right. You can only go back to the well so many times...it's either going to be done really well and people will only know me as this one character for the rest of my life, or it's going to be really embarrassing and I'll never work again," she said with a laugh. "I think it's a really tricky, fine line to walk as an actor and I had a fantastic time on that show and I just think fondly on every moment I had—all seven years on Sabrina and those four years on Clarissa—but I think you just have to be really careful with that stuff. I know the fans say they want it, but then—then they're really hard on you after. It never turns out as well as the fan-fiction does, you know?
"So, I don't know. If we were going to redo it, I would take real quality control measures to make sure that this is going to be something fantastic," she said.
Nickelodeon declined to comment on the story. The network is already rebooting Blue's Clues, made a Hey Arnold! movie and is prepping for the return of Invader Zim and Rocko's Modern Life.