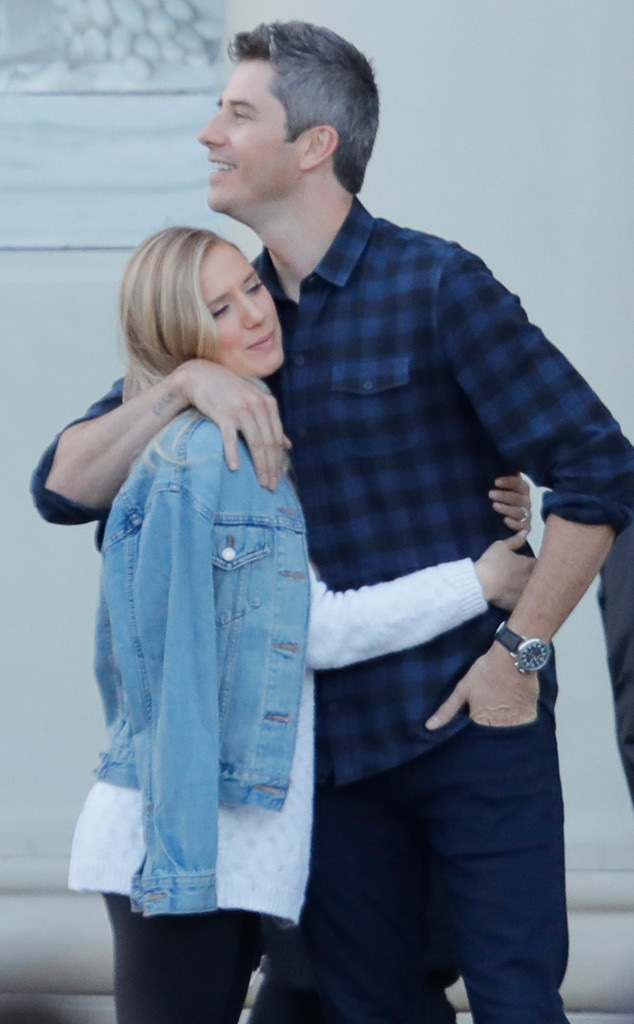 MPH / NK / Splash News
Goodbye Iceland and hello Spain!
As Arie Luyendyk Jr. and Lauren Burnham continue to celebrate their engagement, the pair arrived at their next destination where they immediately displayed some serious PDA.
ABC's former Bachelor was all smiles when he embraced his fiancée while wearing a plaid button-down and dark navy jeans.
As for Lauren, she leaned in for a hug while sporting a denim jacket and leggings after a flight on WOW air.
"Made it to Barcelona," Arie wrote on Instagram Stories while showcasing his room at the Iberostar Paseo de Gracia. "This place is incredible. Can this get any better?"
A source tells E! News the couple is staying in a suite at the celeb-friendly hotel. The two-story space boasts 360-degree breathtaking views of Barcelona, including the ocean, La Sagrada Familia, Tibidado and Montjuic. We've also learned the estimated cost of their stay is $25,000.
"They couldn't keep their hands off each other as they cuddled and danced in the street outside a hotel," an eyewitness told E! News. "Arie and Lauren were all smiles as they kissed and embraced one another." 
The couple's latest destination comes shortly after the pair enjoyed a few days in Iceland. In several social media posts, the pair gave fans a glimpse into how much fun they were having.
"Posted this because I sent this to my mom and she said she's never seen me happier," Arie shared on his Instagram while posing with Lauren. "So much beauty here in Iceland including this one."
And while Arie and his fiancée are focused on enjoying their vacation away from TV camera crews, there's already talk that wedding planning for these two has begun.
"Lauren has been telling everyone that she is so excited to get married and wants it to happen very quickly," a source previously shared with us. "After everything that they have been through, they are ready to just seal the deal and spend forever together."