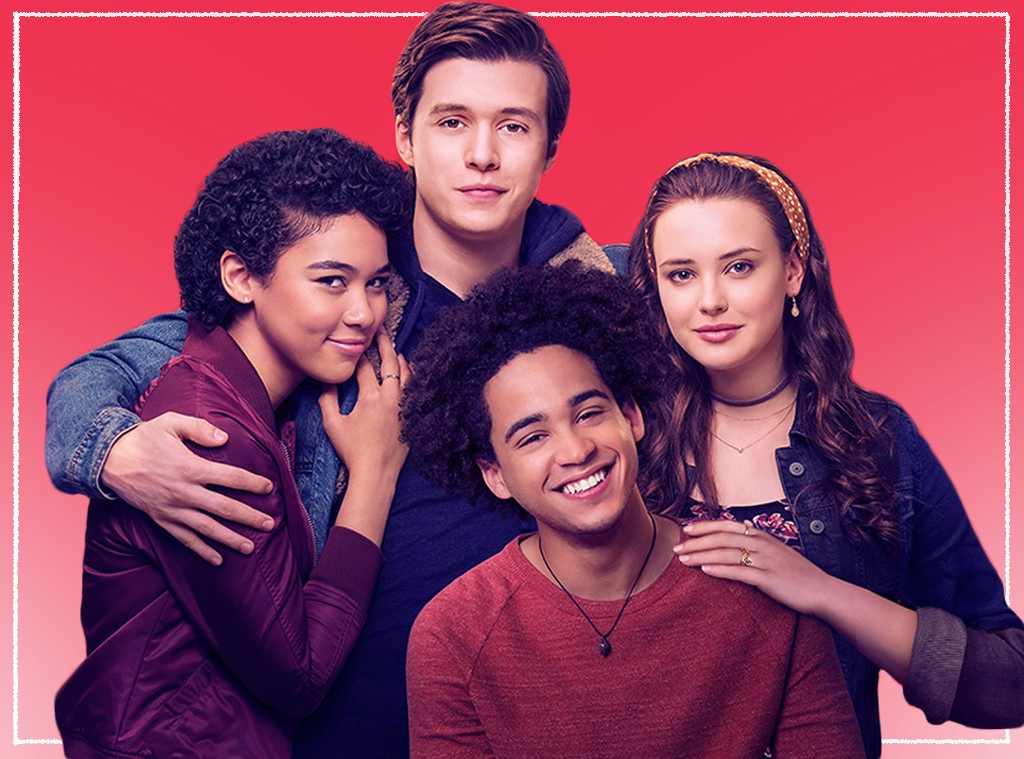 20th Century Fox
"For the most part, my life is totally normal."
With those nine words, high school teen Simon introduces the audience to his silver screen world in the trailer for Love, Simon—a world where he's guzzling iced coffee with his pals, drunkenly sneaking into his house by curfew and generally navigating the early adult years of his life. However, it's not long before he gets to the crux of the film's storyline. "I'm just like you, except I have one huge-ass secret—nobody knows I'm gay."
In that moment, the film paves the way for a coming-of-age story the world has not yet been able to see at this magnitude. After all, it's the first romantic comedy focused on a gay teen produced by a major studio. 
"I walked into my first meeting to get the job and I said, 'Are you really making this? There hasn't been a film about a gay teen protagonist by one of the major studios of your size,'" director Greg Berlanti recalled to NewNowNext. "They said, 'We're absolutely making it, no matter whom you cast in the part.'"
Watch:
Nick Robinson Opens Up About "Love, Simon" Role
The role ultimately went to 22-year-old Nick Robinson. 'I think that Simon as a character is a fascinating young man and I think that his story is something that we haven't seen before," he told E!'s Zuri Hall. As he reiterated in an interview for HBO, "It was a story that I felt was familiar, but it was told now from a completely new perspective."
Robinson is right—audiences have seen more rom-coms than they can probably count at this point, but few, if any, like this before. Typically, the movie is set on a girl or guy figuring out how to cope with their crush on someone of the opposite sex while simultaneously navigating teenage friendship, family dynamics and usually their future. In this case, Simon is doing all of those same things, except he's interested in a guy.
The movie even pokes fun at existing societal norms in promotions for the film, highlighting how heterosexual teens never have to "come out" to their loved ones in the way expected of Simon. 
Ben Rothstein/20th Century Fox
With production by Fox 2000 Pictures, distribution by parent studio 20th Century Fox and a cast including A-listers Jennifer Garner, Josh Duhamel and 13 Reasons Why's Katherine Langford, the movie is destined to reach theaters all over the country today and eventually around the world. It's because of the film's material paired with the backing of a major studio that sends a significant message: this story is important and it needs to be seen. While Simon's story is not applicable to every LGBTQ youth, it provides a very important opportunity for audiences to connect to someone different from them in a way that perhaps was inaccessible to them before through themes of love, family and adulthood. 
It's also long overdue. At a time when LGBTQ characters are at the helm of celebrated shows like Orange Is the New Black, Modern Family, Transparent and Will & Grace as well as the most recently Oscar-nominated Call Me by Your Name and last year's winner Moonlight, it seems strange that its taken 130 years of moving pictures for a story like Love, Simon to reach the silver screen with such support. 
"It shouldn't be 2018 and we're talking about this film," Berlanti told NewNowNext. "We should've been talking about a movie like this in 2000."
Ben Rothstein/20th Century Fox
While this particular story didn't have its moment to shine until now, Berlanti was busy planting the seeds all those years ago. The Emmy-nominated writer and producer made waves in the industry early on when, after becoming executive producer of Dawson's Creek at 28, he pushed for the kiss between Jack and Ethan—ultimately the first passionate kiss between two men on primetime television. 
"When we did the Jack kiss on Dawson's Creek, everyone was tentative. But I took over the show, and that was an important thing to me," he told The Hollywood Reporter in 2016. "If we were going to bring the character out, it seemed silly to me that he couldn't kiss."
Nearly two decades later, his own coming-of-age story is being reflected on the big screen thanks to the film, adapted from Becky Albertalli's young adult novel, Simon vs. the Homo Sapiens Agenda. While the movie doesn't necessarily depict every person's experience within the LGBTQ community, as Berlanti told The Advocate, he used his own experiences of "isolation" as a closeted gay teenager to advise the movie's writers. Like Simon, Berlanti also faced blackmail when someone threatened to out him and the person he was seeing in college.
Though many LGBTQ youths are still facing the harsh realities of unaccepting communities, in 2018, the fact that Simon is gay feels less like an exclamation point and more like a comma at the tipping point of a movement. At a time of increased tolerance paved by trailblazers like Ellen DeGeneres, Harvey Milk, Laverne Cox, Adam Rippon and countless other figures, Love, Simon is no longer a shocking story, but rather, a familiar one regardless of your sexual orientation.
As Garner said in an interview with DeGeneres, "[The movie] happens to be about a young boy coming out, but it doesn't even matter about that. The important thing is that it's an entertaining, lovely, beautiful film. The reason I say that it doesn't matter...is that if you're going to have inclusion, then it has to not matter what it is. It can't be about that—it just has to be a great, entertaining movie."
Furthermore, as Berlanti noted, we all have to come out in one way or another. 
"I think it's always been true that young people in particular have the person that they feel like they are inside and then the person that the world outside sees them as that they haven't quite yet announced to the world," he said in the HBO interview. "Whether or not it has to do with being gay, we all have our coming out moment where we choose to announce ourself to the world."