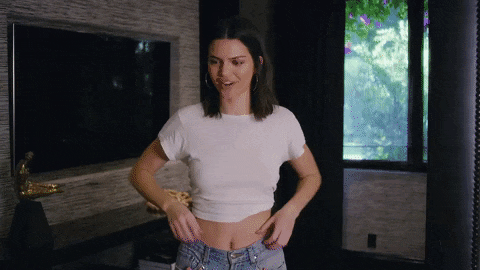 YouTube
Kendall Jenner never ceases to surprise us. 
The E! reality star and runway queen made a cameo appearance in rapper Lil Dicky's new music video for "Freaky Friday," an admittedly NSFW take on body-swapping with your favorite celebs.
Dicky starts off by accidentally trading bodies with Chris Brown, who can't get enough of the perks that come with the lavish lifestyle of a hip-hop star. (Bikini-clad models, FaceTime sessions with Kanye West, dance moves for days... The list goes on.) But when Lil Dicky—who's actually C Breezy—confronts him at a club, he begins to take the form of other familiar faces. 
Enter Kendall, and her apparent curiosity for exploring the female anatomy. 
"I'm Kendall Jenner. I got a vagina," she sings while grabbing her breasts and peering down her jeans.
The racy music video concludes with Kenny jumping on her bed and singing along, "I'm gonna explore that right now. Holy s--t, I got a vagina. I'm gonna learn. I'm gonna understand the inner workings of a woman." 
So who else pops up in the visual? Ed Sheeran, DJ Khaled and other stars all make cameo appearances in the ode to Lindsay Lohan and Jamie Lee Curtis' 2003 teen flick. 
Check out Kendall's vocals by pressing play on the video above!