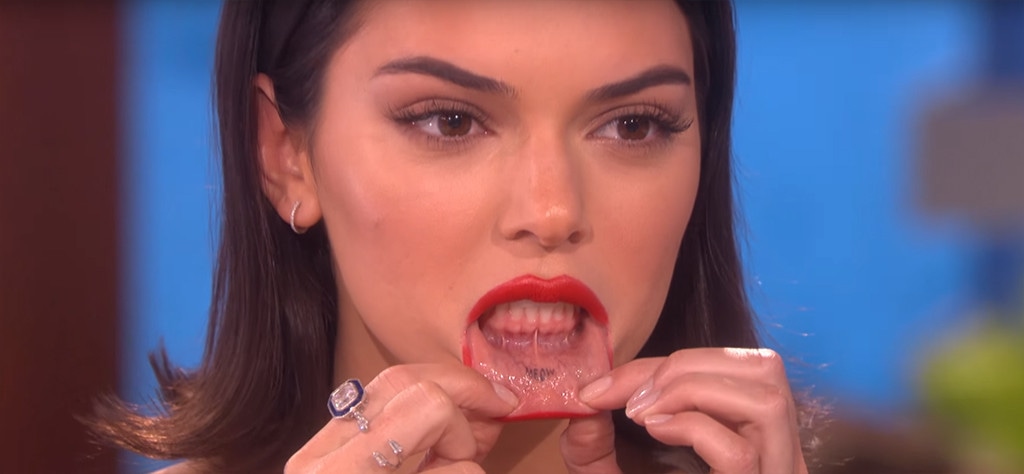 Warner Bros. Television
Kendall Jenner: TUI offender.
In 2016, the Keeping Up With the Kardashians star shocked many fans when she she got a tattoo on the inside of her bottom lip, which spells out "Meow." On The Ellen DeGeneres Show on Thursday, Kendall revealed that she got tattooed under the influence.
"I was drunk! I was not thinking clearly," she said.
The word "Meow," she added, "was literally the first thing that came to my mind."
"I don't know. Just like, my drunk thoughts," she said.
Kendall said getting inked on her lip did not hurt.
"It's just, like, fattiness," she said. "I don't even know what this is. Is it muscle? Fat? Like, bone hurts really bad."
She then showed off white-colored tattoos on her fingers.
"All my friends have them," she said. "I was like, I just want to know what it feels like."
Kendall had said on her app in 2016 that she initially told her sisters about her lip tattoo and that her mom Kris Jenner "found out late and freaked out about it."
She also added "there's no real meaning behind" the ink.
"I just wanted to be able to say that I have a tattoo 'on my face,' she wrote. "I have two others also: a broken heart on one hand and a full heart on the other. I definitely want more and even though I used to say I'd only get one if it meant something to me, now I have even more possibilities!"