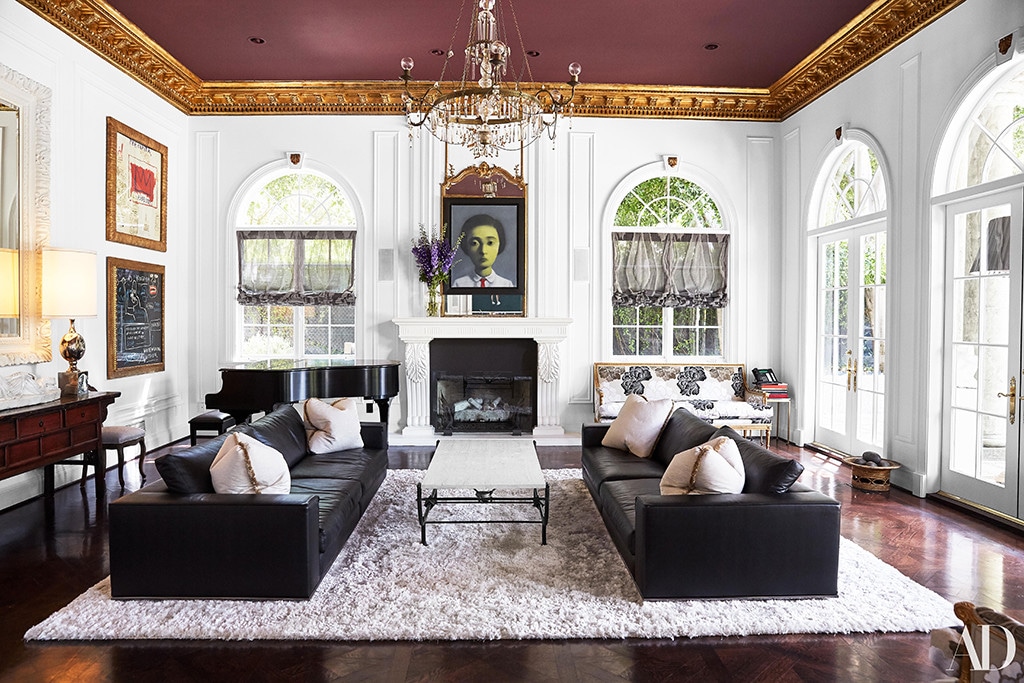 Tierney Gearon for Architectural Digest
Sharon Stone took fans on a tour of her home in the April issue of Architectural Digest.
The 60-year-old actress lives in a home that resembles a French ch​âteau and is filled with glamorous finishes. Her living room features a stunning fireplace, grand piano and dazzling chandelier. There are also Minotti sofas, stunning hardwood floors and giant arched windows and doors to let in the sunlight from her gorgeous backyard.
Speaking of which, her yard is adorned with trees, flower pots and vines crawling up the side of the house. It also includes a luxurious sitting area, which contains a glamorous couch and another chandelier. In a photo included in the magazine, Stone can be seen standing on her balcony—a perfect spot for watching her three sons Roan, 17, Laird, 12, and Quinn, 11, play.
Tierney Gearon for Architectural Digest
Moving into the bedroom, Stone's sanctuary includes classic furniture pieces, including a lux Gina Berschneider sofa.
Tierney Gearon for Architectural Digest
According to Architectural Digest, Stone purchased the home 25 years ago after starring in the 1992 film Basic Instinct with Michael Douglas. Stone had been living in a home without much security before and a few stalker scares led her to move.
"All of a sudden, there were crazy stalkers trying to get into my house. The police were there all the time, until they finally had enough," she says. "They told me to pack a suitcase because they were taking me to a hotel. I had to find a new home that had proper gates." 
Even though the house was still under construction when she bought it, Stone knew she could fix it up to be her dream home.
"I worked with a ch​âteau restorer to give the place texture and a sense of history," she tells the magazine. "We installed an antique-tile floor from Agra in the powder room off the foyer and brought in the dining-room floor from a château in Switzerland. I also put in the moldings, mantels, and other architectural details that are so essential to the integrity of the space."
And while some people dread a renovation, Stone is used to addressing unforeseen circumstances.
"Renovating a home takes you on a weird journey," she says. "Unexpected things happen along the way, and you adapt."
Visit ArchitecturalDigest.com to read more of Stone's interview and see more photos of her home. The issue goes on sale Mar. 24.