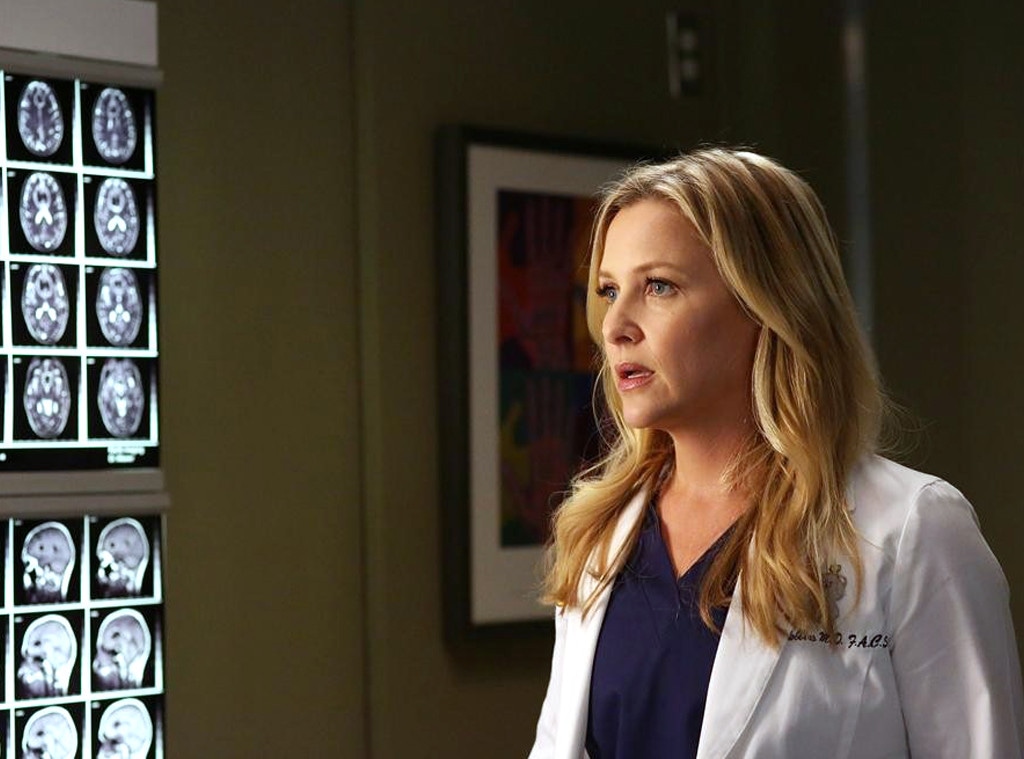 ABC/Danny Feld
One down, one to go.
Grey's Anatomy fans were left stunned last week when it was revealed that both Jessica Capshaw and Sarah Drew were being let go from the long-running ABC drama following the conclusion of the current 14th season. The decision to write out fan-favorite characters Arizona Robbins and April Kepner hasn't exactly sat well with a vocal contingent of the show's devoted fan base, prompting both showrunner Krista Vernoff and leading lady Ellen Pompeo to defend the reasoning behind ridding the series of the them. 
While fans have been campaigning for the pair to be reinstated in their outgoing roles, at least one of the two hasn't wasted any time finding work. Less than a week after news broke, E! News confirmed that Drew had already found her next potential gig, landing one of the starring roles in CBS' potential reboot of Cagney and Lacey. Should the pilot move to series, she'll be back on TV in a big way within the year. But what about Capshaw?
While we'd love to see Capshaw attached to a pilot next, the likelihood of that is rare. Why? Because she's still got half a season of Grey's to finish filming and most pilots are about to begin filming, if they haven't already. (That's also what's got us worried about the likelihood of April Kepner making it to the end of the season. Either she's already filmed her exit or Shonda Rhimes is being kind enough to give her some time off to film her new pilot.) With that in mind, our only hope of seeing Capshaw on TV come this fall is an existing show hiring her as a new character or a pilot recast. 
With that in mind, there are more than a few of our favorite shows currently airing that we think would be the perfect new home for Capshaw.
The Good Fight
There's something about Capshaw's performance over the past 10 years that has us feeling like she'd be especially at home in Robert and Michelle King's restrained, yet quite dramatic legal world, currently in its second season on streaming service CBS All Access. Imagine her as the next blonde attorney following in the footsteps of Martha Plimpton's Patti Nyholm and Mamie Gummer's Nancy Crozier (both from The Good Wife) who plays up an archetypal charm only to reveal a cutthroat legal shark hiding just beneath the surface. She'd make the perfect courtroom adversary for Cush Jumbo's Lucca Quinn. (And it would be a neat bit of symmetry considering her former Calzona counterpart Sara Ramirez joined CBS' Madam Secretary for her first post-Grey's gig!)
The Good Place
Capshaw's nimble comedy skills have always been on display as Arizona. She's consistently been one of the Grey's stars who seems most comfortable and at home when the show veers out of the tragic and into the goofy. With that in mind, we'd love to see her play a role in the third season of Michael Schur's fantastic NBC comedy The Good Place. With season two's cliffhanger—spoiler alert!— placing our four dead heroes back into their lives on Earth, with Ted Danson's Michael and D'Arcy Carden's AI-like Janet watching to see if the soulmates can find their way back to one another, Capshaw would be the perfect choice for an Earthbound foil. Maybe she's a woman in Chidi's (William Jackson Harper) life who Eleanor (Kristen Bell) has to contend with now that she's traveled Down Under to learn from him. Or maybe she's someone from Tahini's (Jameela Jamil) toxic, image-obsessed upper echelon. Or better yet, maybe she's someone from Jason's (Manny Jacinto) trash life in Florida. Or maybe the whole thing is just another simulation (as hypothesized by some fans following the finale) and she's in everyone's story at some point! We'd be fine with any.
Stranger Things
She's already got the Steven Spielberg bona fides. (He's her step-father, after all.) Why not let her play in the very Spielberg-influenced Netflix hit's third season? We've yet to meet Steve Harrington's (Joe Keery) mom. And, plot twist, what if she's also one of Hawkins Laboratory's newest directors too? Can you dig it? We can dig it.
What show would you like to see Capshaw rebound with? Sound off in the comments below!
Grey's Anatomy airs Thursdays at 8 p.m. on ABC.