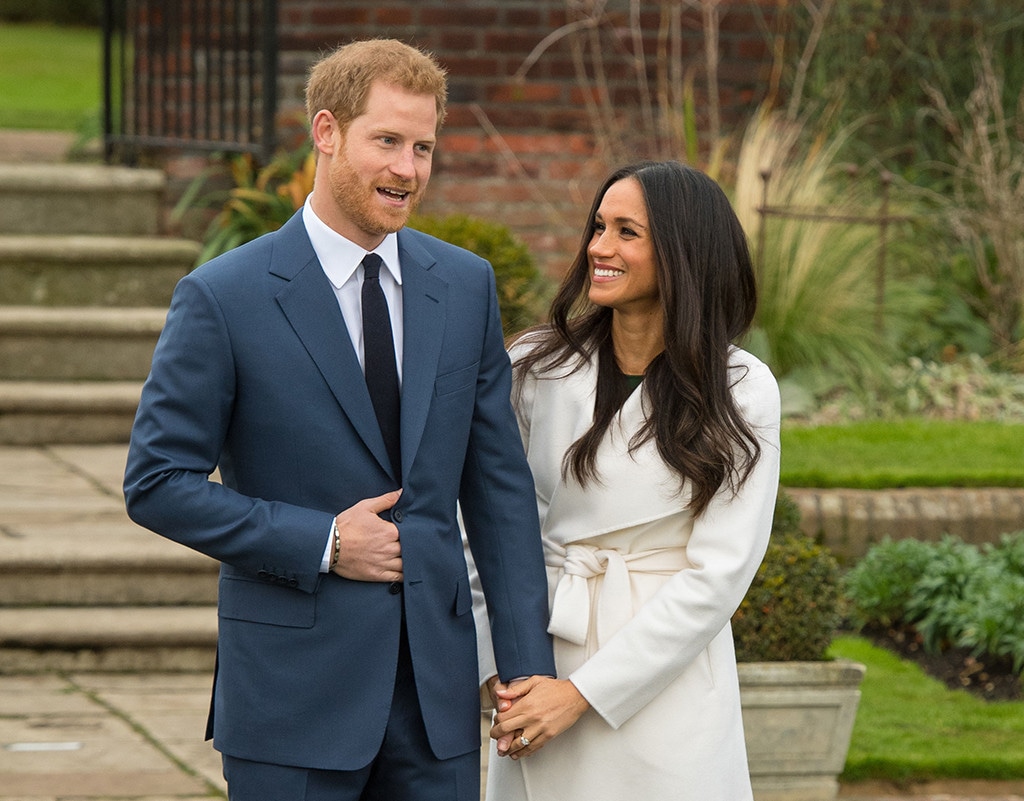 Eddie Mulholland/Daily Telegraph/PA Wire
The couple that secretly serves the public together, stays together. 
Such seems to be the mantra for Prince Harry and Meghan Markle, the soon-to-be royal wife and husband who have captivated both Britain and America with their high-profile romance. However, as royal enthusiasts well remember, there was a time when they managed to keep their budding relationship a secret. In fact, it was until late October 2016 that the media caught wind of their summer romance. Needless to say, they've figured out how to keep some things to themselves until they feel like sharing. 
That was the case on Thursday when the engaged royal spoke at the Veterans' Mental Health Conference in London. simultaneously revealing that he and the Suits alum had paid a previously unknown visit to Colchester Garrison army base in Essex "a few weeks ago." 
"Some of the stories Meghan and I heard when we visited Colchester Garrison a few weeks ago shocked us to our core," he said as he discussed the struggles veterans silently face after serving. "But despite meeting these people and others who are in the darkest of places, I am continually surrounded and inspired by amazingly positive outcomes."
STEVE PARSONS/AFP/Getty Images
As the 33-year-old mental health advocate stressed his case for aid and acceptance of veterans from the start, Harry shared how he and Markle learned about the work of one mental health network during their trip. 
"Meghan and I recently visited The North Essex Veterans Mental Health Network and we got to see the amazing work they are doing in Colchester," he described. "They have produced a seamless journey for veterans, with centrally held case management that results in transitional, not transactional movement across care services. This style of service has been adopted by NHS England and is now in operation across a number of health trusts across the country."
In his plea for more mental health service offerings and coordination, he also urged the public and the media not to discount veterans or apply blanket diagnoses for their challenges. "We must recognise our veterans for what they are— incredible assets—and not define them by an injury or a condition," Harry, who also served two tours in Afghanistan himself, said. "It might be their injury which draws your attention, but it's their unconquerable spirit, willingness to serve others, deep rooted values and their unique skills which makes them stand above the rest."
Since his military career, Harry has continued to work to improve the lives of veterans and shine a light on their challenges and triumphs, particularly through the annual Invictus Games he founded, the Endeavour Fund and the many charities he patrons. 
Now, just months away from marrying Markle, a fellow activist, it won't be long before he has an official partner to tackle social causes with. The former actress has made it clear that, while she's not an official member of the Royal Foundation just yet, she has been working behind the scenes to prepare for her next big role. 
As Markle said at the first annual Royal Foundation Forum with her future in-laws and husband, she's already been working quietly behind the scenes to meet with the right people and organizations and "learning as much as I can so that I can maximize the opportunity we have here to really make an impact."