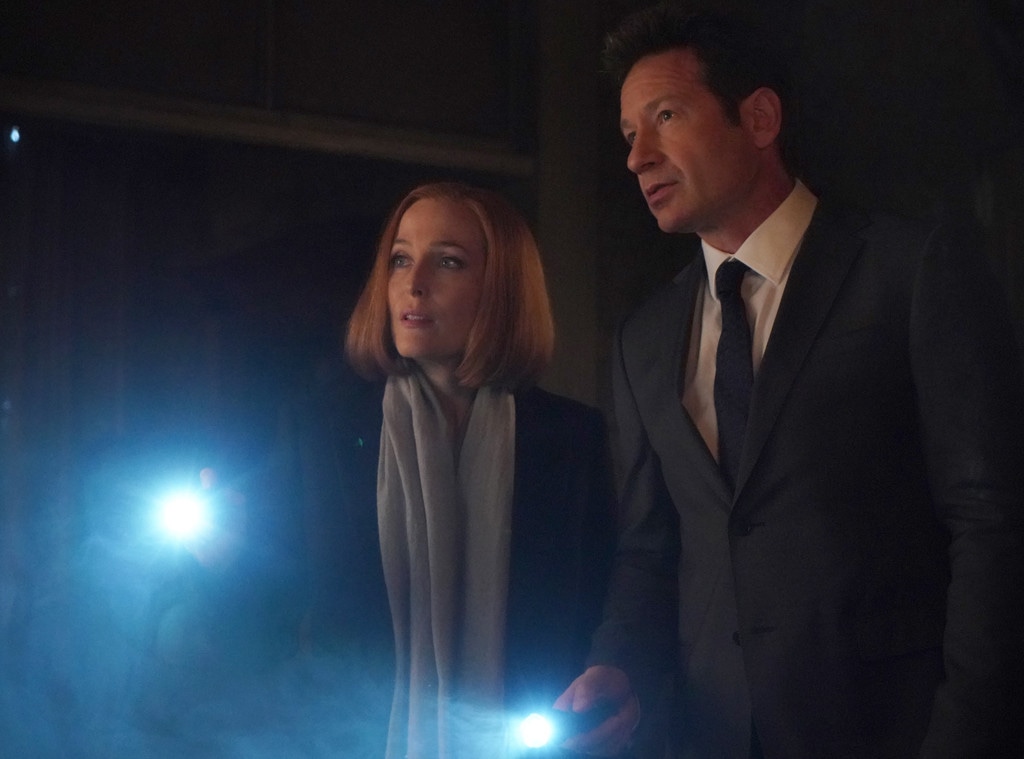 Fox
The X-Files just added another mystery to the pile. In "Nothing Lasts Forever," the penultimate episode of The X-Files season 11, Mulder (David Duchovny) and Scully (Gillian Anderson) had a deeply personal conversation about where they stand, mainly in each other's lives. At one point Scully leans in and whispers in Mulder's ear.
"I don't know if any God is listening, but I am standing right here," Mulder told Scully. "And I am listening. Right beside you, all ears. That's my choice."
Then she whispered in his ear, pulled away and said, "That's not my four-year-old self looking for a miracle," she said. "That's my leap of faith forward. And I'd like to do it together."
What did Scully whisper?
"That's between Mulder and Scully," episode writer Karen Nielsen told The Hollywood Reporter. "Having those private moments, it's important for any couple."
Fox is calling the Wednesday, March 21 episode the season finale, but Anderson has made it clear she won't be back. Series creator Chris Carter has said he wouldn't continue the show without her, then hedged on those statements. Whatever happens, The X-Files as fans know it currently likely won't be back anytime soon. And that means there's no chance of finding out what Scully whispered…even if she comes back to the show.
"It'll always be between Mulder and Scully," Nielsen said. "It's not for anyone else. That was their moment."
Take a peak at The X-Files season finale trailer above. When E! News visited the set of The X-Files in November 2017 we asked the dynamic duo if this would be a satisfying ending.
"Well, we've been asked that every year for the past 20 years as well," Duchovny said.
"Um, I haven't read number 10, but I'm going to say yes," Anderson said.
And what would  be their ideal ending?
"I haven't thought about it. But it will involve the blobfish," Anderson joked about a prop from episode seven. "There may be three of us."
"Scandalous," Duchovny said.
The X-Files season finale airs Wednesday, March 21 at 8 p.m. on Fox.