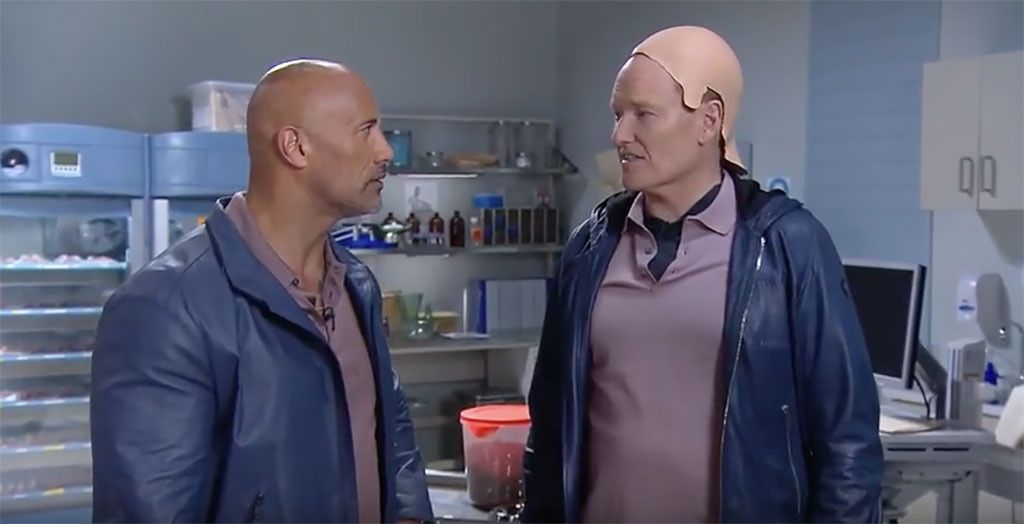 YouTube
Conan O'Brien might want to reconsider his career goal of becoming a stunt double. 
The late-night host attempted to demonstrate his potential when he pitched himself to blockbuster star Dwayne "The Rock" Johnson on Wednesday night's Conan.
"I don't see what you have that I don't have," the comedian told the actor. "You're a good-looking guy...I clean up pretty nice. You're a big guy...check me out." 
It was clear O'Brien was overestimating himself just a touch. "I look at this and I'm like, I'm looking in a mirror," the host continued. "Like a carnival mirror?" the action star retorted. 
After pitching a few movie ideas for the two to star in together—including Zamboni Drift, where they both star as Zamboni drivers—O'Brien made his plea. 
"I'd like to train to be your stuntman, your body double," he proposed. First thing's first: a few "very minor alterations" were needed, like a bald cap. Next, it was time to rehearse lines like a confident protagonist, which O'Brien admittedly could not master. "It wasn't good. I know," he quipped. 
Then, it was time for the actual stunt work. O'Brien fumbled to the floor as he was thrown onto a table of bottles, shattering all of the glass underneath him as he fell flat. "I'm not really feeling pained at all," Johnson admitted, adding an oversized beaker to the table to add some extra oomph. 
As the final task, O'Brien had to face off against a knockoff of the albino gorilla featured in Rampage, Johnson's latest project out on April 13. Needless to say, it was a one-sided fight and the host was not the one winning. 
However, the failed test did not break O'Brien's spirits. As he joked after the skit, "If you like this, [Rampage is] exactly the same thing."
We'll take your word for it, Conan!