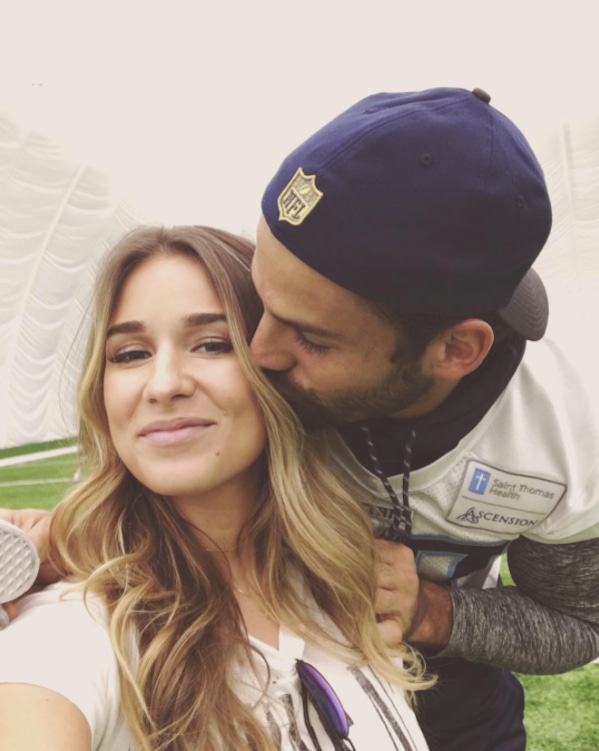 Instagram
Eric Decker and Jessie James Decker could write a how-to on keeping the romance alive, even when the house starts to get crowded.
They're just weeks away from welcoming their third child together—it's a boy!—and they couldn't be more excited to expand their family, which so far includes 3 1/2-year-old daughter Vivianne Rose and 2-year-old son Eric Thomas II. But being soon-to-be parents of three hasn't taken them away from their usual routine of constantly complimenting each other's bodies and souls on social media; stealing away for date nights; and doing ridiculously adorable things like singing together in the car and wearing matching Christmas pajamas.
Well, the later stages of pregnancy are starting to get in the way a little...
On Sunday Jessie shared a photo of herself at 36 weeks and "beyond uncomfortable." And she was already peeing every 30 minutes six weeks ago.
"This baby feels so low and my bladder has about had enough!" she wrote on Instagram. "Ha! Sleeping is just not even a thing anymore lol It is bittersweet though since this is my last pregnancy and it is a beautiful thing. I know I will miss this feeling one day and miss my baby roll around and kick and the sweet little hiccups. I love a lot of things I do in this life but nothing compares to how much I love being a mommy."
OK, so Eric and the kids may be enjoying what counts for downtime in the bustling Decker household just a little bit more, but at the same time—more cookies for Mom.
Eric, who celebrates his 31st birthday today, is staying in shape on his own, but off-season team workouts don't start until next month, so the NFL player doesn't have to get his head back in the game just yet. (Though being the consummate pro, he's already been upping the ante with his trainer.)
The veteran wide receiver capped off his first season with the Tennessee Titans by catching the game-winning touchdown in the AFC wildcard game in January, and then finished with six receptions in the team's divisional playoff loss to the Super Bowl-bound New England Patriots. So when he does head out for training camp, he brings a highlight reel with him.
In the meantime, though, he's spending his vacation as a full-time dad and doting husband to his expectant wife, even doing the laundry. Since Christmas alone they've spent time in the snow and at the beach, where Eric splashed with Vivianne and little Eric in the ocean and Jessie relaxed in the sand.
Now back at home, the whole family is getting ready to meet baby No. 3.
"This is my last baby.. We are SO excited to meet him," Jessie said. "Got baby boys clothes all washed now and put away (all Bubbys old baby clothes) and got some new cool sleeper cribs etc. the stuff they keep coming out with blows my mind! Got my pumps out and bottles too! In a few weeks, will get my hospital bag ready." They've also picked out their baby boy's name already, but of course that's for everybody else to find out after he arrives. 
Also helping to keep her head on straight, in addition to having a supportive partner, is the occasional span of alone time. 
"Got a pedicure, hair blown out, having a quiet lunch alone and popped into a boutique and got a cute hat and heels," Jessie chronicled a recent mommy's day out on Instagram. "Of course I stopped in to grab groceries for dinner for the fam lol but this preggo mommy decided to throw all guilt out the window and hire a sitter for the day so I could take care of me!"
She also swears by warm bubble baths, which she takes every night, going the whole nine yards with Epsom salts and candles. "I just lay there and relax and soak," she told E! News in October. Better yet, "when you're pregnant make sure your husband rubs your feet—and your neck, and your back, and everything."
Jessie, who in addition to singing has expanded her brand to include makeup, sunglasses and her Kittenish clothing line and fragrance, has also joyfully taken a break from super-intense workouts, and she's just going with the flow when it comes to pregnancy cravings. 
Back in October she was craving citrus—oranges all the time—and surprisingly "less junk food and less really crazy stuff. I've been eating salads with salmon and hummus and stuff."
As for Eric, "that man is just shredded, he never gains a pound," Jessie told E! News over tea last fall when asked if her husband had put on any weight in solidarity with his wife, whose body she said she could feel was working overtime to grow a healthy baby. "It's ridiculous! I'm like, 'who are you? This is not fair, because I am an eater...He eats too, he eats a ton—honestly sometimes he's underweight and can get in trouble at football because he doesn't stay" heavy enough."
At least he was accommodating when Jessie's cravings expanded to include shellfish in December. The whole family enjoyed a picnic in the car together and feasted on Cousins Lobster.
But it's no surprise that Eric has been such a hands-on family man. After Vivianne was born in 2014, he told ABC News that he was rather proud of the work he'd been putting in around the house.
"I feel like I've done a pretty good job. In the middle of the night, I'll feed the baby, I'll change the diapers, put her back to bed, and let my wife sleep a little bit," he said. "I took a daddy's boot camp before the birth. I want to be hands-on. I want to get in there, change the diapers, feed, burp, pick out the outfits, everything."
Fast-forward to last May and he had experience as a father of both a girl and a boy. He told AOL Lifestyle, "My love for them is different. My daughter, I just want to protect her, I just want to care for her. My son, I want to wrestle with him, toughen him up. As they develop and get a little older, you start developing that relationship, and it's unique between both of them. How you talk to them, the things you do, it's really cool."
When they have a rare leisurely morning Eric and Jessie enjoy coffee in their bathrobes together while the kids play—though Jessie admits that, even as a mother of two, she's still a reluctant morning person.
"After getting up early every morning for the past three and a half years with my babies, it still doesn't feel natural," she told Today.com in December. "My favorite part, though, is starting the day early and getting to have all day with my family."
What has come naturally to her since becoming a mom is that the kids come first no matter what. "My personal career and needs are secondary," Jessie says in the March 2018 issue of Pregnancy & Newborn magazine, which features her on the cover. "If anything gets in the way of me being a good mom or wife, I simply say no."