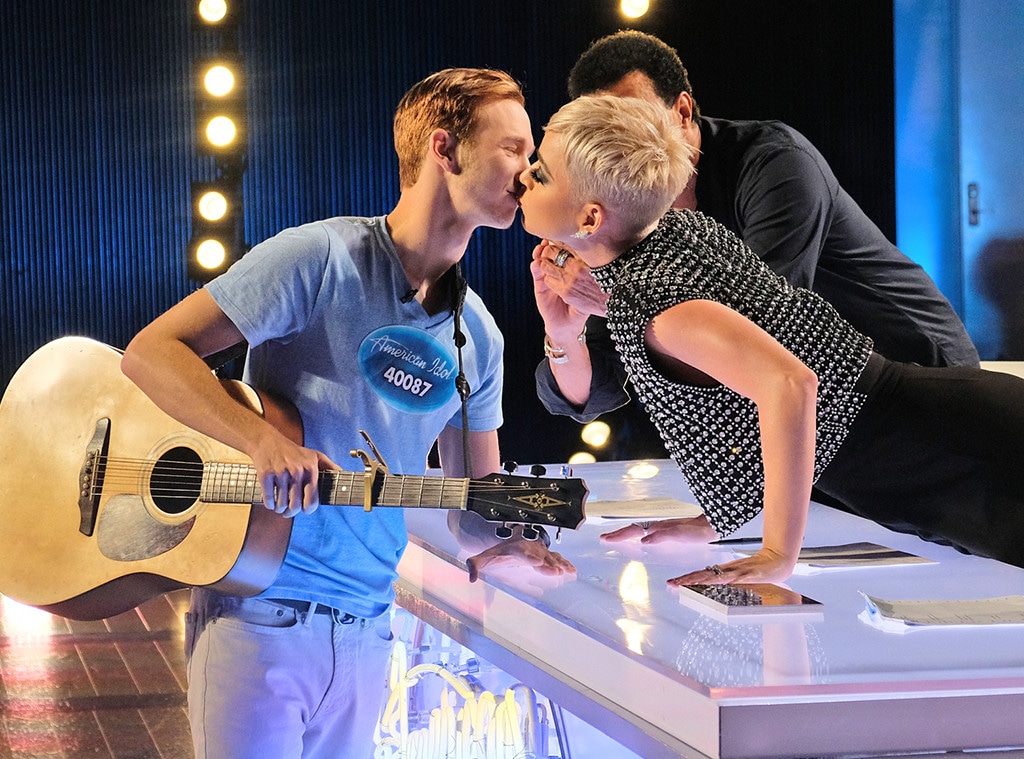 ABC/Mark Levine
A face can launch a 1000 ships and sometimes a kiss can launch a 1000 Internet comments...
On Wednesday, 20-year-old contestant Ben Isaac Glaze gave an interview with the New York Times saying that he was "uncomfortable" when American Idol judge Katy Perry gave him his first-ever kiss during his audition, which was shown on Sunday night's premiere episode of the ABC reboot.
Both Katy, the show and the "unwanted" kiss have received serious backlash online given the current #MeToo climate. 
But hours after the article went live, the Oklahoma native clarified his previous statements via Instagram, saying that he doesn't feel as though he was "sexually harassed" by the popstar.
In Wednesday's NYT article, entitled "An Unwanted Kiss on American Idol", the former contestant said he "was a tad bit uncomfortable" during the onscreen smooch from the singer. The publication also quoted him as saying, "I wanted to save it for my first relationship. I wanted it to be special...Would I have done it if she said, 'Would you kiss me?' No, I would have said no."
However, following the widely picked-up article, the fledgling singer hopped on his Instagram to clarify his remarks, writing, "I would like to clear a few things up for everyone who is confused, concerned, Or angry."
Ben, a conservative then-19-year-old cashier who had told the judges he'd been waiting to be in a relationship to have his first kiss, went on to say that he was "not complaining about the kiss from Katy Perry at all," but he'd done some interviews and there were "major questions" that have since arisen. 
"The way certain articles are worded is not done by me and my true intentions are not accurately represented in every article you read about the situation," wrote the suddenly Internet-famous Oklahoman. 
Ben, who did not move on to the next round during his initial audition, went on to write, "I am not complaining about the kiss I am very honored and thankful to be apart of American Idol the main purpose for the show is to find stars and new music artist."
Ben also added that he wished he would have performed better under pressure at the high-stakes audition.
The singer also makes his opinion on the matter at hand clear: "I do not think i was sexually harassed by Katy Perry."
He also clarifies using the word "uncomfortable" in previous interviews: "I was uncomfortable in a sense of how i have never been kissed before and was not expecting it."
The Please take into consideration that I don't believe my views have been appropriately communicated through the media!
He also thanks those who have followed him and that he hopes his post "answered a few questions." 
Two days ago, Ben posted several shots from his audition on Instagram and wrote a lengthy post in which he said, "I'm so thankful for the opportunity and for the experience" of auditioning for Idol.
E! News has reached out to Perry for comment.