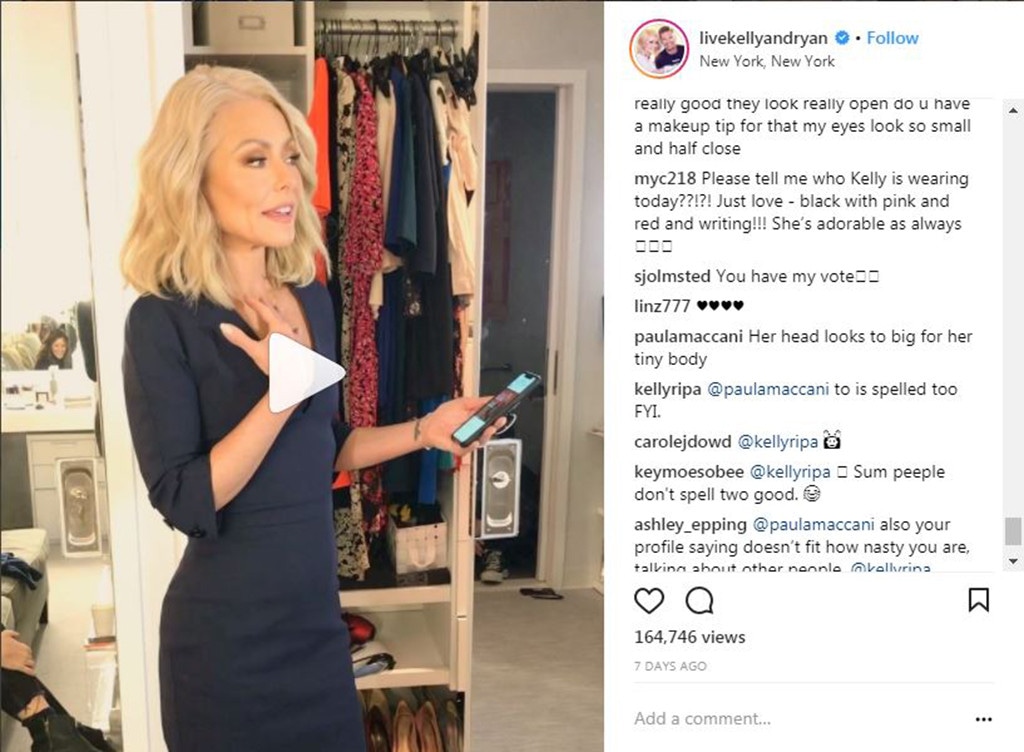 She's a mom, a wife, an actress and a TV host, but Kelly Ripa may just have landed herself a new title: Clapback Queen.
This week a female "fan" of the Live with Kelly and Ryan show host decided to take it upon herself to call out the 47-year-old's appearance on Instagram—and Kelly wasn't having it.
On an Instagram video, which was captioned, "Kelly reads mean ig comments," @paulamaccani commented, "Her head looks to big for her tiny body."
But the TV star  wasn't about to let that remark slip by. Kelly soon clapped back, "kellyripa@paulamaccani to is spelled too FYI."
Perhaps Paula should have watched the video that she commented on? Had she watched, she would have seen the blonde gush over her deep love of trolling trolls on Instagram.
"I like trolling," Kelly says in the video. "I love trolling a troll. It is my favorite thing to do."
Hot tip for you Internet trolls, check your spelling and grammar, especially if you're going to be mean. No one cares about your witty pun or your fresh take-down when your grammar's off. You make yourself an easy target—just ask Kelly Ripa.
But this isn't the only remarkable comeback Kelly's had for her online haters in the past week.
Over the weekend, Kelly couldn't help to put in a jab when commenter @samanthap143 wrote on a photo of Kelly and husband Mark Consuelos: "Too bad he's short when he tries to look taller. It looks funny. Just be who you are."
Mark wrote back, "@samanthap143 please tell me how it is I can try to look taller. I am dying to know."
It's a good retort but Kelly really brought it home when she quipped, "@samantha0143 he's tall where it counts babe."
We call that one an Internet slam dunk!
Too big or too small, we think Kelly and her main man are just right...