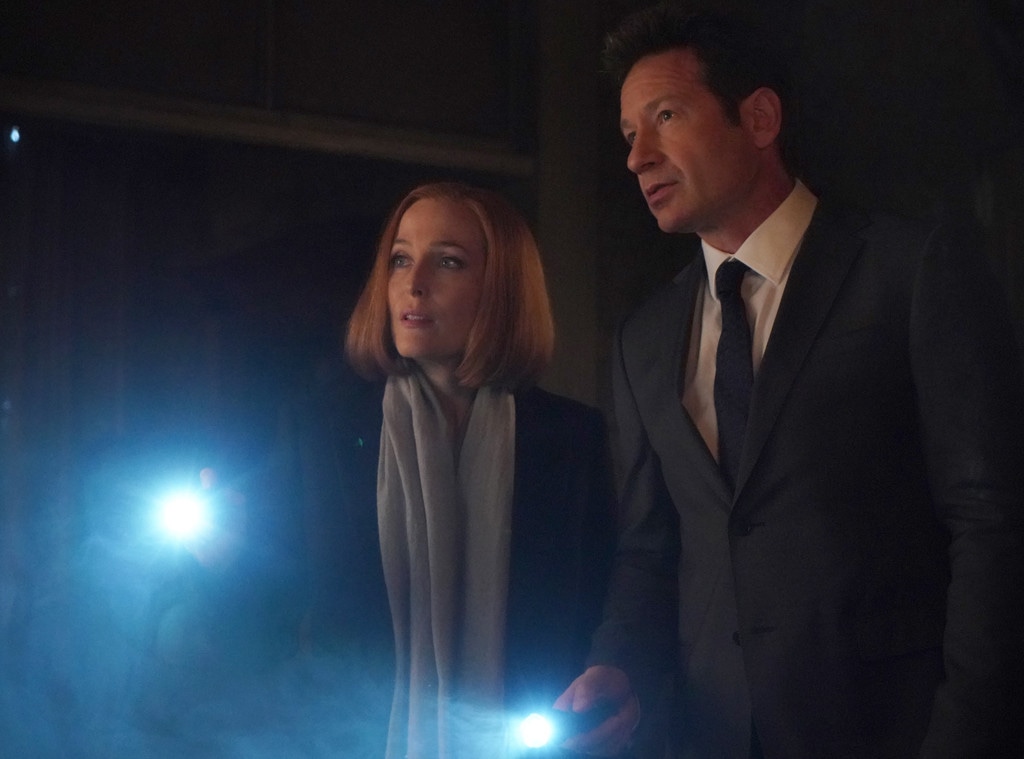 Fox
Before the most recent season of The X-Files began all eyes were on the show. It wasn't to see how the series would resolve the cliffhanger ending of the six-episode 2016 season, rather how the show would become more inclusive.
The six-episode season 10 featured all male writers and directors. During its original 207-episode run, The X-Files featured only two episodes directed by women, one of them being series star Gillian Anderson. Only a handful of female writers penned episodes during the first nine seasons, and again one of them was Anderson.
When Anderson called out the gender disparity between writers and directors, Fox reacted.
At the 2017 TCA Summer Press Tour, Fox's Dana Walden was quick to point out the show tapped both female directors and writers for the 10-episode season 11 currently airing on Fox. One of those writers is Karen Nielsen. Nielsen penned the season's penultimate episode "Nothing Lasts Forever" and worked on the first and second revival seasons as a script coordinator.
"Nothing Lasts Forever" finds Mulder (David Duchovny) and Scully (Anderson) investigating human organ theft and discovering a cult with gruesome rituals. Jim Wong served as director on the episode airing Wednesday, March 14.
In an interview that took place in November 2017 in The X-Files' production offices in Vancouver, Canada, Nielsen addressed the original gender disparity and previewed her episode. Nielsen said she did not know if her getting an episode was a direct result of the uproar that followed the announcement of writers tapped to pen the 10 episodes for the 2018 season. She said she had been talking to series creator Chris Carter and the other producers and writers about becoming more involved, but wasn't sure how that would work since she was in Canada and the show didn't have the typical writers room other TV series have.
"So we were keeping the conversation going, and then literally one day I just got a call 'Do you want a script?' and I was like, '[Gasps.] Yes!' So, I don't know if it was a direct result personally," she told E! News.
Then came the pressure thanks to the attention on the disparity in the media, coupled with The X-Files' dedicated fanbase that has followed the show for 25 years.
"One hundred percent, because as a woman you can't just be as good as men, you have to be 10 times better than men, just to be equal," Nielsen said about feeling pressure while writing. "So it's not even like I have some training wheels to get going, it's just like 'No, here is X-Files and everyone's going to be paying attention.' Because there was such a thing...You're afraid people are going to say, 'So that's why we don't hire women.' There's a lot of pressure, but being surrounded by these guys I've worked with before, and built a comfortability, that helped a lot."
At first the pressure got in the way, Nielsen said, because she was "trying so hard to be important and say something as this female writer."
"I like to say things in my writing, but then when I go back to my most successful scripts...I say something that I'm passionate about, not that I'm trying to represent...I remember thanking Chris for the opportunity, and he's like, 'Yeah it's a lot of pressure right?' and I'm like, 'Oh f--k, yes it's a lot of pressure'...and especially a female character that's inspired a lot of feminism, and I really wanted to be true to her," she said about Anderson's Special Agent Dana Scully.
Anderson and Scully have left a lasting impression on fans and the TV landscape, from encouraging women to get involved in both STEM and law enforcement to the depiction of TV partners. For Nielsen, that influence includes the need to speak up.
"Scully always speaks up, even if she doesn't know what's going on. She's not afraid to ask questions and she's not afraid to voice her opinion," she said. "And I think that's something that women—we're hesitant to do it because of the backlash that we get. But Scully never is. And then you get Mulder who supports her, even when he doesn't agree with her at all, and that dynamic's really great because you see a true partnership."
Nielsen said the Mulder-Scully dynamic bucks the usual trend of male-female partnership TV depictions being "very condescending towards the woman and they're only important when they're being a nurturer, and it's more than that."
"He respects her opinion; she doesn't need him to respect that opinion for that opinion to be valid...I think they built very strong three-dimensional characters, which not everybody does," Nielsen said.
In her episode, "Nothing Lasts Forever," Nielsen wanted to have three-dimensional female characters in main roles, "not just Scully," she said. Fans can also look for some "real character moments with Mulder and Scully." "It's not just a detective piece the whole time," she said. "That was really important to me."
Look for more diverse characters too. "It's always been important to me to have proper representation in all the projects I do, and we did that. So it's not just the guards or the FBI agents that are diverse, it's our main characters as well," she said.
The episode also examines religion.
"What fascinates me about people is people's blind faith, and Scully's Catholic," she said. "I wanted her to explore that part of her and question it a little bit, and she does. That's interesting because you can still have faith and still question it...so what's going on in that episode makes her question it."
The X-Files airs Wednesdays, 8 p.m. on Fox.