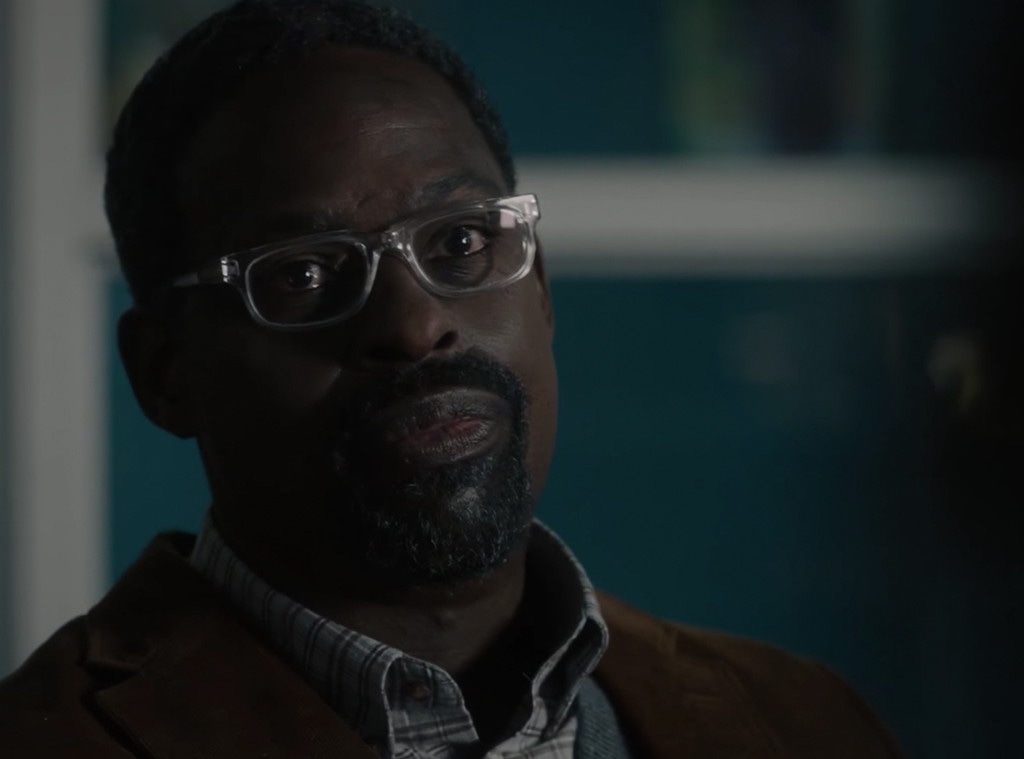 NBC
"It's time to go see her, Tess." And with that, the next This Is Us mystery is here.
In the season two finale, viewers got a glimpse into the future of the Pearson family once again. There were hints at what the immediate future holds, like Kevin (Justin Hartley) going to Vietnam with Beth's cousin Zoe (Melanie Liburd) and Kate (Chrissy Metz) consulting Toby (Chris Sullivan) about his medication, and what's to come for old man Randall (Sterling K. Brown) and the adult version of Tess (Iantha Richardson).
"It's time to go see her, Tess," Randall said. "I'm not ready," adult Tess replied. "Me neither," Randall commiserated.  This was all done while Deja (Lyric Ross) was shown smashing the windshield on Randall's car. Earlier in the episode, Beth (Susan Kelechi Watson) and Randall shared their worst fears for the struggling Deja.
But were old man Randall and Tess talking about Deja in the future? There are other possibilities…
Deja. Deja seems the obvious choice, considering the future scenes were paired with present Deja's actions. But has This Is Us ever been obvious? OK, yes, at times it has. Maybe the Pearsons couldn't help Deja. Maybe they failed. The looks on the faces of old man Randall and adult Tess seem to indicate that and sadness.
Beth. How devastated would Randall be if something happened to Beth? Doesn't seem like it'd be a divorce...Beth has has become a fan-favorite character and an emotional linchpin of the series. Having Randall and Beth not have a happy ending would be far more dramatic for the show and viewers.
Annie. Viewers don't really know that much about Randall's youngest daughter. Something happening to her would be sad for the family, but would it have the same emotional pull for viewers?
Rebecca. Hey, it's the future, maybe Rebecca has become some sort of A.I. or something. Stranger things have happened! OK, this is pretty much a throwaway, but it's TV. If you have Mandy Moore playing a woman in her 60s, anything is possible.
"I can't tell you who the 'her' is, but we'll be definitely following up on it in season three," co-showrunner Elizabeth Berger told The Hollywood Reporter. However, Berger did say that time period would be very present next season.
"We will be visiting it definitely semi-regularly throughout the season, so [other characters] may appear," she said. "It's all open right now, so you might as well take a few months off not to worry and save your worry for season three."
This Is Us returns in the fall of 2018 on NBC.
(E! and NBC are both part of the NBCUniversal family.)