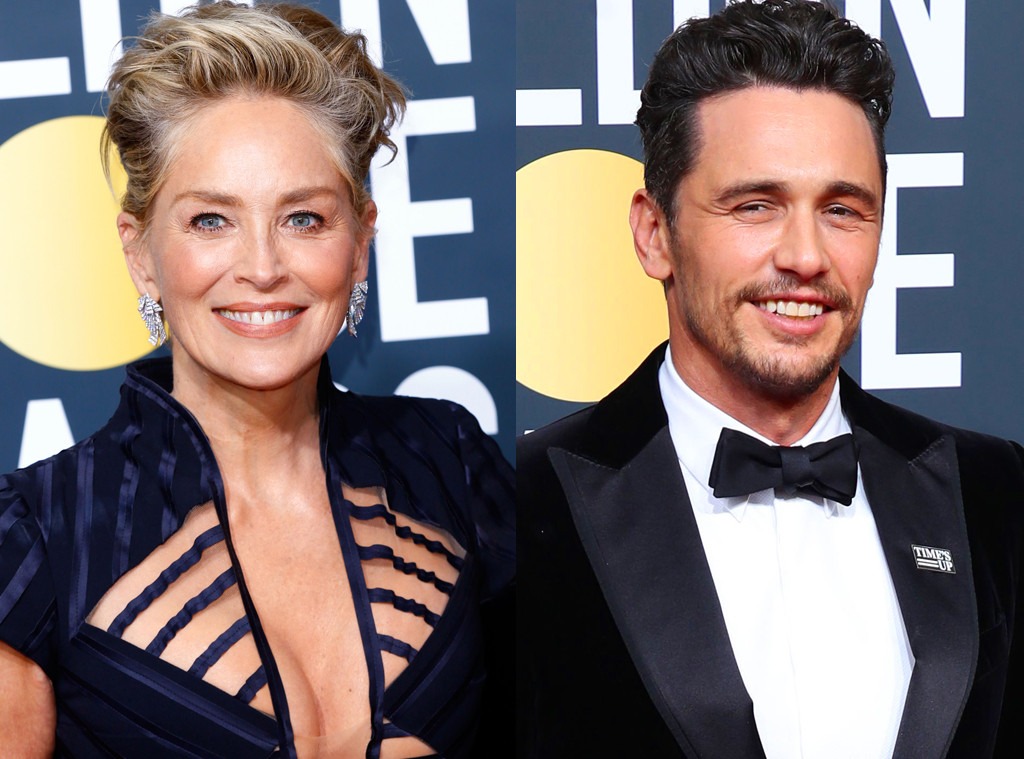 Chelsea Lauren/BEI/REX/Shutterstock
Sharon Stone is defending her former co-star James Franco amid a series of sexual misconduct allegations against the actor. 
During a recent episode of WTF Podcast with Marc Maron, host Marc Maron asked the actress if she had fun working on The Disaster Artist with the actor.
"I did, and I'm appalled by this thing about him that's happening where the girlfriend—I don't know how the girlfriend can say that she's offended that he asked for a blow job while they're dating and now, all of a sudden, he's a bad guy," she said. 
The Los Angeles Times published an article about the Pineapple Express star in January in which five women accused Franco of sexual misconduct. One of the accusations came from Violet Paley, who claimed the actor pressured her into performing oral sex on him in a car. 
"I was talking to him, all of a sudden his penis was out," Paley told the newspaper. "I got really nervous, and I said, 'Can we do this later?' He was kind of nudging my head down, and I just didn't want him to hate me, so I did it."
Franco's attorney Michael Plonsker denied Paley's allegations in the article and called them "not accurate."
Despite the allegations, Stone continued to compliment Franco. 
"I gotta tell you: I worked with him. I know him. He's the loveliest, kindest, sweetest, elegant, nicest man—most kind friend, lovely professional," she said. "I'm absolutely appalled by this." 
Stone has had her own experiences with sexual misconduct in Hollywood.
"There isn't any of it that I haven't seen or experienced," she told Maron. "I have found, of course, much of this behavior absolutely hideous and appalling and there was nowhere to go with it. Now that it's happening and it can be curtailed, I think that's brilliant." 
In fact, Stone said she's confronted her predators. Although, she didn't disclose names. Stone said she feels like she's being "responsible when there's a possibility for me to be responsible"—adding that "no one gave a sh-t" about this kind of inappropriate behavior in the past.
However, she said there needs to be some kind of due process when accusations of misconduct are brought forward.
"There's a range of activities and you can't charge someone with a felony over a misdemeanor," she said, "and there's some points where, you know, there has to be a balance here—where this has to be heard in a rational format. So, this isn't just black and white, and it can't be that every man who doesn't know what the f--k he's doing in life is a criminal. Cause a lot of people are just stupid." 
In fact, Stone seemed to suggest that some men acted inappropriately because they didn't know any better.
"You go out with them, they bring you home for a good night kiss and grab your hand and put it on their penis—and you know [it's] a 50-year-old man," she said. "And you're like, I don't think they're trying to sexually harass me. I think they're just incredibly stupid and awkward."
In addition to Paley's allegation, former students Hilary Dusome and Natalie Chmiel accused Franco of becoming angry when he allegedly asked them to do a scene topless. Plonsker said the actor did not make the alleged request. Another former student, Katie Ryan, also told the Los Angeles Times Franco would "always make everybody think there were possible roles on the table if we were to perform sexual acts or take off our shirts." She said Franco sent her mass email requests to audition for a role as "a prostitute or hooker." Again, Plonsker denied the claims and said Franco was "not aware that any of the actions alleged by Ms. Ryan ever occurred."
In addition, Sarah Tither-Kaplan claimed she did an orgy scene with Franco and a few other women and said he removed plastic guards placed over their vaginas while stimulating oral sex, leaving the actresses with no protection. Plonkser told the Los Angeles Times "the allegations about the protective guards are not accurate."
Ally Sheedy also tweeted vague accusations shortly after Franco won the Golden Globe for Best Actor in a Motion Picture Musical or Comedy for his performance in The Disaster Artist.
 "James Franco just won. Please never ever ask me why I left the film/tv business," she tweeted at the time.
Franco addressed the accusations on an episode of The Late Show With Stephen Colbert. He said he had "no idea what I did to Ally Sheedy" and described other accusations he had seen on social media as "not accurate." He reiterated this idea of the allegations he read being "not accurate" on Late Night With Seth Meyers.