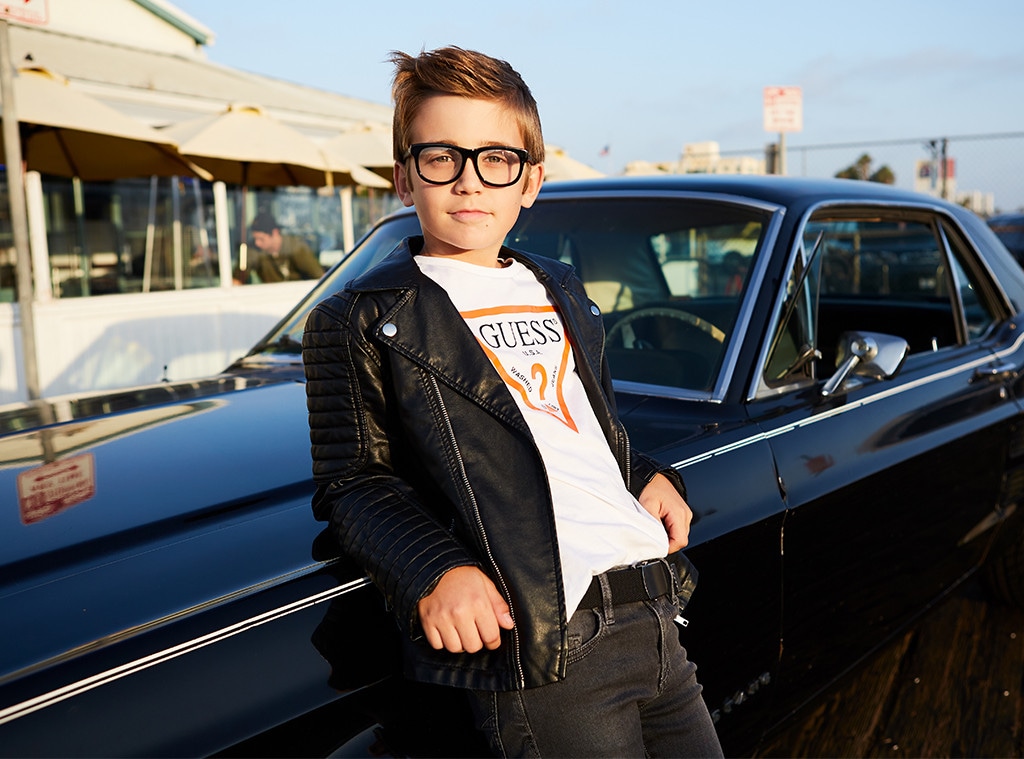 Leslie Alejandro
Since September, This Is Us has been playing games with our hearts every week.
Heading into the season two finale tonight, the NBC drama's decade-hopping story line has taken us all over the place—to the past, present and future—and perhaps our heartstrings actually need this upcoming vacation. And we're just the ones watching.
As we know, the show wouldn't be what it is if each role wasn't filled by just the right actor, from the adults to the teens to the kids—all of whom have seamlessly joined forces to make every Pearson family era believable.
"I feel really blessed to be a part of Kevin's story," 11-year-old Parker Bates, who plays "10-year-old Kevin Pearson" in the show's early-'90s sequences, tells E! News. He shares Kevin's timeline with 19-year-old Logan Shroyer and 41-year-old Justin Hartley, both of whom he calls "amazing actors."
"We make a great team," Parker says enthusiastically. And the same goes for him and TV parents Milo Ventimiglia and Mandy Moore, who along with fellow Pearson kids Mackenzie Hancsicsak and Lonnie Chavis he shares the most time with onscreen.
Asked whom he's bonded with the most, Parker says Milo, "because he feels like our dad." (Most of America would have to agree...)
"He really gets me," Parker continues, "and I feel like I learn so much from him. I love my TV siblings and Mandy is the greatest TV mom! I'm hoping the writers write more scenes for and I to do together for next season! I think the more you work with someone, the closer you get."
Amy Plumb for 102.7 KIISFM
He's certainly not the only one who wants the whole family to stay together for as long as possible.
Meanwhile, happily for Parker, real life is offering up more fun—award shows, Wango Tango, hanging out on TV sets, etc.—and less drama than your average This Is Us episode these days. Before the finale of the Emmy- and Golden Globe-winning show's second season airs tonight, he took the E!Q and filled us in on some of his favorite things.
But beware: Parker Bates is a really smart, sweet and intrepid young man and an adorable dog is involved. You may just tear up anyway.
Name: Parker Bates
Age: 11
Hometown: Dallas, Texas
Instagram: @theparkerbates
Who's the first person you talked to today? My brother Prestyn because he woke me up to take out the trash!
Favorite school subject: Science—because I like to learn how things work and why things work. I love to build things, and I love animals. Science combines all of these things.
Favorite sport to watch: Soccer, because I like to learn pro moves, and I probably would want to play pro soccer if I wasn't an actor. Acting is my first passion, but soccer is a close second!
Favorite sport to play or compete in: Definitely soccer. I've played since I was 3 years old!  
Secret talent: I'm super flexible, and I can do flips and tricks. Oh, and I'm a chef! I love to cook and try new foods...I'm a foodie!
If you could go somewhere you've never been before tomorrow, where would you go, and who would you go with: I really want to go to Fiji because it looks so beautiful in pictures, and I would want to take my mom.
Pet's name: Archie Bell Bates — catch him on Instagram @adventure_with_archie
First acting job: I did a commercial for Six Flags and a Leap Frog toy commercial, but I can't remember which one came first.
Do you watch your work on This Is Us?  Yes, but sometimes I cringe because it's sometimes weird to see myself in TV. It's like watching me in someone else's life.
Last movie that made you laugh: Peter Rabbit! Or maybe The Greatest Showman... they were both so good!
Dream career other than acting: So besides a pro soccer player, I would love to be a zookeeper!  I love all animals and would love to take care of them! Or maybe rehabilitate injured animals and return them to the wild. That's not really a zookeeper but someone like that!
Snapchat or Instagram: Snapchat! I like the filters!
What's the last thing you Googled? I googled "Do people have mites on their eyelashes?"
Name your favorite thing that starts with the letter E: Elves—I mean, they know Santa, and Buddy (Will Ferrell) played an Elf!
The season finale of This Is Us airs tonight on NBC at 9 p.m.
(E! and NBC are both members of the NBCUniversal family.)