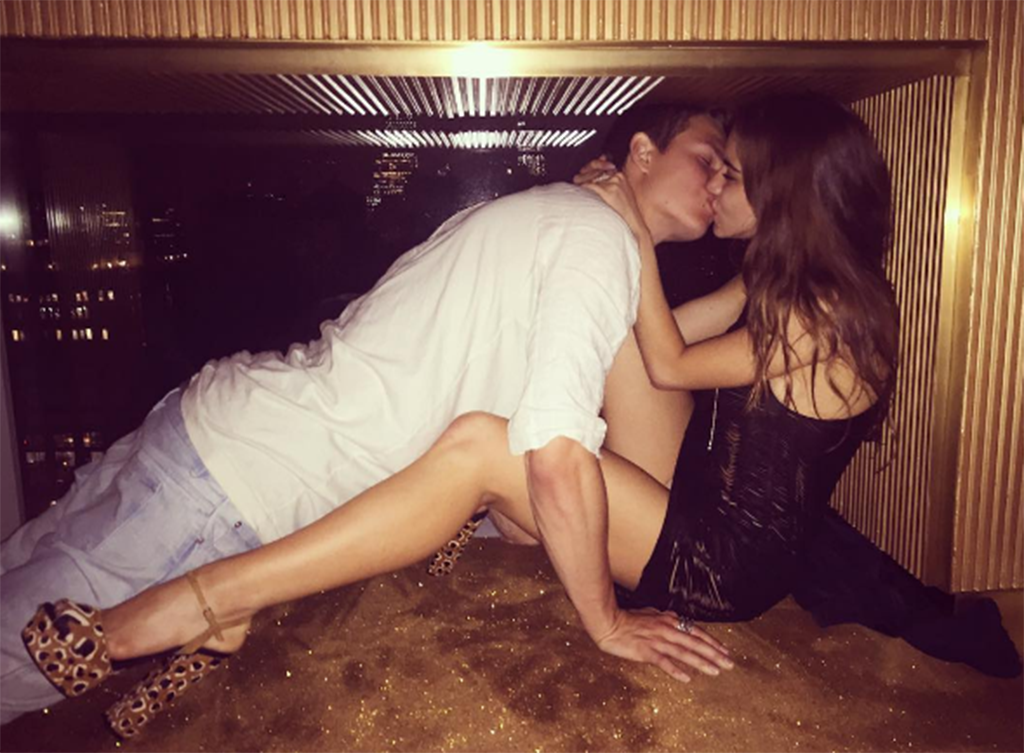 Instagram
You've got to dance like nobody's watching and love like it's never going to hurt.
When Ansel Elgort and Violetta Komyshan enrolled at LaGuardia High School of Music & Art and Performing Arts in New York City, it's a safe bet that the teenagers were hoping to find their passions, make new friends and experience four years of unforgettable memories.
But as it turns out, the aspiring actor and ballerina found themselves involved in a true love story when they met freshman year.
"I think he had his eye on me, because we were in the same lunch period or something," Violetta recalled during an interview with Cosmopolitan. "[One day freshman year] I was with my friend, and he was walking down the block. I didn't even know he went to my school—I just thought he was really attractive. I looked at him and told my friend, 'Oh my God, that guy's so hot,' and she's like, 'Oh, that's Ansel, he goes to LaGuardia.'"
In true young love fashion, Ansel waited for Violetta after school the next day in hopes of an introduction.
John Salangsang/REX/Shutterstock
"I was like, 'OK, he totally liked me yesterday,'" she told the magazine. "We exchanged numbers and became friends, and then we started dating when I was at the end of sophomore year."
While fans can only imagine the couple's dance moves at prom or senior superlative in the yearbook—Cutest Couple perhaps?—the pair found themselves making the tough decision to break up in August of 2014.
"They tried to navigate his commitments, but between filming and press for the movies [it got difficult]," a source explained to Us Weekly at the time.
Those movies just so happened to be the adaptation of John Green's best-selling book The Fault in Our Stars and Divergent. As Ansel's status in Hollywood grew, however, his priorities remained the same. He also wasn't about to use his new fame for personal gain.
"What's changed is: 'Oh, you can go to this restaurant,' or 'You can go to this nightclub,' but I'm not really interested in that," he admitted to GQ magazine. "I don't really care that some trashy girl, like, now all of the sudden wants to f--k me. That's not really that interesting to me."
Perhaps that mentality helped bring Ansel and Violetta back together nearly five months after breaking up.
"I was doing OK," he told Details when recalling those short months of being single. "But I knew something was missing, and I was like, 'Oh, that's love.'"
As Ansel celebrates his 24th birthday today, the pair appears stronger than ever as they continue following their dreams under the Hollywood spotlight. Whether posting photos together on Instagram or appearing together at the biggest award shows, the duo can't help but display their chemistry.
Of course that's not to say the pair is immune to critics. Recently, the actor responded to being viewed as a not-totally-recognizable celebrity. But as it turns out, Ansel's totally fine with that.
"That's cool," he shared with Billboard. "I don't walk around calling attention to myself. It's important to be able to blend in; otherwise you turn into a Hollywood douche bag. I'm sure plenty of people think I am one, too."
The majority of pop culture fans following this couple, however, see two young talented stars in a love story that should be celebrated.  
As Violetta continues wowing audiences as a ballerina with Ballet Next, Ansel recently joked that he's trying to "keep up with her" fitness wise.
And when Ansel's status as a movie star takes him on the red carpet such as the 2018 Oscars or 2017 American Music Awards, Violetta is more than willing to get dressed up and support her man.
"Oscars then straight to after parties with the hottest presenter," Violetta shared on Instagram while posing for photos with her boyfriend at Vanity Fair's annual party.
But trust us, the love goes both ways on social media. One quick glance on Violetta's feed and you'll quickly discover sweet, thoughtful comments from Ansel.
"Classy sexy woman," Ansel wrote in the comments section with three heart emoji's after Violetta shared a photo of the pair on the red carpet. We see no faults with that.