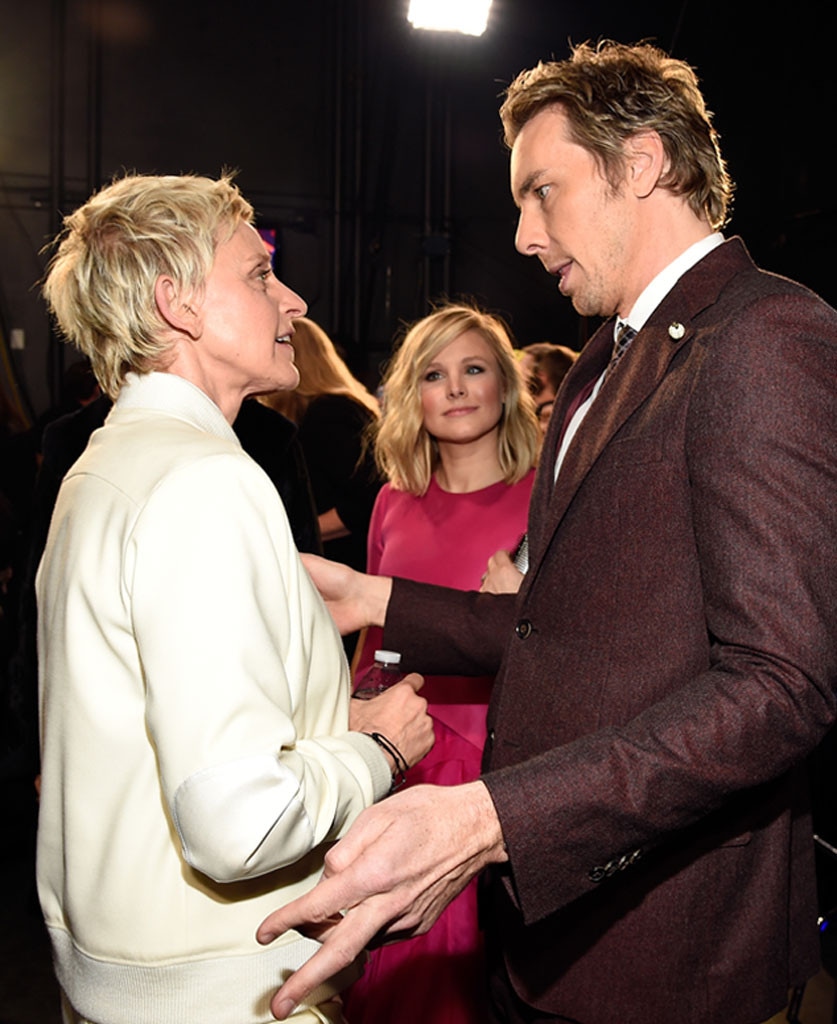 Kevin Mazur/WireImage
This time around, it's Ellen DeGeneres answering the questions. 
The daytime television host was interviewed by Dax Shepard for his "Armchair Expert" podcast, where the close friends discussed the highs and lows of Ellen's early days in the comedy world. DeGeneres admitted to falling into a depression after she came out publicly in 1997, and described the "really tough" experience of having the LGBT community denounce her for not being "gay enough."  
Here are six highlights from Ellen and Dax's candid conversation: 
Ellen's big break was inspired by a tragic loss: 
At the age of 20, DeGeneres' girlfriend was killed in a car accident. Following her death, the then-waitress moved into a "little basement" apartment and remembered thinking, "Why is this beautiful, 21-year-old girl gone and fleas are here? And I just thought it would be amazing if we could pick up the phone and call up God and ask questions and actually get an answer."
This moment inspired "Phone Call to God," the stand-up set she performed on The Tonight Show Starring Johnny Carson in 1986. DeGeneres made history as the only woman in the show's history to get "asked to the couch," which kickstarted her career. 
Her standup tours were often lonely: 
"I was by myself," Ellen shared, referencing the time she spent taking her comedy act on the road. "It's not like I had friends I could afford to put up with me. I wasn't flying private. I was flying commercial all the time and changing planes. I hate flying; I get anxiety when I fly so I couldn't wait to stop touring." 
While staying with male comedians, the Finding Nemo star added in part, "I'd see them bring home people. It was gross. You were scared to sleep in that bed and [ask yourself], 'Who was there before? What's in the rug?' That kind of thing. It may have influenced the decision I took in life." 
Ellen felt blindsided by the sudden cancellation of her TV sitcom: 
Despite the "huge success" that was the 1997 Ellen episode in which her character came out as gay, which aired shortly after DeGeneres herself came out publicly, she didn't expect to get cancelled so suddenly. From Ellen's perspective, ABC and Disney were "scared" of the backlash from advertisers,  and subsequently stopped promoting the series. 
She told Dax, "Because there was so much talk about it, everyone was just sick of it. I had only done the cover of Time magazine, a primetime special with Diane Sawyer and Oprah... Even Elton John said, "Shut up already. We know you're gay. Be funny.' I had never met him and I thought, 'What kind of support is that from a gay person?'"
As a result, Ellen became "depressed":
"Everybody assumed I was just nonstop talking about it," DeGeneres added. "It hurt my feelings. I was getting jokes made at my expense on every late-night show, people were making fun of me. I was really depressed. And because of that, and because my show was cancelled, I was looked at as a failure in this business. No one would touch me. I had no agent, no possibility of a job, I had nothing." 
She also faced backlash from the LGBT community:
By coming out, Ellen said she was suddenly thrust into a role she never asked for, saying, "I was looked at as the new leader, and I didn't want to be a leader and I didn't want to be political... I just wanted to be free from a secret and that's all I wanted." 
She explained, "Some people thought, 'You're not gay enough and you're not doing enough for our community and there are so many that have done more.' I didn't say I was your leader and I didn't say I have done more… I just want to be a comedian and I just happen to be gay. I think I'm doing a lot just by being a physical presence of hopefully a representation, not of the entire gay community, but of someone at home going, 'There's someone that's gay.'"
Michael Rozman/Warner Bros.
Ellen is now "grateful" for that time in her life:
Looking back, DeGeneres told Dax she "can't believe that I was able to achieve what I achieved, lose it all and then get to this point in my life at 60-years-old. To start over at 45. Nobody starts over in this business at 45, much less a woman. I'm really grateful that I had that experience and it made me a stronger person."
Her relationship with Portia de Rossi has also played a part, and is the reason why Ellen is "really proud" to say that she's "openly gay" and can say the word 'wife.' 
"The fact that that was never talked about on television," DeGeneres described, "but it's becoming part of the vernacular that someone can hear wife. At least it's digesting slowly into society and that I can talk about my amazing, incredible life with another woman is doing something." 
Listen to the latest episode of "Armchair Expert" here.