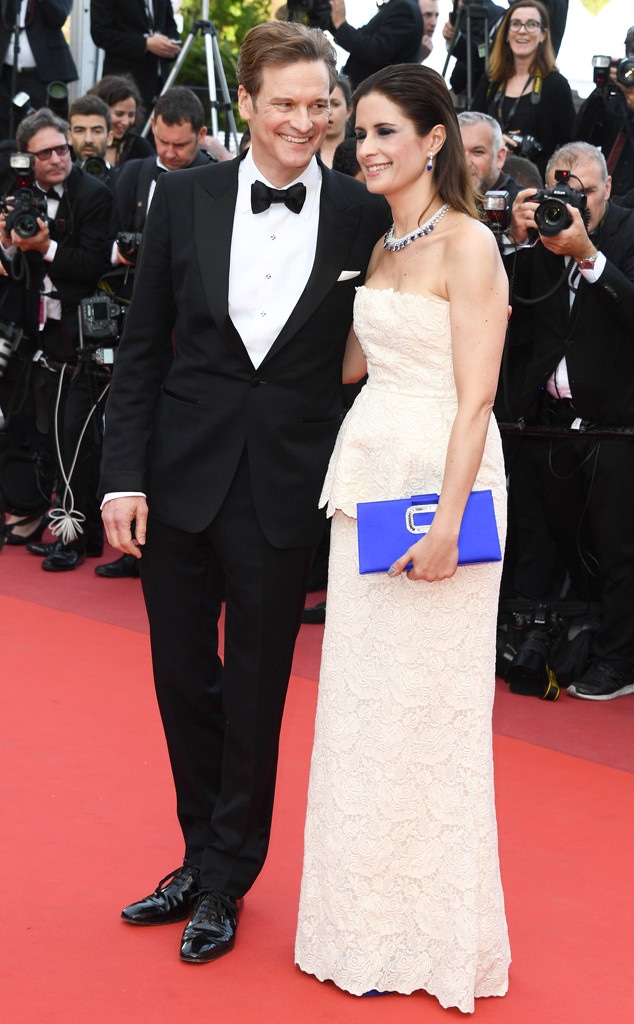 George Pimentel/WireImage
The former lover of Colin Firth's wife Livia Giuggioli, whom the couple has publicly accused of stalking, is speaking out to deny the allegations and to say that he's only contacted the duo a few times since his 11-month affair with the actor's wife ended in 2016.
Last Friday, Giuggioli and Firth made a statement to E! News accusing the Italian of carrying out a "frightening campaign of harassment over several months."
But now the Italian journalist Marco Brancaccia is telling People magazine in a new interview that he's barely been in contact with the two. Brancaccia also added that he's been on assignment in Brazil since the end of their brief relationship, which took place during the couple's separation in 2015-2016. He also told the publication that he's only returned home to Italy once since the split and he did not contact Giuggioli during that time.
 "The reality is that Livia and I have known each other since we were youths, then in 2015-2016 we had an 11-month love affair," Brancaccia said. "After it ended in June 2016 I never called her again. I did send her two WhatsApp messages, one happy birthday [text message] and an email to Colin, the latter which I truly regret."
The email, which he says he very much regrets, was sent in anger and contained a detailed account of the affair. 
"It was sent out in a moment of frustration, sadness—a terrible moment. In the email to Colin—which now in retrospect I truly regret sending—I informed him of the affair I had with Livia. I would never now send that email," he said.
"It was a terrible mistake, so much so that I even apologized. But to go from that to being made out to be a stalker is just not right."
He also says that during their time together, Brancaccia and Giuggioli went to Italy, Brazil, London and New York.
"We would try and see each other as often as we could as it was a real love affair, for the two of us," he told the mag. "We would speak on a daily basis and write WhatsApp messages during the day. Due to the different time zones often I would wake up to her messages as she would to mine. It was a love story."
But Brancaccia alleges that she cut off the relationship when he pressured her to divorce the Bridget Jones' Diary actor, whom she's been married to since 1997 and whom she shares two sons with, Luca and Matteo Firth.
"I have no reason to doubt that when she said she loved me and she wanted to be with me, she was being honest. But when it came to actions, and I asked her when she would tell Colin, she abruptly ended the relationship."
The journalist also says that he filed for calumny against Giuggioli in May 2017 for falsely accusing him in front of a police or judicial authority of having committed a crime.
"Together with my lawyers we established that what had been written in Livia's complaint was slanderous. I have never threatened Livia or any other member of her family."
Last week, their rep told E! News, "A few years ago Colin and Livia privately made the decision to separate. During that time Livia briefly became involved with former friend Mr Brancaccia. The Firths have since reunited."
"Subsequently, Mr Brancaccia carried out a frightening campaign of harassment over several months, much of which is documented. As a consequence of his stalking, threats and refusal to desist, the legal complaint was lodged with the Italian authorities."
The rep said the 48-year-old Italian producer and 57-year-old actor never spoke publicly of the affair for "obvious reasons." However, when La Repubblica published details of the police investigation prompted by Giuggioli's accusations, the two came forward to address the story.
"The reporting this week on this case is understood to be the consequence of a leaked court document," the rep added. "This is greatly to be regretted. It does not serve the interests of any of the parties involved."