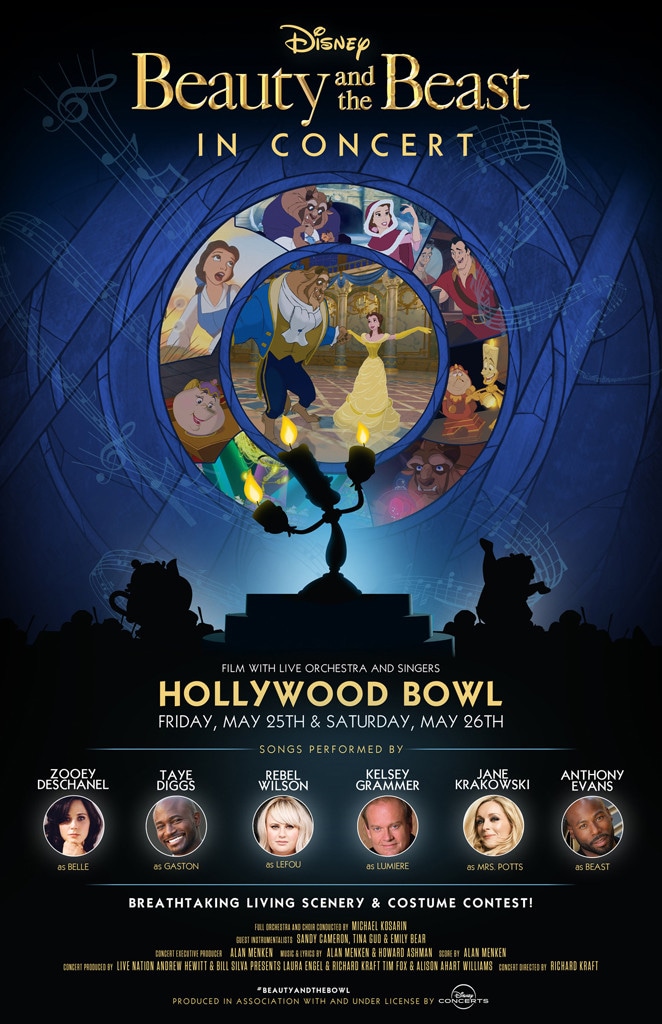 To all the Disney fans out there, be excited. Be very excited, because Beauty and the Beast is back—this time in concert form, with an all-star cast that includes Zooey Deschanel, Rebel Wilson and Taye Diggs. 
The Hollywood Bowl announced Monday it will be hosting Disney's Beauty and the Beast in Concert for just two days on May 25 and 26. The cast was announced with Deschanel as Belle, Wilson as LeFou and Diggs as Gaston. Other cast members include Kelsey Grammer, who will be singing "Be Our Guest" as Lumière, Jane Krakowski, who will be performing the title song as Mrs. Potts, and Anthony Evans, who will be playing the Beast.
Director Richard Kraft said the cast "is nothing less than enchanting" and the stage adaptation will pay homage to the original movie, while also delivering "something that can only be experienced live." Naturally, he said, "We want our audience to be our guests."
Kraft previously worked on other live-to-film concerts at the Hollywood Bowl including, Disney's The Little Mermaid in Concert, in which Wilson played Ursula. Wilson plans to prepare a little differently for her role as LeFou, saying she "will be mentally preparing for the role in France by eating croissants."
Deschanel said in the announcement that Beauty and the Beast was one of her favorite movies growing up, and performing in the concert "is a dream come true." Diggs, meanwhile, is "giddy with excitement at the opportunity to finally sing the role" of Gaston. He's "harbored jealousy of every actor who ever played Gaston," and now is so grateful to have his turn. 
The title song, originally sung by Angela Lansbury, makes Grammer cry. He says "walking in the footsteps of such a brilliant [film] cast is an honor."
There will be a full orchestra and choir, led by conductor Michael Kosarin, with special guest artists, including 16-year old pianist Emily Bear, violin soloist Sandy Cameron and cello sensation Tina Guo.
Just over a year ago, the live-action adaptation of Beauty and the Beast was released, starring Emma Watson. It was one of the top grossing films of the year, with over $1.2 billion worldwide. The 1991 original animated film was nominated for six Academy Awards and earned its place as the first animated feature to receive a nomination for Best Picture. So, it's no surprise that the story keeps coming back in different forms.
Concert tickets will go on sale Friday at 10 a.m. Doors open at 6:45 p.m. PT with a costume contest preceding the concert, beginning at 8:15 p.m. PT.