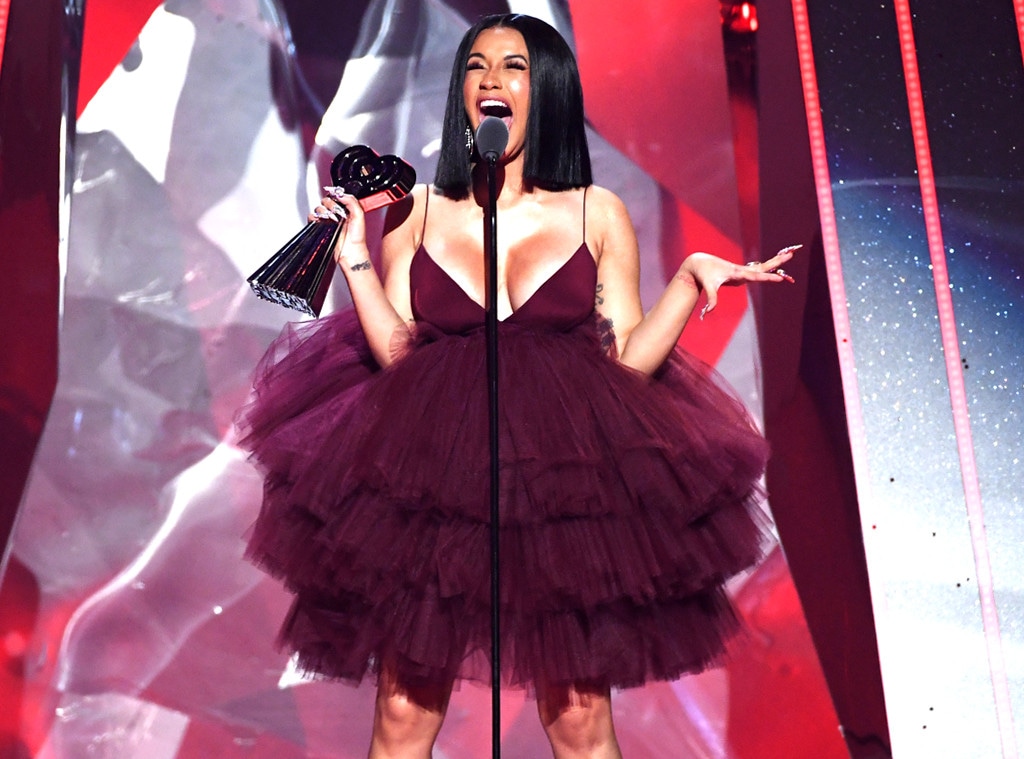 Kevin Winter/Getty Images for iHeartMedia
Attention music lovers: The 2018 iHeartRadio Music Awards was a night to remember!
Music as heard on iHeartRadio took center stage tonight at The Forum in Los Angeles, where Hailey Baldwin and DJ Khaled hosted. The fun-filled show brought together the biggest and brightest recording artists from every genre under one roof for one sizzling night of music.
The night's performance lineup included Camila Cabello, Cardi B, Ed Sheeran, Maroon 5, Charlie Puth and Eminem.
During the event, '80s rock band Bon Jovi received the first-ever iHeartRadio Icon Award.
Camila Cabello was honored with the iHeartRadio Fangirls Award presented by L'Oréal Paris for demonstrating ambition, passion and a strong sense of self-worth," according to a press release. She also channeled Madonna in her performance of "Havana."
iHeartRadio also presented Chance the Rapper with the Innovator Award for his accomplishments in the music industry and dedication to social activism. 
But what about all the action cameras can't catch?
Lucky for pop culture fanatics, that's where E! News steps in. We have an all-access, behind-the-scenes pass to the 5th Annual iHeartRadio Music Awards and we're inviting you as our plus one! With over 30 categories to award, and every can't-miss celeb interaction in between, there's plenty of surprises waiting to be shared. 
Check out everything you haven't seen on TV during the iHeartRadio Awards below!
Kevin Mazur/Getty Images for iHeartMedia
Coupling Up: When G-Eazy returned from his performance with Cardi B, girlfriend Halsey turned around and waved to him to come sit with her. He get stopped by a bunch of random people along the way to his lady love, but when he got to Halsey he gave her a kiss. The two had an intimate moment and she threw her arms around him.
Bachelor Nation: Kendall Long, who was third runner up this season on The Bachelor, and her twin sister were in the audience and posing with fans. People were very excited to see her. She was smiling and looking super happy that she was getting attention.
What a Bore: Bachelor Nation's Becca Tilley and Ashley Iaconetti were seated in the back of where the VIP section was and were texting on their phones, looking uninterested in the show.
No Guns: When talking about gun violence, Halsey and G-Eazy got out of their seats and clapped above their heads. Laverne Cox also got out of her seat to clap. Everyone else in the audience was sitting clapping.
Paris When It Sizzles: Presenter Paris Hilton was there with her fiancé Chris Zylka and was recording everything on her phone. She was looking super happy. During Eminem's performance with Kehlani, she was is smiling big and shaking her head. Eventually, Paris looked at Chris and they both stood up and danced to the song together.
Kevin Mazur/Getty Images for iHeartMedia
Model Student: Halsey stopped Alex Moscou, the Marjory Stoneman Douglas High School survivor that spoke about gun violence, and gave him a huge hug. She, G-Eazy and Alex then took a photo together.
Superfan: A Maren Morris song came on during a break and Hailey Baldwin was singing and dancing along. She knew every word and was waving her arms around. 
You Got Dissed?: Hailey walked over to say hello to Cardi B, but got ignored. So instead the host greeted someone else at the table.
Jovi Time: During Bon Jovi's performance, Cardi B looked bored and scrolled through her Instagram feed. Sarah Hyland was mouthing all the words as were Hailey Baldwin, Paris and Chris. They were all dancing along to the rock songs. 
Kevin Winter/Getty Images for iHeartMedia
Sitting Pretty: When not on stage, Cardi B was sitting in her seat the entire time taking photos with people. She didn't get up at all. Her voluminous dress barely fit at the table. She had a security guard behind her and to the side of her. 
The 2018 iHeartRadio Music Awards take place Sunday, March 11 at The Forum in Los Angeles. Fans at home can catch it live on TBS, TNT and truTV at 8 p.m. ET/5 p.m. PT.