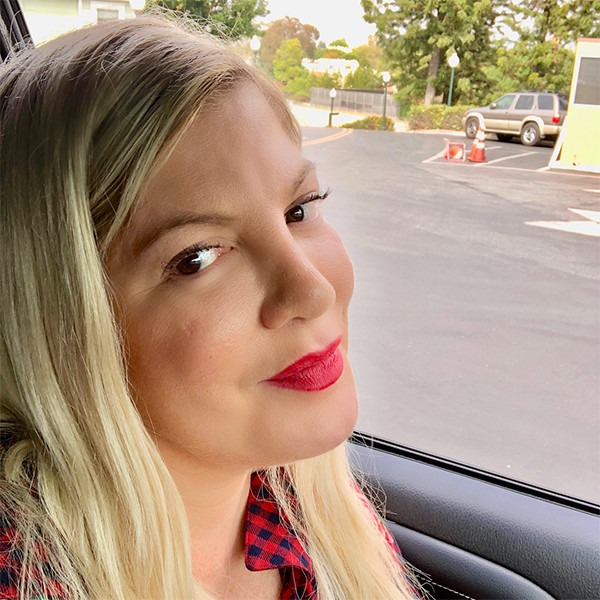 Instagram
Tori Spelling is back at work—and with longtime bestie Jennie Garth—days after reported family turmoil that spurred police intervention.
Spelling posted on her Instagram page on Saturday a selfie showing her in a car on the CBS Studio Center Lot near Los Angeles.
"#back2work great creative day yesterday with my #partnerincrime @jenniegarth #90210vibes #donnaandkellyforver #besties," she wrote.
On March 1, police were called to Spelling's family home twice in 24 hours. TMZ said that her husband Dean McDermott had told them she was going through a "breakdown."
On Wednesday, he called police to have them check on her wellbeing after she left home and they later determined she was fine, Us Weekly and TMZ had reported. On Friday, they were photographed leaving a diner with their five kids through a back door under watch by police officers. The Daily Mail reported that authorities escorted them out after the couple got into an argument inside. The two have not commented on the reports.
Broadimage/REX/Shutterstock
On Saturday, Spelling posted on her Instagram stories a text post that read, "I'm strong. I'm amazing. I'm beautiful. I'm wonderful. I'm worthy. I'm loved. I'm brave. I'm sweet. I'm happy. I'm me."
Spelling and Garth starred as Donna Martin and Kelly Taylor on the hit '90s and early '00s series Beverly Hills, 90210.
Spelling and Garth are good friends and have worked together since Beverly Hills, 90210 ended its 10-season run in 2000. In 2014, they starred together on the short-lived ABC Family (now Freeform) comedy series Mystery Girls. In 2017, they served as guest judges on an episode of RuPaul's Drag Race, titled "9021-HO."
"As my best friend my whole life, she completes me," Spelling told E! News in September. "She makes me a better person and I think together we compliment each other really well."