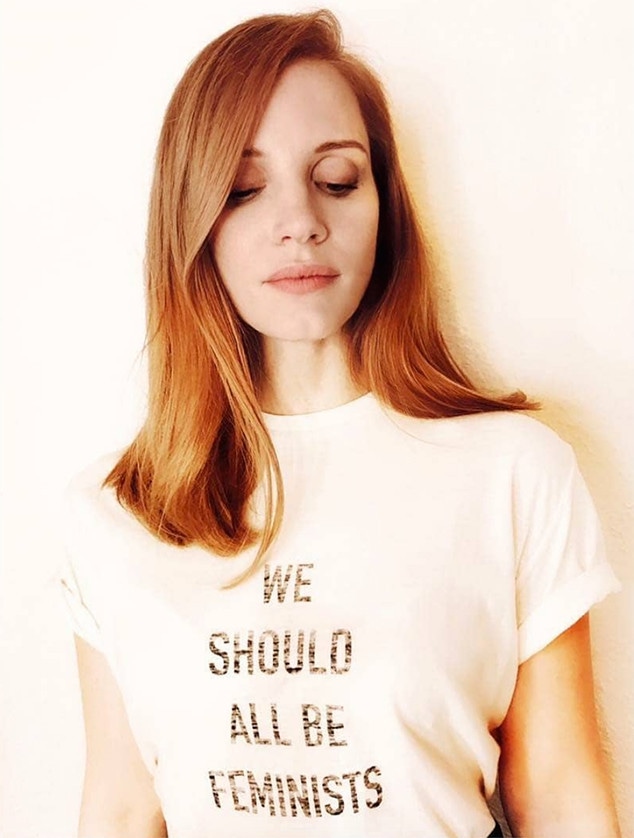 Instagram
Jessica Chastain is a girls' girl, through and through.
On International Women's Day, hairstylist Renato Campora took a photo of the X-Men: Dark Phoenix actress with the message "We Should All Be Feminists" emblazoned across her T-shirt. To celebrate the movement's momentum, she re-posted the image on her Instagram account, captioning it, "FEMINISM: the theory of the political, economic and social equality of the sexes."
But one Instagram user, Karin Hallsten Schulz, responded critically to Chastain's image. "Yes, feminist that believe in God and stand up for The Unborn. I would be for that kind of feminist," she wrote in the comments. Showing compassion, Chastain spent time learning about Schulz's story. "Yes, you can decide what is right for you. I am pro-choice and I believe that everyone has the right to make their own decision. I read about your journey to become a mother and it broke my heart," she said. "I hope that your dream will come true in 2018! Much love to you."
Chastain had visited Hallsten Schulz's GoFundMe page, in which she discussed her fertility issues. "My hormone levels and egg quality aren't the best, due to my age. We found out that we would need help to become pregnant. It was very disheartening to hear these results," she wrote, adding that her struggle to conceive made her feel as if she had somehow "failed" her husband, and "the idea of having us to go into debt to become pregnant made me so, so sad."
"With very humble and grateful hearts," Hallsten Schulz and her husband asked people if they could make a donation to "help us have a family," considering that infertility treatments are "not covered by our insurance company, and the cost is high. We would love your prayers also."
In response, Chastain donated $2,000 to help Hallsten Schulz reached their $5,000 goal.
"Dear Jessica. Thank you for your words, for your encouragement and loving wishes. I too am a feminist!! It is ok if we don't see eye to eye on everything. We do agree on more than we disagree!! You are my sister, and together wonderful change and more awesome things will happen in this beautiful world we live in," Hallsten Schulz wrote afterward. "Love Always Karin."