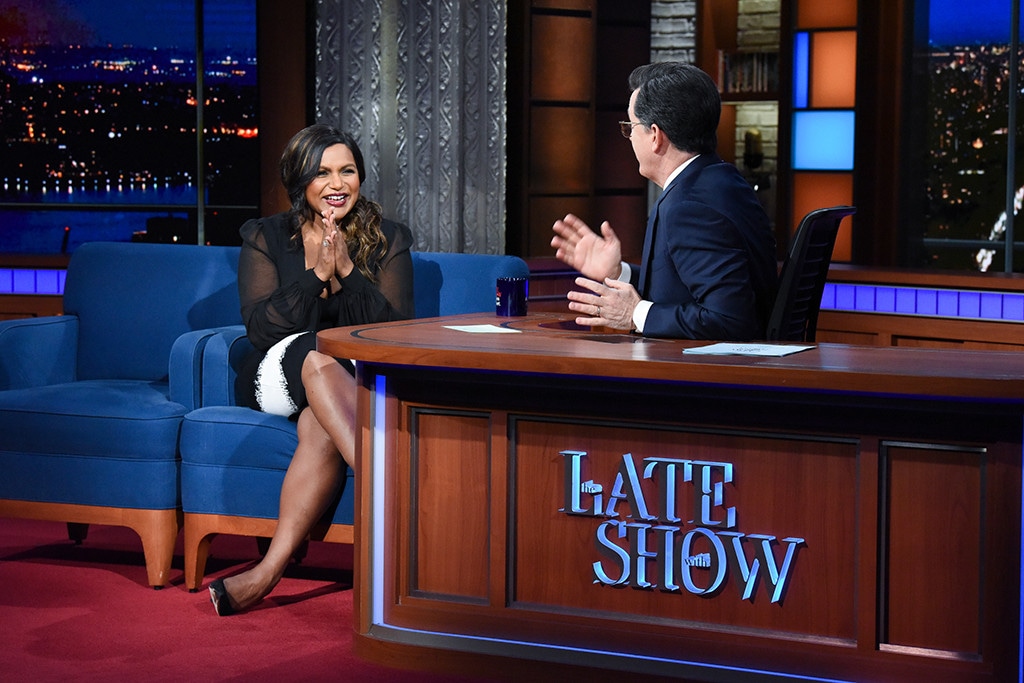 Scott Kowalchyk/CBS
Gift giving isn't a competition...but if it were, Oprah Winfrey would easily beat Stephen Colbert. Mindy Kaling appeared on The Late Show Thursday to promote Ava DuVernay's A Wrinkle in Time. But before they discussed the movie, Stephen wanted to congratulate the actress on the birth of her first child. "Thank you for being here, because you've got A Wrinkle in Time, you've got the new show on NBC, Champions, and you've got the baby, Katherine," the host said, recognizing that raising a 2-month-old infant as a single mom must be "a lot of work."
"She's often like, 'Who dat?' to me, because I've been a little busy promoting this movie," she jokingly admitted. "When you have a baby, you don't necessarily know in the beginning that you're going to be up every three hours. I'm up in the middle of the night with her, and then afterwards, it's hard to go back to sleep, so I'll just return e-mails and things like that." At times, Mindy's message has been lost in translation. "I'll return e-mails and say, 'Thank you so much. I'm thinking of you. Thank you,'" she said. "The next morning, people will be like, 'Hey, why did you send me an e-mail at 3 a.m. that said I am thinking about you? You're like a weird pervert.'"
"So, that's my life now," Mindy laughed. "It's nice."
Motherhood has been a "profound" experience for the actress, who admitted to Stephen, "I was not a kid person at all. I was a person who, if you had a baby at a party, I would go up to them, shake their hand and be like, 'Hello!' I didn't understand how to be around babies. On planes when babies would cry, I would be mad at the families. Now I'm like, 'Let them cry! Let them do whatever they want! They can sit on me and poop if they want! Whatever they want!'"
Mindy then thanked Stephen for his "very nice" and "very old-fashioned" baby gift from Pixie Lily, located in his hometown of Charleston, S.C. "With a baby girl, you get sent a lot of colorful things and pink things," the actress explained, "and I thought this was so sweet and very fancy."
Stephen admitted the outfit looked like it was from the "late 19th century," to which Mindy joked, "If I'm crossing the Titanic with my baby, hoping for a new future for myself, this is the outfit I put her in. There's a black and white photo of me and my baby, hoping for a new [life]."
Mindy thanked Stephen and his wife again for their "beautiful" and "nice" gift—just before adding, "It straight up sucks compared to what Oprah gave me. And I mean that with love, OK?"
"Oprah's present to me was a hand-carved book case packed with 100 of the essential children's books of all literature, and each book was inscribed with a little sticker that said 'Katherine's Book Club'—like 'Oprah's Book Club.' The bookcase was carved in the shape of an old-timey castle," Mindy revealed. "It's such a nice present! And yours was such a nice present."
Stephen didn't mind that Oprah had outdone him.
"We were going to do that," he joked. "I heard Oprah was going to do it, so we did this instead."