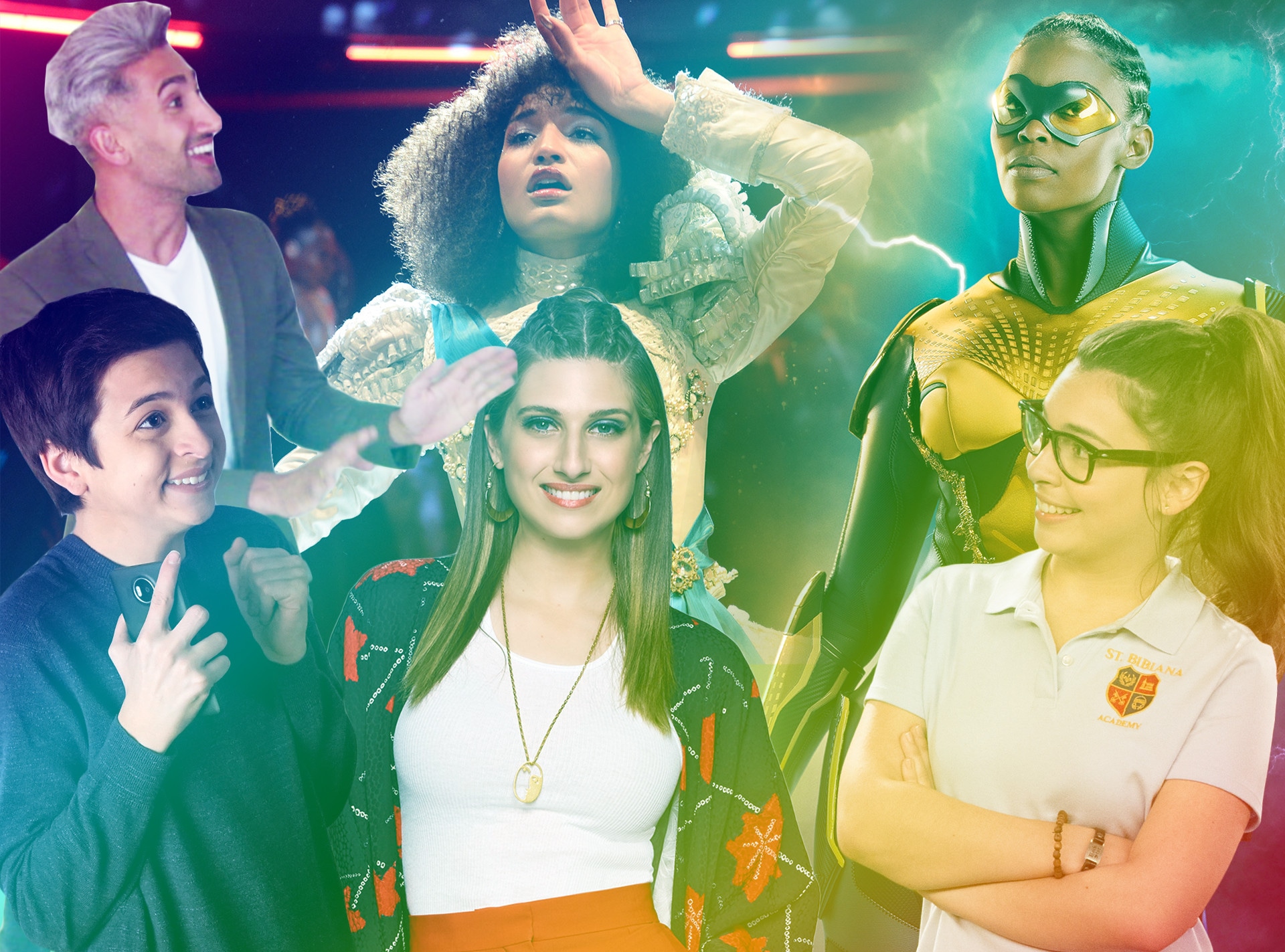 Netflix; NBC; Freeform; CW; FX
It didn't happen all at once. It rarely ever does. However, slowly but surely, characters across the LGBTQ spectrum have begun repopulating the small screen in prominent roles this year.
They're front and center in the year's first breakout reality TV hit. They're making history in superhero shows. They're making us laugh in family comedies. And they're giving members of an historically underrepresented community the opportunity to truly see themselves on television, some for the very first time.
Call it a rainbow revolution. Call it whatever you want. But one thing you can't do is ignore the rising ranks of TV's new LGBTQ generation or the impact they're making.
Now that Mindy Kaling's new NBC comedy Champions has premiered, this new generation of LGBTQ characters has gained a member with the arrival of Michael, the fabulous 15-year-old gay kid at the center of the series. Played by relative newcomer J.J. Totah, who identifies as a member of the LGBTQ community himself, Michael is the latest bit of intersectional representation to grace the small screen, given that he's both gay and half-Indian. And the importance of that isn't lost on the young actor bringing the character to life.
"It means a lot. I can speak from experience, I grew up in a small town in northern California and I didn't get to see a lot of people that were different and a lot of boys that wanted to sing and dance and do stuff on television," Totah told E! News over the phone ahead of the comedy's March 8 premiere. "It was always just straight white boys playing soccer which is, like, totally cool, but not everyone is that. So getting to play a role that is not only gay, but is half-Indian and can represent so many people in so many different ways is super cool because I know how much representation means to a viewer watching, knowing that they're not alone and there's someone like them whether it's because Michael is gay or Indian or what have you."
It's that intersectionality that's been key to so many characters in this new generation, beginning in earnest with One Day at a Time's Elena (a Latina lesbian high school student, the first of her kind in a family sitcom) and continuing through to Black Lightning's Anissa (an African-American lesbian with budding superpowers, also the first of her kind on TV). And while the power and importance of that was immediately clear to an LGBTQ-identifying actor like Totah, for the straight actors bringing these two particular characters to life, the roles were an opportunity to learn. 
"People are so happy and shocked to see themselves, which is so weird to me because I never thought about representation," Isabella Gomez, who has played Elena on the Netflix comedy for two seasons now, told E! News over coffee. "We had this discussion during season two, and I think it's because I am white-passing, that Miley Cyrus and Ashley Tisdale looked like me. So I never had the thought of, 'Oh, where's my family? Where is this?' And it wasn't until I started working on this show and I saw Jane the Virgin that I was like, 'Wait a minute. That's me on TV. That's actually representing me and my culture.' So because I didn't grow up thinking about it, I never thought about how there was no LGBTQ. I'm also straight, so I never was, 'Oh, well, where's my love story?' So it's been so eye-opening, it's been so educational, and it's been so humbling to be a part of that."
As fans of the updated Norman Lear classic have watched Elena come out, deal with her estranged father's inability to accept her, and begin dating a non-binary friend Syd, Gomez has been awed by the nerve the character has struck with viewers hungry for representation. "I'm aware this is a character people are very fond of, that people care about, so the amount of love and acceptance and support I've gotten," she said. "That they're not coming at me, but instead are embracing me as an ally and embracing me as this vessel, it's overwhelming and it's so beautiful to be a part of that experience."
Nafessa Williams, whose character fans only just met earlier this year on the CW's DC Comics adaptation, but has already made quite an impact, wasn't expecting Anissa's sexuality to be such a topic of conversation. "I don't know if I realized how her being a lesbian was going to bring so much attention," she told us over the phone. "I mean, I get it, but I didn't realize it until the show aired."
However, the outpouring of fan love has only proven that when a community starved for representation finally feels like they're getting a seat at the table, they're going to talk about it.
"I'm grateful to have been chosen for this responsibility because it's a story that we don't see often, especially with women of color. And I believe that women of color—and not only women of color, but just women, lesbian women—they need to see themselves," Williams said. "I believe that representation is important to all of us, you know? So to play that and to be that voice, I've had so many lesbians come up to me—whether they're lesbians of color or not—and they're just like, 'Thank you. We're really grateful you're sharing your voice and lending it over to this character.' And that makes me feel good. That makes me feel like, if nothing else, I am doing my purpose."
While TV has begun to make strides in the telling of lesbian, gay and transgender stories, the B in LGBTQ has historically been overlooked or had their identity turned into a punchline. But that's begun to change this year with the arrival of Grown-ish's Nomi. Played by Emily Arlook, the bisexual character has allowed Freeform's Black-ish spinoff, which follows Yara Shahidi's Zoey Johnson to college, to explore sexuality in a fresh and authentic way—one that rings true to its campus setting.
"We're in a time right now where so many people are very fortunately, I think, calling out this limited narrative that has been historically represented in the media, so to be one of the faces that's telling a new story about a woman, not a cisgender, white man, is terribly exciting for me," Arlook told us over the phone. 
When a recent storyline saw Nomi break up with a boyfriend who revealed he, too, was bi simply because she couldn't see past it, Arlook said the reaction to the arc helped her to realize that the character could help us deconstruct some of our biases surrounding sexuality. "I think some people were kind of struck by Nomi's hypocrisy...and then other people really related to this internalized message that even Nomi, who's a bisexual woman, even she has [internalized] about bisexual men," she said. "So I think the opportunity to hold up the mirror to these cultural norms around sexuality and to be able to spark conversation with a fan base that makes us question why there are these double standards is awesome to see."
While the arrival of these characters this year, as well as Queer Eye's triumphant return, Disney Channel's first-ever story about sexuality currently unfolding on Andi Mack, and FX going into production on Pose, Ryan Murphy's upcoming drama with the largest number of trans actors as series regulars in history, points to a sea change in the stories being told on TV—and even more pointedly, the kinds of LGBTQ stories being told—there is still work to be done. For Totah, that work begins with the hiring of more people from the LGBTQ community.
"Personally, I think that we should be hiring more people of the LGBTQ community, more people of the disability community. Although, I do not see a problem with someone being hired to play someone with autism or someone being hired to play someone who's gay and they're not specifically gay, I still don't think it's an excuse to not hire more LGBTQ people," he told us. "That said, I don't think only LGBTQ people can play LGBTQ people. I think they can play straight people, they can play lawyers, they can play anything. So I feel like that's two different conversations to be had. I don't have an issue with someone with a different sexual orientation playing that because it's acting. However, I do think we should be hiring more people of all identities and orientations."
When asked who in entertainment was his LGBTQ icon growing up in the way that he's very likely to become for kids at home watching Champions, Totah hesitated. "It's sad because there's very few of them, which is unfortunate," he said, before singling out Laverne Cox's "deep and hardcore" work on Orange Is the New Black.
As for whether he's ready to become an icon himself, Totah said, "I'm super excited. I'm definitely not expecting to wake up like Jen Aniston with thousands of people at my door every day, however, I don't think I would mind that as far as right now. [Laughs] No, but I think it's super cool to interact with people. If they love the show, then you know, we have that in common because I love the show too."
As this new generation takes hold and stigmas about telling LGBTQ stories fall by the way side—each of the straight actors we interviewed laughed off the notion that they might've hesitated before taking on their roles, with Gomez noting, "We don't have the same reservations when we're told to play murderers. We're not like, 'Oh, God, no. I can't have people believing I'm a murderer!"—the potential to increase visibility for a community who still finds some of its most basic rights under attack far too often is there. And the power that potential wields is immeasurable. It's not for nothing that former Vice President Joe Biden attributed Will & Grace to changing the national conversation about gays and lesbians. TV can change minds. TV can soothe fears. It can remind you that you're not so different from the "other." And it can make you feel so much less alone.
"My favorites are the older generation that said, 'I wish I would've had this when I was 15 because it puts so much into perspective,'" Gomez said. "Elena will make that difference for a lot of 15-year-olds now, and I get to be a part of that, so it's really cool."
Elena's not alone. She has Anissa and Nomi and now Michael standing beside her. And something tells us this generation is just getting started.
Black Lighting airs Tuesdays at 9 p.m. on the CW, while Grown-ish airs Wednesdays at 8 p.m. on Freeform and Champions airs Thursdays at 9:30 on NBC. Both seasons of One Day at a Time are currently available to stream on Netflix.
(E! and NBC are both part of the NBCUniversal family.)