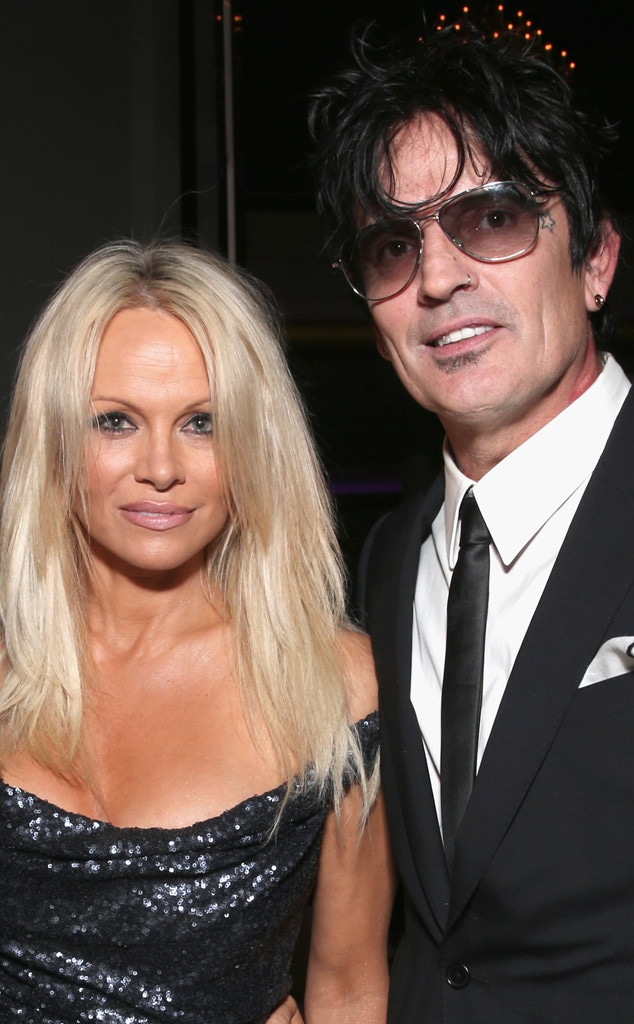 Todd Williamson/Getty Images for PETA
Pamela Anderson is breaking her silence in regards to the alleged fight between ex-husband Tommy Lee and their son Brandon Lee.
In an open letter on her website titled "Alcoholism is the Devil," the actress expresses her full support for her eldest son who she believes was just trying to help his father.
"I stand beside my son who acted out of self-defense and was scared for his life. Nobody understands the lifetime of disappointment this man has brought our family. Consistently the center of sadness, drama and confusion," Pamela wrote on her website. "Jealous of his sons' talent and beauty from the day they were born. He is sick. The definition of narcissist/sociopath."
She continued, "I have complete faith in Brandon and his team to resolve this unfortunate and sad situation regarding his father. I pray Tommy gets the help he needs. His actions are desperate and humiliating—He is a disaster spinning out of control. And he is not acting like a father. But this is nothing new."
Pamela went on to claim that her sons have "made every attempt" to help Tommy in recent months such as staying with him to make sure he is okay. But according to the former Baywatch star, it hasn't helped.
Randy Shropshire/Getty Images for Sea Shepherd Conservation Society
"This matter is ideally between just a father and a son—and rehab if the stars align," Pamela wrote. "I will never talk to Tommy again before he is sober and in his right mind."
In response to Pamela's letter, Tommy penned a lengthy essay to TMZ where he called the whole situation "so depressing and out of control." He also denied allegations that he is an alcoholic and abuser.
"Do I drink? Yes. Do I drink more than the average Joe? Yes. Have I ever hurt my sons or acted out of turn with them because of my drinking? No. My fiancée barely drinks. We don't do any hard drugs, I haven't in years. No matter how much people wanna pin me as this deviant alcoholic abuser, that isn't me," he shared with the outlet. "I'm a happy fun loving guy. I'm joking around all the time, and people take it the wrong way sadly. All I wanted from my son was an apology. And my heart is so broken that he would lie about the whole situation."
In an earlier statement to People, Brandon said he was "devastated at the events of the last several days that have been a result of my father's alcoholism. I've worked tirelessly organizing an intervention and it's incredibly upsetting that it never came to fruition." 
Police previously confirmed to E! News that a physical altercation occurred between Tommy and Brandon on Monday evening. Tommy would ultimately seek medical treatment at a hospital.
According to authorities, the rock star alleged that a criminal offense took place. While the investigation continues, nobody has been charged with a crime and police told E! News that Brandon is being cooperative in the investigation.
As for what brought about the alleged fight, many parties have their own interpretations of what happened. According to a 911 call obtained by E! News, Tommy's fiancée Brittany Furlan said "[Tommy] got mad and posted some ugly photos of [Pamela]"
Tommy also shared his perspective in his latest statement.
"[Brandon] came in the room angry about my response to Pamela's relentless press about our old relationship, with his dukes up, telling me to get up and fight him. When I stood up he pushed me into a wall. I didn't want to hit my son. I never have and I never will. If I wanted to clock him I would have knocked him on his ass," Tommy shared. "He had no problem knocking me out. I asked him to leave and he spun around and sucker punched me. Knocked me unconscious. Listen to the 911 call that's made its way online."
Pamela, however, also believes that Brandon was planning an intervention. As for the alleged punch in the nose, Pamela says Brandon did it "for all of us who he has hurt."
"Now Tommy feels humiliated—and is attempting to destroy his own son," Pamela wrote. "This is the Devil—This is the disease of alcoholism."
She added, "I can only pray for him. And protect my sons who also fiercely protect me."