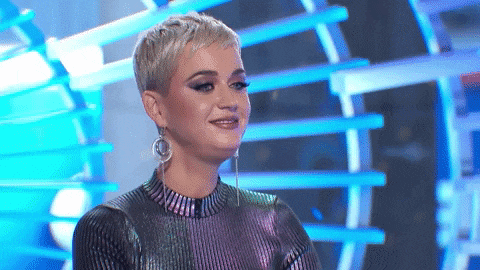 Giphy
Katy Perry's got party tricks! 
First there was that now-viral "wig" moment (Do you feel that already?), and now the pop singer has once again convinced us to tune into the American Idol reboot. This time around K.P. decides to show off her hidden talent, which is just as fascinating as it is scary. 
Trust us when we say you won't ever be able unsee Katy inflate and deflate her throat like a frog. Sure, the American Idol competitor says he can quote the entirety of Mean Girls, but it doesn't hold a candle to the star's amphibian impression. 
"It's disgusting," Katy admits, adding, "Nobody's gonna wanna make it out with me... But who cares?" 
She entices co-judge Lionel Richie to "touch it" as Luke Bryan stands back in amazement, and let's just say it leaves the "All Night Long" singer shook. 
Prepare for your skin to crawl and check out the clip above for yourself!
American Idol kicks of Sunday, March 11 at 8 p.m. ET/PT.