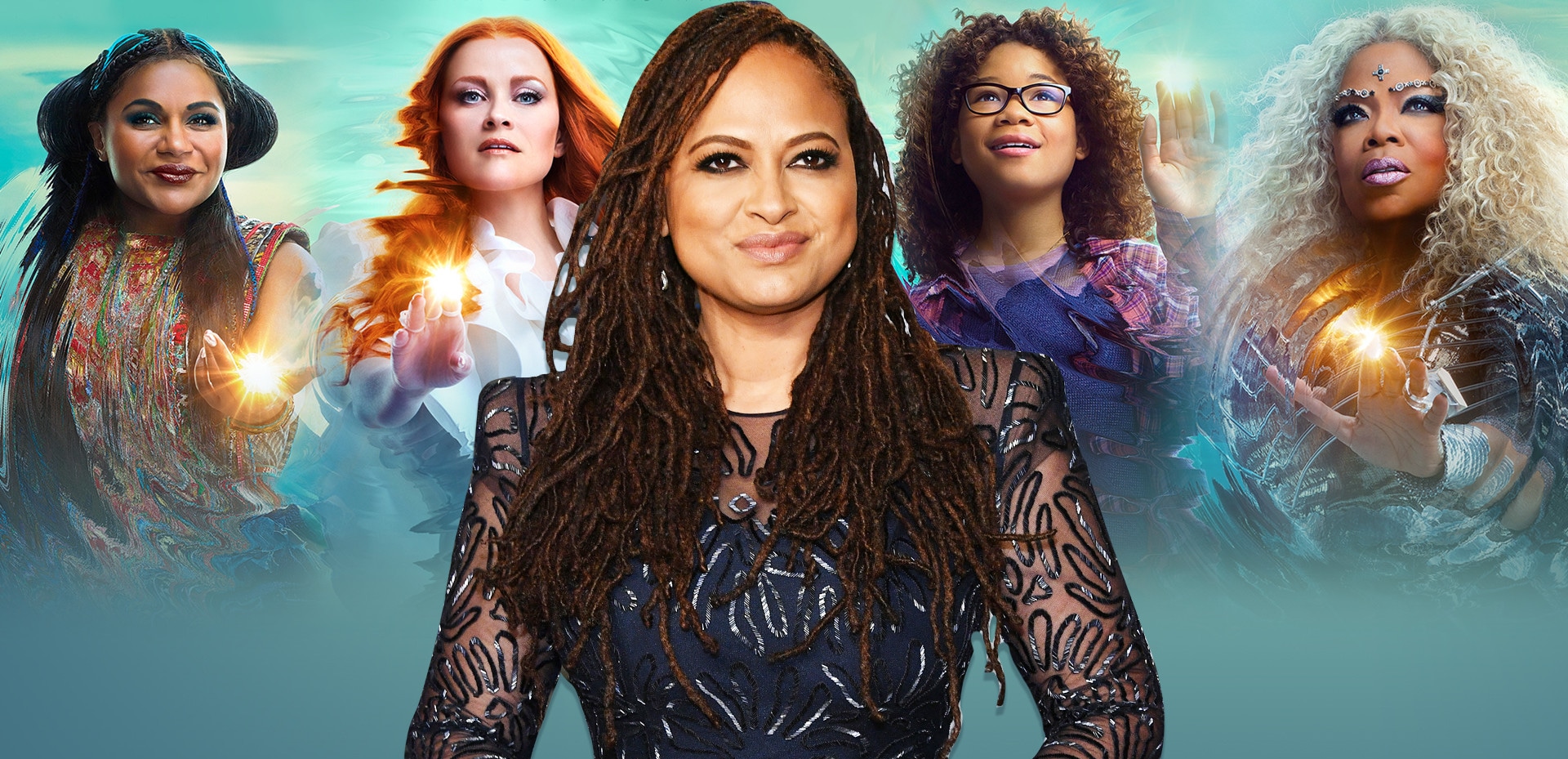 Disney/Getty Images
Pick a woman, any woman, who was involved with bringing A Wrinkle in Time to the big screen this year, and you find either someone whose reputation precedes her or who is positively brimming with potential.
And that was pretty much the idea.
From Madeleine L'Engle, author of the award-winning 1962 novel, to the film's director Ava DuVernay, who's become one of the most influential voices in Hollywood, the project's pedigree couldn't be more impressive. Storm Reid, only 14 and on her way to being a huge star. Mindy Kaling, OMG. Reese Witherspoon, always a force. Oprah Winfrey. Drop the mic.
The story, which famously begins on "a dark and stormy night," centers on teen outcast—which always means actually quite special but misunderstood—Meg (Reid), whose scientist father, Dr. Alex Murry, disappears. Joined by her brother, Charles (9-year-old Deric McCabe) and fellow misfit (i.e. future crush) Calvin (15-year-old Levi Miller), they set off to find Dr. Murry and encounter a fantastical, dangerous world. Guiding them on their journey are Mrs. Whatsit (Witherspoon), Mrs. Who (Kaling), and Mrs. Which (Winfrey).
The three missuses were chosen not just for their acting chops and onscreen gravitas, but for their off-screen status as forces to be reckoned with as well, in production and business. (Oh, and Chris Pine plays Dad, so...good choice, ladies.)
And Meg's journey, which in addition to being a linear, get-from-A-to-B adventure, is simultaneously a voyage of self-discovery and acceptance. "The big lesson of the film is, who you are is enough...and that's what we all have to embrace," DuVernay told E! News at the film's press junket.
The movie "is about knowing that you're going to go through dark spaces in your life," Reid, who made her feature-film debut in 12 Years a Slave when she was about 10, told TIME magazine last year. "You're not going to be perfect, but the most important thing is not trying to please anybody. It's loving yourself inside out."
DuVernay, the director of Selma and the Emmy-winning and Oscar-nominated director of the prison documentary 13th, is the first woman of color to helm a $100 million tentpole film for a major studio (you've heard of Disney?), and it was staying true to her passions as a filmmaker that brought this classic tale to her. 
"The interesting thing about this movie is that I did not pitch them, they pitched me. That's a rare thing," DeVernay told Collider recently. "It happened because there were people at Disney that were forward thinking, so I have to tip my hat to them. It's the same company that asked Taika Waititi to make Thor [Ragnarok], that had Ryan Coogler make Panther, and that has Niki Caro as the next woman with a $100 million budget, making Mulan. They're really doing some interesting things there, so I tip my hat to them."
Tendo Nagenda, Disney's Vice President of Production, "saw something in Selma and he, along with Jim Whitaker and Sean Bailey, brought me in to convince me to do the book. I had not read the book and I wasn't interested in the book 'cause I hadn't read it and didn't know what it was about. I went home that night and read the book, the script and the graphic novel, and I called in the morning and said, 'This is mine! No one else can do this book!'"
John Milne/Silverhub/REX/Shutterstock
Once the meetings had been had, there was no doubt that DuVernay was the one for the job. In what counts as a landmark moment (albeit a frustratingly late moment), for Hollywood, A Wrinkle in Time will be looking to unseat Black Panther—which has made almost a billion dollars worldwide and upon opening smashed numerous box office records—from its No. 1 perch.
DuVernay and Coogler happen to be close friends, and this moment isn't lost on either.
They met in 2013 at Sundance, where Coogler's Fruitvale Station had just premiered, and had an instant connection. "I think there's something about so few people like us doing what we do that when you do find another person that's in the same space—a person of color telling a certain kind of story—it's like kindred spirits," DuVernay told Vulture in December, in a joint conversation with Coogler. "But I never would have thought we would be editing these kinds of movies on the Disney lot two steps away from each other. It wasn't even anything I wanted at the time, and I can't say it's even anything I wanted when I said yes to A Wrinkle in Time."
"The world has embraced Black Panther, which has obliterated expectations, broken records and shattered myths," Disney CEO and Chairman Bob Iger tweeted on Feb. 19 after the film's history-making first weekend. "Powerful storytelling that touches hearts, bridges cultures, opens minds."
Next stop, A Wrinkle in Time, which also features a screenplay by Frozen director Jennifer Lee.
DuVernay calls what she's done "the feminizing of fantasy," a change from the big-budget, CGI-reliant films mainly made by men that moviegoers are used to. "It's fantasy and it's through the lens of a woman for the first time, at this kind of budget, so a big part of it for me was hair, costumes, makeup, design. You know, if you're gonna let me play with it, I'm gonna play with it, so we had fun."
But at the end of the day, it's a director, period, who made a movie, period, that everyone is hoping will be as awesome as it sounds.
"The essential quality of Ava is not, to my mind, tied to her woman-ness. It's tied to her Ava-ness," Kaling told TIME.
Atsushi Nishijima/Disney Enterprises, Inc.
While making the film—which was shot largely in New Zealand and, judging by the enviable photos and stories shared by Reese, Oprah and Mindy was as fabulous as it seemed—DuVernay says that she recaptured some of the childlike wonder she didn't know she had anymore as an activist and filmmaker who's known for taking on serious subjects, like the institutional racism plaguing the U.S. prison system. She also just helped get the Time's Up campaign off the ground in Hollywood. 
"This film is for young people, or people who are young at heart, and really I thought that I had become so hard through the things that I care about—justice and equality, the criminal justice system, Selma and 13th, that I thought I'd lost the kid in me," DuVernay told E! News. "But making this movie showed me little Ava's still in there."
She had never shot a film that involved large-scale special effects before, but, as Winfrey told The New York Times, DuVernay was "in her element." (Even if Oprah herself preferred to just be suspended in midair once, to get it over with, rather than go up and back down for breaks.) "It just would make my heart swell, that she had taken on something that was this enormous, and was managing it so well," Winfrey said.
"She makes everything easy," DuVernay told us about Winfrey in return.
About that all-star cast...
"We really cultivated a family, it was really like a spectacular girl squad," DuVernay told E!, smiling. "It was like a girls trip every day with those ladies. That was real. The affection that you see from them is real, and it's continued on long after we've wrapped shooting.
"It's a rare thing," she acknowledged, "to get that, to find that, especially with women this powerful in their own lives. But they all just humbled themselves and came together as a group, and it's spectacular to see, really nourishing."
And the squad goals are real: They've been on a running group text ("Oprah's a big GIFer") throughout post-production, and they had most recently convened at Winfrey's house for dinner and a screening of A Wrinkle in Time, with wine and truffle popcorn.
Since the film wrapped over a year ago, we'd say a few things have happened: Kaling became a mom, welcoming daughter Katherine in December. The unmasking of numerous toxic men in Hollywood led to the resurgence of the #MeToo movement, from which sprung the Time's Up campaign. And people still haven't given up on the idea of Winfrey running for president, with Stephen Colbert going as far as to let "God" himself beg her to jump into the race when she appeared on The Late Show this week.
And now, at last, they're reunited—physically, doing press and at the film's Hollywood premiere, and in spirit—to send A Wrinkle in Time out into the world.
While the optics are more lavish, at the film's core is a message that meshes perfectly with what DuVernay and Winfrey have been championing already—and which we've been hearing a lot of from different messengers lately in the at-times seemingly impossible quest to focus on what unites rather than divides.
"Meg finally realizes that love is stronger than hate," Madeleine L'Engle, who died in 2007, said in a 2000 interview for PBS' Religion and Ethics Newsweekly. "Hate may seem to win for a while, but love is stronger than hate."
L'Engle, who as a proponent of universalism and religion and science being "one and the same...each one informing the other," was one of the most banned writers in America. In 2000 she had not been asked to read tea leaves or otherwise predict the political or cultural climate in 2018. Rather, she was fully aware of the ebbs and flows that contribute to the ever-churning world.
"I was writing in my journal yesterday and ended a paragraph with, 'I think it smells like hope,'" she said. "And we have to hang on to that."
It's nice to think L'Engle would've been pleased with how her story finally made it into theaters. 
"I've never seen somebody demand inclusiveness like that," Witherspoon told Time about working with DuVernay. "It's just a different perspective, and you don't get that unless we start to have powerful filmmakers of different colors, different genders. You're just gonna have the same 20 dudes making the same 20 movies over and over and over again."
"To be able to make a film where a little black girl gets to fly, when I always wanted to do that," DuVernay told E! News. "...All kinds of people deserve to see themselves in these films, and that's what we're trying to do."
A Wrinkle in Time opens in theaters everywhere Friday, March 9.