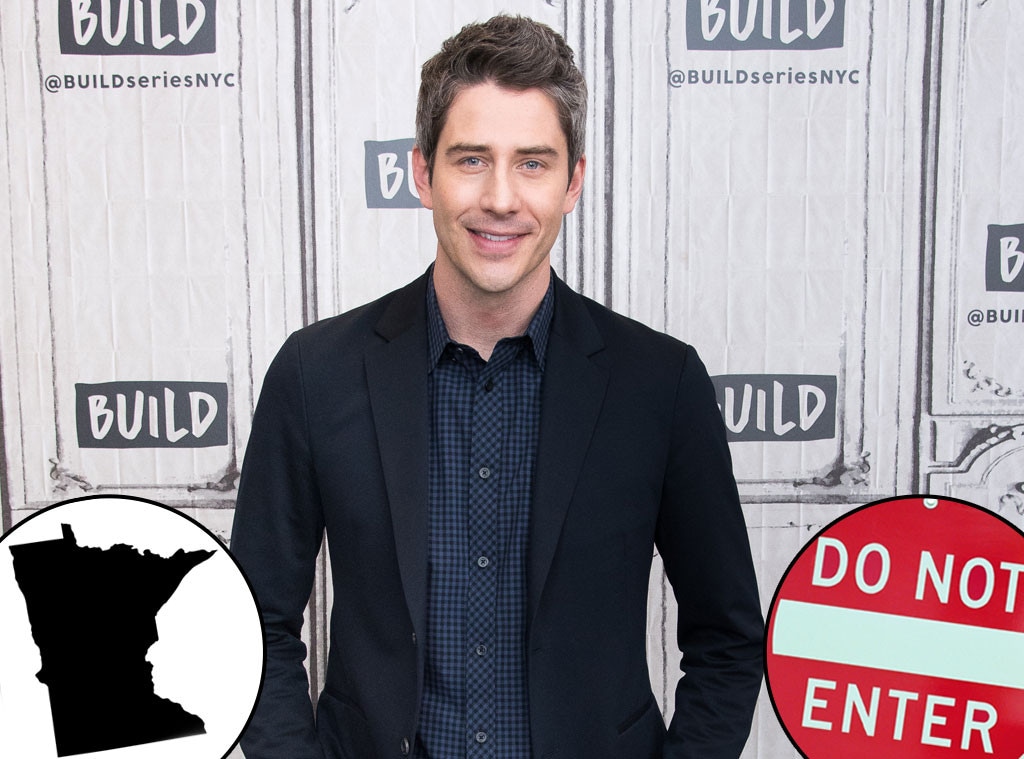 Getty Images
Arie Luyendyk Jr. upset a lot of people when he proposed to and then broke up with now-Bachelorette Becca Kufrin on national television. In fact, Drew Christensen, a representative for Kufrin's home state of Minnesota, was so irked he drafted a bill banning Luyendyk from entering the state. 
The 24-year-old politician tweeted a picture of the bill on Wednesday. 
"The state of Minnesota hereby adopts a policy of zero tolerance of Arie Luyendyk Jr. from season 22 of The Bachelor," the bill read. "It is state policy that every person in the state has a right to live free from the presence of Arie Luyendyk Jr. in the state."
Christensen proposed the idea of drafting the bill on Mar. 5—the same day ABC aired part one of The Bachelor's two-part finale. He tweeted he would author it if he could get a thousand retweets. Followers were quick to jump on board and retweeted his pledge more than 11,500 times.
"I'm a man of my word," Christensen tweeted on Wednesday along with a photo of the document, "here's the bill banning Arie. #TheBachelor #mnleg."
He then took the initiative one step further and promised to invite Kufrin to Minnesota's State of the State Address if he gained another 10,000 retweets. Again, he was successful. 
"Twitter feedback matters…10K—you're invited, @thebkoof! #TheBachelor #mnleg," he tweeted along with a picture of the invite.
In an interview with the Pioneer Press, Christensen said he's "not really a Bachelor watcher normally;" however, he said he and his wife tuned into the show because of the local connection.
As for whether his bill will pass, Christensen didn't seem to have high hopes. 
"I don't think it will pass," he told the local media outlet.
He also said he didn't think it would be constitutional to actually ban the former racecar driver from the state.
While he told Pioneer Press he viewed the bill as more of a "tongue-in-cheek thing," he also considered the initiative a prime example of how politicians can engage with their constituents via social media.
"I'm thankful for how easy social media has made it to connect with constituents," he tweeted. "#mnleg."
Still, let this be a warning to all of Kufrin's future pursuers.