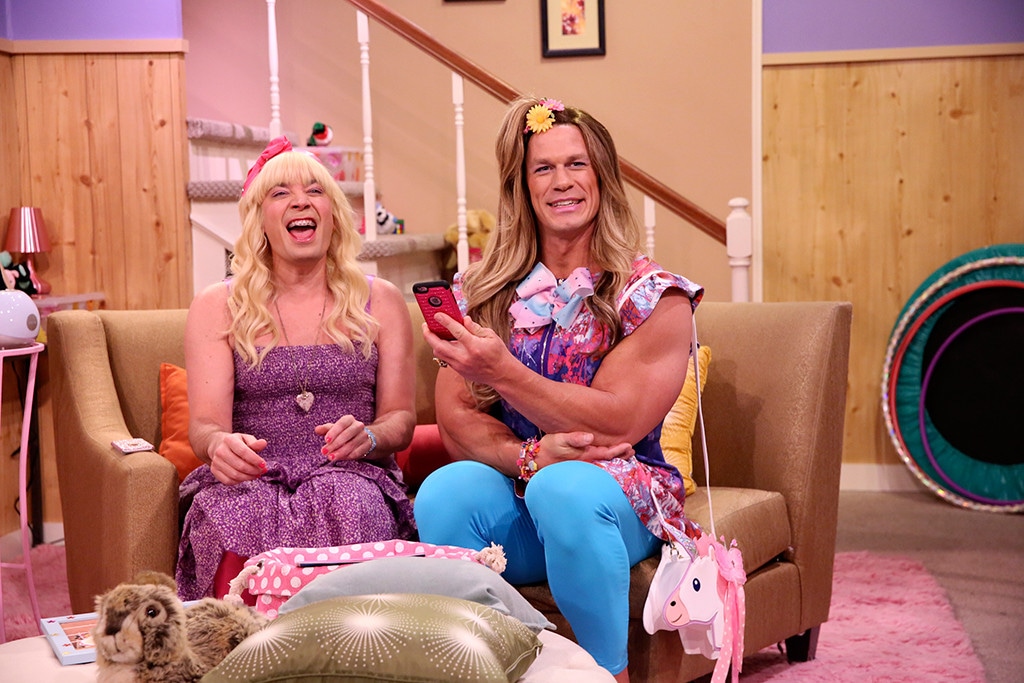 Andrew Lipovsky/NBC
Ew! Sara is back.
The over-it tween (played by Jimmy Fallon) revived TeenNick's Ew! on The Tonight Show Wednesday, looking exactly the same as she did when viewers last saw her nearly a year ago. To start, Sara introduced her "BFF" Allison (played by John Cena), who looked a bit "different."
To be fair, Sara hadn't actually seen Allison in quite a long time. "She moved away like three years ago, but now she's transferring back to our school district," she said. Unfazed, Allison explained that she "had a little bit of a growth spurt," which is why she wasn't so easily recognizable. "My mom says I'm going through some changes," Allison said, lowering her voice.
"Cheerleading squad moved me to the bottom of the period," Allison added.
"You're on the bottom row?" Sara asked.
"I am the bottom row," Allison clarified.
That's not all, Allison said: "The football team's like all trying to recruit me and stuff. They're like, 'Why don't you throw things?' And I'm like, 'Ew! Throwing things!' But now I totally love it."
At one point, Sara and Allison performed a choreographed number to Bruno Mars' "Finesse." After talking about Allison's classroom crush, the tweens moved on to an "Ew!" lightning round.
And yes, Sara's stepfather Gary (played by A. D. Miles) made an appearance.
(E! and NBC are both members of the NBCUniversal family.)