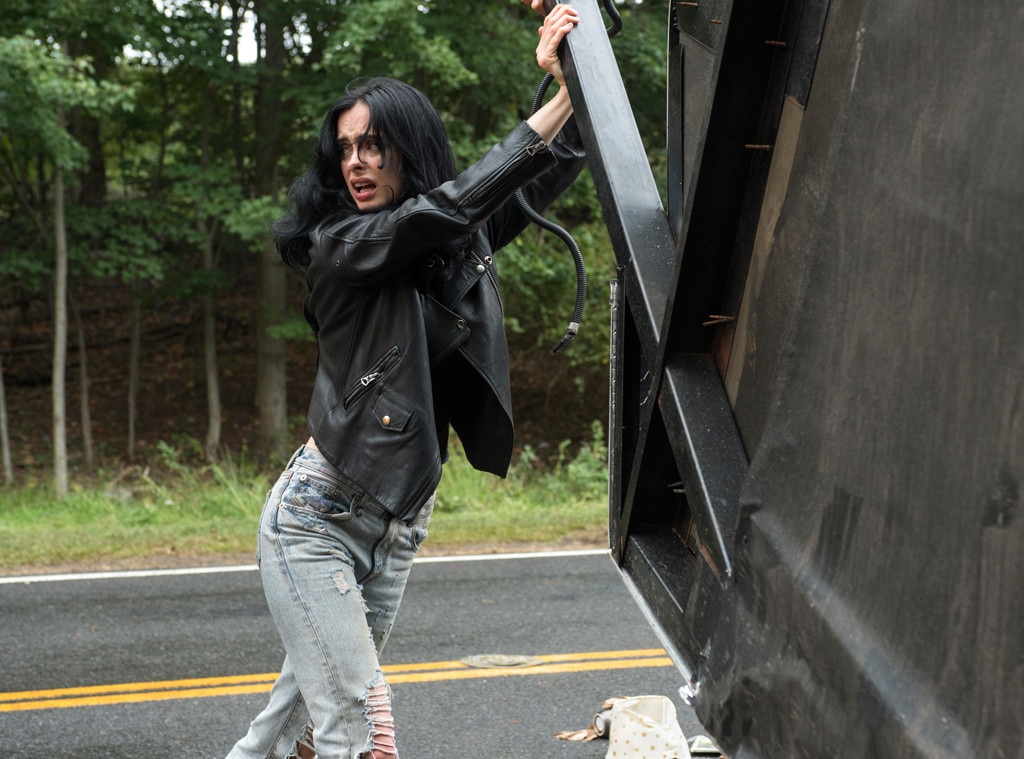 Netflix
Somehow it's been almost two and half years since the first season of Marvel's Jessica Jones dropped on Netflix.
You are forgiven if your memory of what happened in the Krysten Ritter-fronted superhero TV series is foggy. It's been a minute. We're here for you. Ahead of the Thursday, March 8 premiere of Marvel's Jessica Jones season two, let's recap things. We're going to go through every integral character to refresh your memory and get you up to speed for season two. Remember, this is a Netflix Marvel show, there are a lot of characters that blip in and out.
Jessica Jones (Krysten Ritter)
When we first met Jessica Jones she was a boozing private investigator. She still is. The first season featured Jessica confronting her past, which included killing a woman (Luke Cage's wife!) while under the control of Kilgrave. Jessica eventually broke control and assumed Kilgrave was dead…until he wasn't. She began a romantic relationship with Luke Cage, only to have it end when she shot him in the face with a shotgun. Don't worry, he has indestructible skin and he was under the control of Kilgrave. Remember, not dead. Jessica struggled with PTSD after being controlled by Kilgrave throughout the series. The two had a final confrontation where she resisted his control and snapped his neck.
Jessica returned in Marvel's The Defenders where she teamed up with Daredevil (Charlie Cox), Iron Fist (Finn Jones) and Luke Cage to stop Sigourney Weaver and The Hand. Jessica and Luke discussed their relationship in passing, but Jessica Jones was largely unaffected by the events of the team-up series.
That brings us to season two. Jessica's famous for having saved the city and stopped Kilgrave, but she's still hustling for her detective clients and dealing with her past with Kilgrave and the traumatic accident that gave her the ability to fly (or jump really high) and super strength.
Luke Cage (Mike Colter)
Viewers first met Luke Cage and his super strength and indestructible skin when he was tending bar on Jessica Jones. The two had super sex, but Jessica pulled away when she learned she killed his wife. They battled while Luke was under the control of Kilgrave and Jessica called in Claire Temple (Rosario Dawson) to save his life. Luke then went off to Harlem, had his own season of episodes, got together with Claire and reunited with Jessica for some punching in The Defenders. Fun fact: Jessica and Luke are married with a child in Marvel's comic books.
Trish Walker (Rachael Taylor)
A former child star now with her own radio show, Trish is Jessica's adoptive sister and best friend. Trish had her own struggles growing up, including dealing with her abusive mother and the Hollywood spotlight. She took up martial arts and made her apartment a fortress in season one. Trish became involved with a cop, Will Simpson, (Wil Traval) after he tried to kill her under Kilgrave's command. Simpson is known as Nuke in the comics and takes pills to give him abilities. The two come into conflict again and Trish uses the pills to battle Simpson with Jessica. They're successful, and Simpson is taken, presumed dead by Trish.
In the comics, Trish goes by Patsy and the superhero moniker Hellcat.
Kilgrave (David Tennant)
Known as the Purple Man in the comics, Kilgrave is the quintessential supervillain. He took Jessica under his control early in her superhero career and made her do unthinkable things. He raped her, made her commit crimes, including murder, and used her to dig up info on his own past…which may be tied to her own. After breaking his control once, Jessica became immune. She snapped his neck in the season one finale, but he does show up in the second season.
Malcolm (Eka Darville)
Malcolm is a drug-using neighbor of Jessica Jones originally under the thrall of Kilgrave. The villain commanded he use drugs and spy on Jessica for him. Jessica rescues Malcolm and helps him get clean. He eventually becomes her secretary.
Jeri Hogarth (Carrie-Anne Moss)
Jeri, a powerful attorney, is a client of Jessica Jones both professionally and personally. At one point in season one she hired Jessica to get dirt on her estranged wife ahead of their divorce. Kilgrave got involved in the messy divorce and as a result Jeri's lover Pam killed Wendy. Jeri appeared in Daredevil, Iron Fist and The Defenders as well.
Marvel's Jessica Jones returns Thursday, March 8 on Netflix.